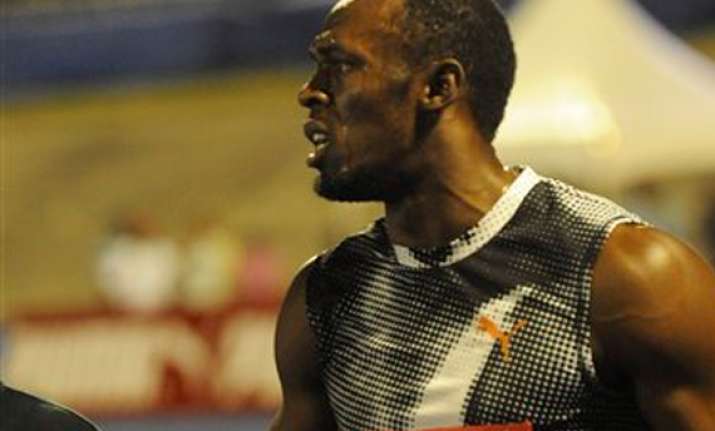 Jamaica, Jun30: The Fastest Man in the World wasn't the fastest man in Jamaica on Friday night.
That honor goes to Yohan Blake, who got out of the blocks fast and finished the 100-meter final in 9.75 seconds to upset world-record holder Usain Bolt by 0.11 seconds in the Jamaican Olympic trials.
The result will shake up the consensus that Bolt will stroll to the Olympic title in London just as he did in Beijing.
"Nine-point-seven-five, it's awesome," Blake said. "I won the world championship, so I've got that. Now, I'm the national champion for Jamaica, so I've got that. And now, I go into the Olympics like this."
Blake is the reigning world champion but Bolt didn't run that night in South Korea after being disqualified for a false start. This was their first rematch, their first real race since. Bolt was considered the favorite, not only because of his world record -- 9.58 seconds—but because Blake, his training partner had never run below 9.84 in his life.
Now he has. The 9.75 seconds goes down as the best time this year and also breaks the four-year-old National Stadium record; both marks were 9.76 -- both held by Bolt.
Blake, the man known as "The Beast," let out a scream when he crossed the line. Bolt pulled up—no "To the World" pose or anything else to celebrate.
As bad as that scene at the finish line must have looked, the start was even worse. Always the toughest part of the race for the 1.93-meter (6-foot-5) defending Olympic champion, Bolt lumbered out of the blocks this time and had to make up heavy ground simply to get in the mix.
Afterward, he said someone near the start line was bothering him, beginning with the semifinals, where he also got off to a bad start.
"I had to ignore it," Bolt said. "I had trouble getting out, but I kept feeling like I could not give up."
Asafa Powell will join them at the Olympics, after finishing in 9.88.
In the women's 100, defending Olympic champion Shelly-Ann Fraser-Pryce won in a Jamaican record 10.70 seconds, with Veronica Campbell-Brown in second and Kerron Stewart in third.
Campbell-Brown provided the surprise at last year's trials when she finished fourth in the final and didn't make the 100-meter field.
She ended up winning the 200 at trials and the Olympics and is very much in line for a double this time, as well.
"I don't like to go back in the past," Campbell-Brown said. "I'm just thankful for what I have today. I got my spot in the 100 meters. I'm happy for that."
As was Bolt, who knows there are four more weeks to go before the Olympics—plenty of time to get in shape to actually catch someone instead of avoid being caught. The man who coaches them both, Glen Mills, said Blake came into this race in far better shape than Bolt.
"We're right where we want to be, going into London," Mills said. "We just want to keep them healthy. That's the key."
But there are two more days of racing left. It starts Saturday with heats in the 200, the race Bolt has always considered more his "job," while the 100 is more like a hobby.
It was widely believed Blake might provide a better challenge to Bolt in the 200 because he holds the world's second-fastest time at 19.26. Bolt's record is 19.19. The 200 final is scheduled for Sunday.
"He's a tough cookie, and I think he'll survive," Mills said about Bolt.
Blake certainly will.
He changed the story line on this night. Instead of talking about what it would take to catch The World's Fastest Man, he was fielding questions of a different sort: Is there pressure being the front-runner?
"No pressure at all," he said.