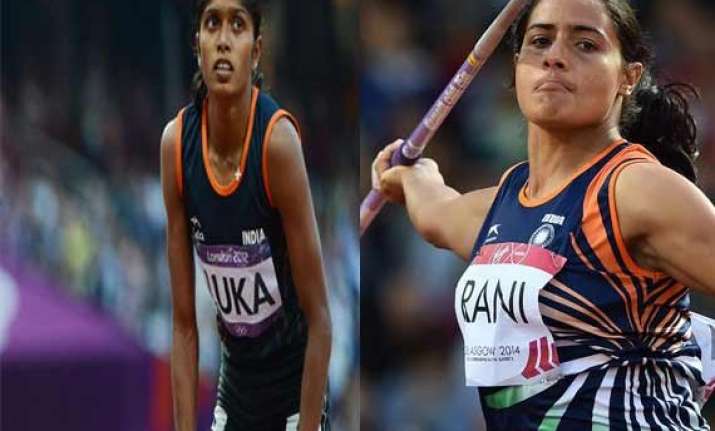 Incheon:India's Tintu Luka narrowly lost out on a gold medal and had to settle for the silver in the women's 800m final while Annu Rani bagged a surprise bronze in women's javelin throw at the 17th Asian Games here Wednesday.
However, the biggest disappointment of the day at the Incheon Asiad Main Stadium was Ashwini Akkunji, who failed to defend her women's 400 metres hurdles title as she finished fourth.
Ashwini, who had won gold in the 400m hurdles and 4X400m relay four years ago at Guangzhou, could not impress at the Incheon Asiad Main Stadium as she clocked 57.52 seconds to complete the lap. The gold went to Bahrain's Oluwakemi Mujidat Adekoya (55.77), Japan's Kubokura Satomi (56.21) won silver while China's Xiao Xia (56.59) took home the bronze.
Jithin Paul was disqualified from the men's 400m hurdles final for a false start.
It was once again a case of so near and yet so far for Tintu who, despite leading in most of the women's 800 metres final race, was overtaken by Kazakhstan's Margarita Mukasheva in the last stages. Margarita set a new Asian Games record of 1: 59.02 seconds to take gold while China's Zhao Jing won the bronze in 1:59.48 secs.
Tintu timed her season's best of 1:59.19 but ran out of steam in the last 50m to let the gold slip away through her fingers. The P.T. Usha protege had also suffered a similar fate four years ago at Guangzhou when she led the pack right from the start but could not keep pace in the last 50m and finished third. The other Indian in the fray, Sushma Devi also clocked her personal best of 2:01.92 but came fourth.
In women's javelin, Annu surprised the field by winning the bronze. China's Zhang Li took the gold, setting a Games Record with a throw of 65.47 metres which came on her sixth and last attempt.
Meanwhile, Li's compatriot Li Lingwei went home with the silver with a best throw of 61.43m, on her fourth attempt at the Incheon Asiad Main Stadium.
Annu, 22, was leading the field with her first throw of 59.53m, which stood atop the standings till the third round. The national record holder could not better the distance in the next five attempts and had to settle for her new personal best. The two Chinese girls kept throwing better and went beyond the reach of the Indian.
Sajeesh Joseph finished fourth after three athletes were disqualified in a drama-filled men's 800 metres final. The 27-year old Indian, running in Lane 7, got off to a poor start and trailed throughout, to finish the race in 1: 49.59 secs, well below his personal best of 1:46.81 secs.
He originally finished seventh among eight runners with one failing to finish. But Joseph jumped to fourth after three runners were disqualified for false starts. Iraq's Adnan Taes Agar Almntfage won gold - after results were made official - with his season's best time of 1:47.48 secs. China's Haining Teng won silver with a time of 1:47.81 secs while Qatar's Jamal Hairane clinched bronze, registering his season's best time of 1:48.25 secs.
Saudi Arabia's Ladan Abdulaziz Mohammed, who originally finished first in 1:46.28 secs, was disqualified. The other two to get disqualified were Bahrain's Abraham Kipchirchir Rotich and Qatar's Musaab Abdelrahman Bala.
Sandeep Kumar and Basanta Bahadur Rana failed to add to India's medal tally as they finished fourth and fifth in the men's 50km race walk.
Sandeep and Rana were sixth and seventh -- the final two places -- before Japan's Yuki Yamakazi was disqualified with five kilometres remaining, moving them one place up.
Zhang Lin of China, who was in fourth position till the 40 km, started tailing off in the final 10. It was his compatriot Wang Zhendong who overtook him first to move into third place with five kilometres remaining.
The Indians also took advantage of the slowing Chinese and leapfrogged him to take fourth and fifth. But fourth placed Sandeep was still almost nine minutes behind Wang Zhedong in third place and failed to bridge the gap for a podium finish. Rana finished a further seven minutes behind his compatriot. Takayuki Tanii of Japan took the gold while Chilsung Park of South Korea finished with the silver.