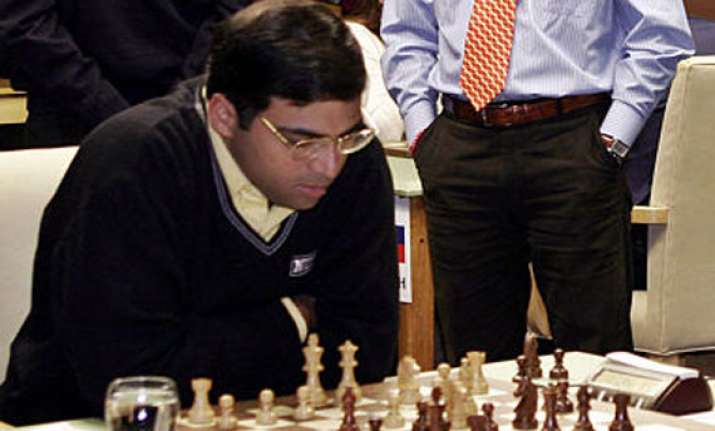 London, Dec 3: World champion Viswanathan Anand survived anxious moments before he salvaged a draw against Luke McShane of England in the second round of the London Chess Classic on Monday.
Having started with a bye, Anand had the advantage of playing white in the opener but the Indian ace could not find any real advantage and finally survived by the skin of the teeth to open his account.
World number one, Norwegian Magnus Carlsen registered himself as the highest-rated player ever in the history defeating second seed Levon Aronian of Armenia in a finely-crafted game.
Former World Champion Vladimir Kramnik of Russia made sure that Carlsen did not get a runaway lead in just two rounds and grinded Hikaru Nakamura of United States in a long drawn queen and pawns endgame.
The other game between Judit Polgar of Hungary and Gawain Jones of England ended in an exciting draw.
With eight rounds still to go in the nine-player round-robin tournament, Carlsen and Kramnik surged ahead with six points apiece in the soccer-like scoring system that gives three points for a win and one for a draw.
In the first round Carlsen had beaten McShane, while Kramnik got a head-start at the expense of Polgar.
Nakamura and Michael Adams of England share the third spot with three points apiece and the latter has an extra game in hand as he had a bye in the second round.
Anand, with an extra game in hand like Adams, is now on joint fifth spot in the rankings along with Polgar, Jones and McShane, while Aronian finds himself at the bottom of the table as he is yet to open his account.