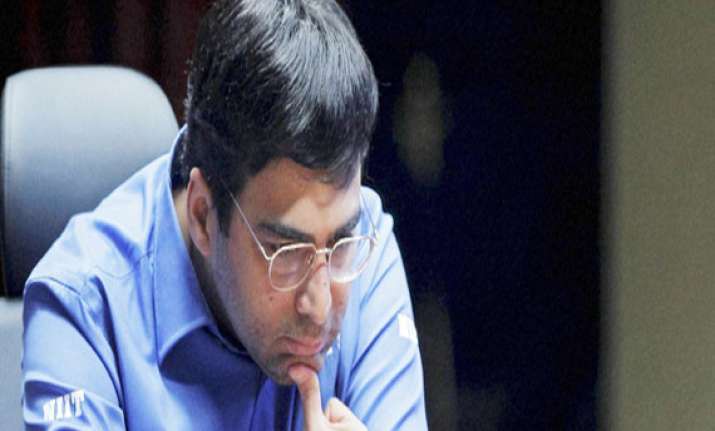 London, Dec 4: World Champion Viswanathan Anand failed to capitalise on chances that came his way and played out a draw with tailender Levon Aronian of Armenia in the third round of the London Chess Classic on Tuesday.
Hunting for his first victory in a Classical Chess game since the last World Championship in May earlier this year, Anand got a better position with an extra pawn against Aronian but his opponent fought valiantly to split the points in the end.
World number one Magnus Carlsen of Norway played out a draw with co-leader Vladimir Kramnik of Russia while Michael Adams coasted to his second victory in as many games at the expense of top woman player Judit Polgar of Hungary.
In the other game of the day, debutant Englishman Gawain Jones shared the point with Hikaru Nakamura of United States.
Carlsen and Kramnik stayed ahead of the field with seven points apiece from their three games under the soccer-like scoring system in place here. The two leaders are now followed solely by Adams, who has scored six points from two games and has an extra game in hand, having received his bye in the nine-player-eight-game tournament.
Hikaru Nakamura slipped to the fourth spot on four points with one win, one draw and lone loss and Anand and Jones are now in joint fifth spot on two points apiece with a couple of draws. Polgar, Aronian and Luke McShane of England are in joint seventh spot with just one point in their kitty.
After two back-to-back loses, Aronian was under tremendous pressure to score his first point in the tournament. The Armenian is also under threat to lose his number two ranking as Kramnik is on the threshold of overtaking him.