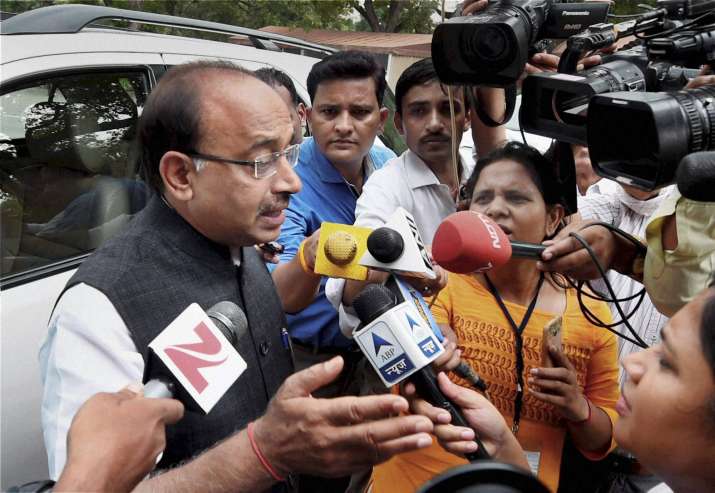 Union Sports Minister Vijay Goel today said that doors are almost shut for dope-tainted wrestler Narsingh Yadav to go to Rio Olympics and said it is time for the conspiracy theories to stop.
"Under the code of World Anti-Doping Agency (WADA), NADA also works and Narsingh was found positive after a test conducted by NADA and he was provisionally suspended. All these conspiracy theories which are floating, unless all these things come to our notice, we can't do any investigation or take any step regarding that. But I don't think it is a debatable issue because whatever be the reason of doping, not only us but the whole world is also watching it and I think it will be extremely difficult for him to go to Rio," Goel said.
Narsingh, who earned the Rio quota after winning a World Championships bronze, had failed a dope test last week and cried foul. The controversy took another turn when Narsingh identified two fellow grapplers as the saboteurs, who contaminated his food with a banned steroid, in a formal police complaint.
"There are no proof of these rumours and I want all these suspicions of foul play to stop and our anti-doping agency will give a final report within a few days and we have also tested his food supplement," Goel said.
Asked about Narsingh's demand for a CBI investigation, the Minister said, "When the federation will write to us only then the government will see, similarly as it sees any other issues."
Another Rio Olympics qualified athlete Inderjeet Singh, a shot putter, also failed a dope test as his 'A' sample returned positive for a banned substance.
Asked wasn't it a concern that two athletes failed dope test ahead of the Olympics, Goel said, "Both Narsingh and Inderjeet are not new players. They have won many medals for India and they know all of these. NADA also keeps educating the athletes through booklets. There are around 1000 budding athletes are registered under NADA who are always under the eyes of NADA."
Report on Narsingh Yadav's doping row in two days
The final report of the panel probing Narsingh Yadav's doping controversy will come in the next two days till when he will remain under provisional suspension
Responding to a number of questions over the issue inside the Lok Sabha, Goel said that the government will consider a suggestion made by members for keeping a check on anabolic steroids which are available openly in the market.
The final report would be coming in the next two days, the minister said, adding till then Yadav will remain under provisional suspension.
Rejecting a charge that government was not keeping a check on the performance of various sports federations, he said there are 49 such recognised sports federations in the country.
"There have been 14 cases of irregularities relating to code of conduct and elections and their recognition has been withheld," he said.
Meanwhile, villagers of wrestler Narsingh Yadav have come out in support of the "son of the soil", after his family alleged a conspiracy. Hundreds of people in Ajgara village of Varanasi have started a demonstration in development block Sholapur demanding a CBI probe.
Narsingh's father Pancham Yadav and mother Bhoolna Devi said their son, a free style wrestler in 74 kg category, was innocent and did not even consume tea, forget taking steroids to boost up his energy levels.
The family alleged that wrestler Satpal and Sushil Yadav have conspired to get his son out of the Olympics.
Narsingh's family said they will hold a rally and demonstrate outside Prime Minister Narendra Modi's office in Varanasi, in case justice was not served to their son.
With Agency Inputs