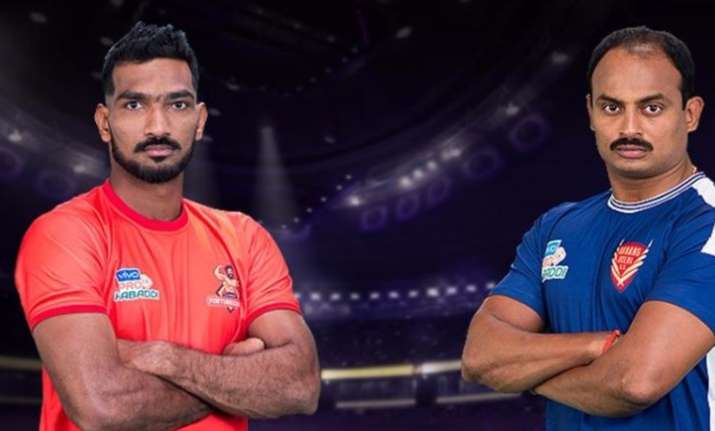 New entrants Gujarat Fortunegiants beat Dabang Delhi K.C. 26-20 in Match 7 Pro Kabaddi League 2017 season five at the Gachibowli Indoor Stadium in Hyderabad. Led by inspirational Sukesh Hegde, Gujarat showed great skill and confidence in their debut game against a seasoned team like Delhi. While, Delhi simply failed to repeat their performance of their last match and clearly lacked a gameplan in the tense encounter. 
Delhi's R. Sriram gets the 'Perfect Raider' award, whereas, 'Player of the Match' was award to Iran's Fazel Atrachali.
HIGHLIGHTS FROM GUJARAT FORTUNEGIANTS vs DABANG DELHI K.C., PRO KABADDI LEAGUE 2017
Gujarat Garja! @Fortunegiants open their account on the points table splendidly, winning 26-20 tonight! #GUJvDEL

— ProKabaddi (@ProKabaddi) August 1, 2017
20.55 IST: Gujarat Fortunegiants made a winning debut in Pro Kabaddi League 2017, they beat Dabang Delhi K.C. 26-20 
20.52 IST: Touch point for Delhi, brilliant work from the raider. Delhi 20-26
20.52 IST: Gujarat Fortunegiants All-out! Delhi 19-26 Gujarat
20.49 IST: Raider out for Gujarat, Delhi get one more point. Delhi 16-26
20.48 IST: REVIEW for Gujarat Fortunegiants!
20.47 IST: Good work from Delhi raider, another point for them. Delhi 15-26 Gujarat 
20.46 IST: Running hand touch for Dabang Delhi, Delhi 14-26
20.43 IST: One defence point for Delhi, Dabang Delhi 13-26 Gujarat
20.42 IST: Technical point awarded to Delhi, 12-26
20.41 IST: Two points for Dabang Delhi in raiding, Delhi 11-26 
20.39 IST: Touch point for Gujarat, Delhi has no answer at the moment, Gujarat 26-9
20.36 IST: Dabang Delhi K.C. suffer second All-out of the match, Gujarat 25-9 Delhi 
20.35 IST: Touch point for Fortunegiants, Gujarat 22-8
20.34 IST: Easy pickings for Gujarat at the moment, combination tackle this time. Gujarat 21-8
20.33 IST: Strong defence from Gujarat score again, Gujarat 20-8 Delhi
20.31 IST: Gujarat get one more touch point, 19-8
20.30 IST: One more for Gujarat in defence, Fortunegiants 18-8 Delhi
20.29 IST: Point for Gujarat this time, Fortunegiants 17-7 Delhi 
20.28 IST: One more point for Delhi, 7-16
20.27 IST: Delhi pick up one point in raiding, Delhi 6-16 Gujarat
20.26 IST: Gujarat get one point in raid at the start of second half, Fortunegiants 16-5 Delhi
Debutants Gujarat lead by 10 points at the end of the first half against Delhi.
20.21 IST: Another error from Delhi gives one more point to Gujarat, Gujarat Fortunegiants 15-5 vs Dabang Delhi K.C. at half-time.
20.20 IST: All-out Dabang Delhi K.C., Gujarat 14-5 
20.19 IST: Gujarat pick one more point, error from Delhi this time (Technical point), Gujarat 10-5
20.17 IST: Point for Delhi this time, Dabang Delhi K.C. 5-8
20.16 IST: One more point for Fortunegiants, Gujarat 8-4
20.15 IST: Another point for the newbies Gujarat, 7-4
20.14 IST: Gujarat pick up point in raid, Fortunegiants 6-4
20.12 IST: Delhi pick up a point in raid this time, they trail by just one point. Delhi 4-5 Gujarat
20.11 IST: Another point for Dabang Delhi, 3-5
20.09 IST: Gujarat showing some real power in this contest, one more point to them, Gujarat 5-2
20.08 IST: Strong defence from Dabang Delhi, Delhi 2-4 Gujarat 
20.06 IST: Gujarat get one back in defence, Fortunegiants 4-1
20.06 IST: First point for Delhi in the match, they trail by two points 1-3
20.05 IST: Gujarat skipper Sukesh Hegde gets a Green Card
20.04 IST: New entrants Gujarat leading right now, 3-0 against Dabang Delhi
20.01 IST: Abolfazl Maghsodlou Empty Raid, 0-0
19.58 IST: 
New boys @Fortunegiants take on an in-form @DabangDelhiKC! Watch the Panga LIVE on Star Sports 2/2HD/1 Hindi/1HD Hindi/1 Tamil! #GUJvDEL

— ProKabaddi (@ProKabaddi) August 1, 2017
19.56 IST: 
.@Fortunegiants fans have stormed through this battle to win the Matchday Panga! Can their team do the same on debut? #VivoProKabaddi pic.twitter.com/hO0CuSqKjl

— ProKabaddi (@ProKabaddi) August 1, 2017