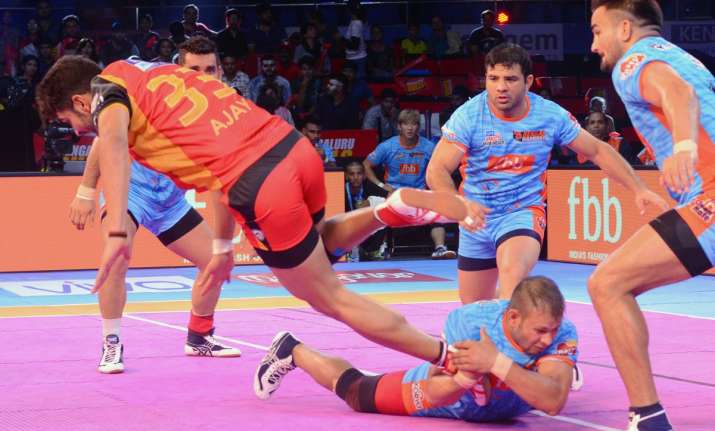 Bengaluru Bulls defeated beat Bengal Warriors 31-25 in a pulsating encounter of the Vivo Pro Kabaddi League Season 5 in Nagpur. It was Ajay Kumar and Rohit Kumar, who scored nine and six points respectively to lead the Bulls to a superb victory. For Bengal Warriors, Jang Kun Lee scored eight points but wasn't enough as they crashed to their first defeat of the season. 
In Zone B, Bengaluru Bulls now top the table with 19 points after playing six matches while Bengal Warriors are fourth with 11 points after three matches. 
Rohit Kumar opened Bengaluru Bulls' account with a raid in the first minute. Bengal Warriors had to wait till the third minute to get going as Maninder Singh scored with a raid. 
Bengaluru Bulls led 5-2 in the fourth minute as they sent Maninder to the bench. 
Bengal Warriors scored their first tackle point in the seventh minute to trail 3-5. A couple of empty raids followed by both teams as Bengal Warriors levelled the game at 5-5 in the 10th minute. 
Jang Kun Lee scored with a raid as Bengal Warriors led 8 -6 after 12 minutes. The threat of an all out loomed largely but Bulls came back to lead 9-8. 
Bengaluru Bulls raiders struggled in the first half as they scored just three raid points in 16 minutes. With the score at 9-9, Bengaluru Bulls pulled off a super tackle. 
Bengaluru Bulls let 12-9 after 18 minutes as Ajay Kumar scored a raid point. In an evenly poised half, it was the Bengaluru Bulls that led 12-10 at the break. 
The second half began with Bengal Warriors scoring two points in two minutes as they levelled the game at 12-12 and Bengaluru Bulls were reduced to just one man. 
Harish scored two points for Bengaluru Bulls as they averted an all out to lead 14-12. 
An all out was finally inflicted by Bengal Warriors in the 24th minute to lead 16-15. 
Bengaluru Bulls tied the game at 16-16 in the 27th minute. Ajay Kumar turned the match on its head as he scored four points with a super raid in the 28th minute to give the Bulls 19-16 lead. 
Bengaluru Bulls inflicted an all out in the 30th minute to lead 24-18. Ajay Kumar scored his eighth point soon to give Bulls 26-20 lead. 
With less than five minutes left, Bengal Warriors scored with a tackle point to trail 21-28. 
Bengal Warriors reduced the deficit to five points in the 38th minute as they trailed 23-28. 
Bengaluru Bulls scored with a tackle point in the 39th minute as they led 30-23. 
The match eventually ended 31-25 in favour of Bengaluru Bulls as they coasted to a comfortable victory.
(With PTI Inputs)