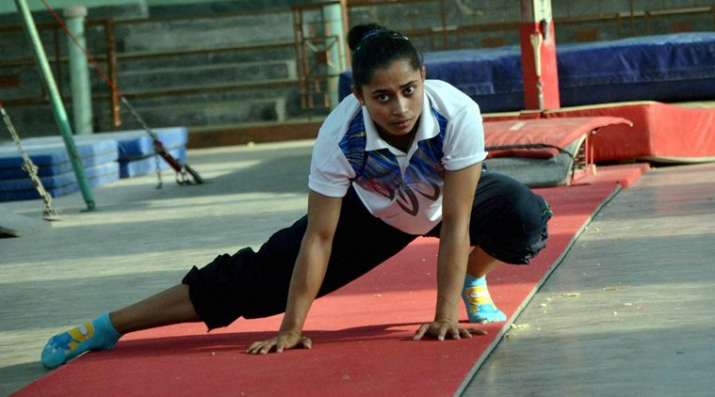 Despite failing to win a bronze medal in the vault final of the Rio Olympics by a whisker, path-breaking Indian gymnast Dipa Karmakar said that she is not disappointed and instead is aiming for a gold in the next edition of the Summer Games in Tokyo. 
"I never expected a medal from this Olympics but to have come fourth is very creditable. In boxing, wrestling you get a bronze even when you finish fourth but not for me. It was very close to medal. After four years, my target would be gold," Dipa said brimming with confidence after her brilliant effort on Sunday.
"For me this is my first Olympics. But I don't need to be disappointed I will give my best in Tokyo 2020," she said.
"I'm fully satisfied with my performance. This is my highest score. But the medalists were better than me. Maybe, it was not my day," a graceful Dipa said.
She said with some luck she could have got a medal.
"It's my bad luck that I missed the bronze medal by a few points. But no problem, I never expected this fourth place finish in my first Olympics.
"I never expected a medal honestly. My first target was to better my scores in the two vaults, and I succeeded in doing that. Whatever I had learnt, I managed to perform.
 
There's been no better score than this in the two vaults that I performed," said the girl from Agartala.
The 23-year-old Dipa, who had become the first Indian woman gymnast to have qualified for the Olympics, scored an average of 15.066 points, a mere 0.15 less than the eventual bronze winner Giulia Steingruber (15.216) of Switzerland.
The gold went to American pre-event favourite Simone Biles (15.966) while reigning vault world champion Maria Paseka of Russia got the silver with an average of 15.253 points.
Dipa could have been in the reckoning for a medal had she not landed on her haunches in her risky 'Produnova' vault for which she is now known all over the world. Dipa landed on her feet but then sat down and lost points.
She scored 15.266 from her 'Produnova' with 8.266 points for execution for a difficulty level of 7. The average of the two attempts gave her 15.066, a mere 0.15 difference with bronze winner Steingruber.
"This is my highest score in Produnova, I had 15.1 earlier. I am very happy with my vault. I gave my whole effort to bring an Olympic medal for my countrymen."
Dipa went for the 'Tsukahara' in her first attempt in which she collected 14.866 points. 
She went for a difficulty level of 6 and got 8.855 for the execution.
Dipa also pointed out that to have competed at this level under her personal Indian coach Bishweshwar Nandi and without any foreign exposure was really a big achievement.
"Gymnastics is not that easy. We don't have a foreign coach, we were able to achieve this through my coach and the SAI's effort," said the gymnast who stands at four feet and 11 inches.
"We have not got any foreign training. We got only three months' to prepare for this. 
To have finished fourth competing against former Olympic champions is a creditable performance. I think it's a bigger achievement than even Simon Biles, she's consistently winning gold," she said.
"Many many thanks to my fellow Indians. I could achieve this only because of their prayers and best wishes," she added.
On the comparison with Indian athletes like Milkha Singh and P T Usha who also had finished fourth, she said, "I feel I am very small, and I'm also much younger. The day I achieve a gold medal in Olympics for India, I would see myself in the same page like them."
"They are all great names. I'm nowhere close to them. I'm very small. I will just try my best to give a medal." 
(With PTI inputs)