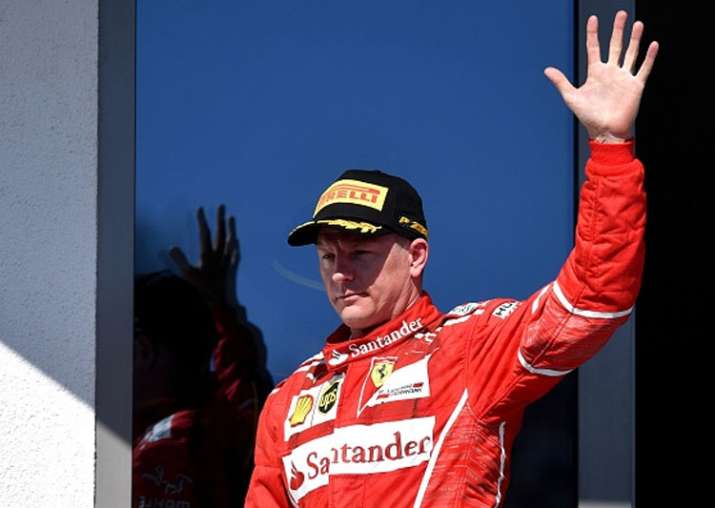 Kimi Raikkonen posted the fastest time in the first practice session of the Belgian Grand Prix on Friday after having repairs on his Ferrari. The Finnish driver had to go in the garage for about 20 minutes after an apparent suspension problem, but when he came back out he overtook Lewis Hamilton's leading time for Mercedes.
Raikkonen, boosted by a new contract for next year, clocked a best lap of 1 minute, 45.502 - putting him .053 clear of Hamilton and 0.145 better than Ferrari teammate Sebastian Vettel.
However, Raikkonen's time was set on the faster ultra-soft tires, while Hamilton was using softs.
Vettel leads Hamilton in their close-fought title race by 14 points heading into Sunday's race.
The morning session was halted after about 20 minutes when Felipe Massa lost control of his Williams and went off track into the gravel, buckling a couple of wheels.
"I just lost the car on the kerb," said the Brazilian driver, who missed last month's Hungarian GP because of vertigo.
When practice restarted, Hamilton complained of overheating on his tires, while Mercedes teammate Valtteri Bottas went into the gravel.
It meant Bottas also had to come in for some small repairs, but he managed to come back out for the final few minutes.
The Finnish driver, who is still waiting on a new contract with Mercedes for 2018, placed sixth fastest behind Red Bull pair Daniel Ricciardo and Max Verstappen, who was fourth.
Later Friday, there is another practice session on the 7-kilometer (4.3-mile) Spa circuit, which cuts through the thick green forest of Ardennes.
Massa will miss P2 because the team had to change his chassis following the crash.
Third practice is Saturday morning followed by qualifying, where Hamilton looks to equal Michael Schumacher's pole position record of 68.