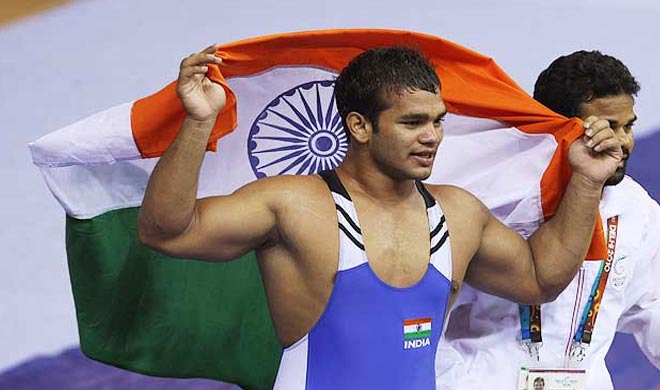 What may turn out to be a deliberate attempt to sabotage Narsingh Yadav's Olympic bid, it has come to light that the 26 year old wrestler's food may have been spiked by the younger brother of an international wrestler in the super-heavyweight category at SAI centre at Haryana's Sonepat.
According to a report in The Times of India, the person in question is a younger brother of a heavy weight wrestler of international repute.  The accused himself is a 65 kg wrestler and and has represented India in the junior ranks. He allegedly infiltrated Narsingh's room and contaminated his food supplements. He trains at the Chhatrasal Stadium in Delhi and frequents the SAI Sonepat Centre during the national camps as a sparring partner. The suspected intruder was allegedly seen hanging around Narsingh's room when the 74kg freestyle wrestler was with the Indian team in Bulgaria.
He apparently asked for the keys to Narsingh's room at the KD Jadhav hostel at the centre during the wrestler's absence and when someone enquired, he feigned ignorance asking, "Yeh Pawan ka room hai, na?" (Isn't this Pawan's room)?
An FIR has been filed, according to Wrestling Federation of India. TOI has confirmed that Narsingh himself went to file a written complaint at Samalkha police station, near Panipat.
Meanwhile, in another twist in the tale of Narsingh Yadav doping scandal, Indian Olympic Association on Tuesday, asked United World Wrestling to replace Narsingh with Praveen Rana in the 74kg category of wrestling for Rio Olympics.
"The Indian Olympic Association informed United World Wrestling of their desire to enter Praveen Rana as their nation's replacement at 74kg in men's freestyle," the UWW statement said.
Following the failed dope test, Narsingh was handed provisional suspension and his Olympics accreditation was withheld. Sports Minister Vijay Goel also hinted that Narsingh's prospects of participating at the Rio Olympics were virtually over.
26-year-old Narsingh had tested positive for banned anabolic steroid methandienone which has put his participation in the Rio Games under jeopardy. The grappler was selected to represent India in the 74kg category.
The sportsman has alleged that he was framed by rivals, who spiked his food and supplements.