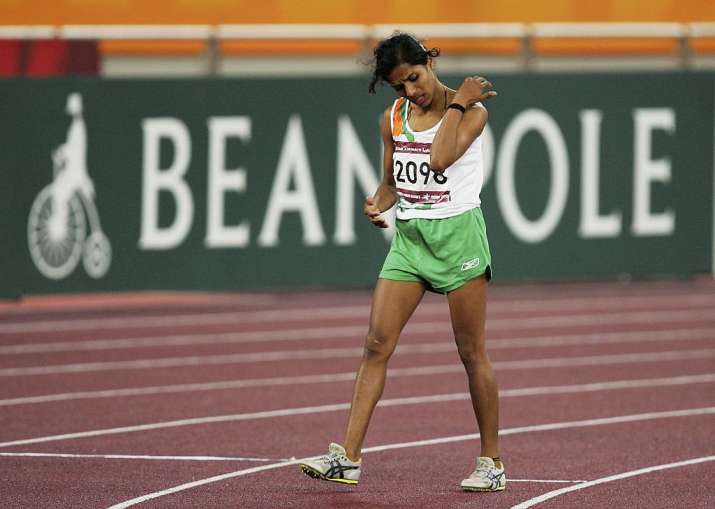 India's Sports Minister Vijay Goel was in Rio De Janeiro to "cheer for the Indian contingent besides monitoring their requirements at the Games Village". Still, in a sign of extreme apathy, Indian officials failed to even provide water to marathon runner OP Jaisha, resulting in her collapse at the end of the race. 
While Vijay Goel almost got banned from Rio Olympics for "trying to enter accredited areas at venues with unaccredited individuals," his presence did not prove enough for Indian officials to arrange basic amenities for their two marathon runners Kavita Raut and Jaisha. 
Although Goel did not forget to wish athletes Kavita and Jaisha ahead of their competition, he forgot to make sure that they were provided with basic facilities, like drinking water during their herculean run. 
"Best wishes to #IND #athlete O.P. Jaisha & Kavita Raut, Women's marathon #KheloIndia #JeetoRio." 
Best wishes to #IND #athlete O.P. Jaisha & Kavita Raut, Women's marathon #KheloIndia #JeetoRio pic.twitter.com/JmqgROKeJM

— Vijay Goel (@VijayGoelBJP) August 14, 2016
Exposing the apathy shown by Indian officials during Rio Olympics, Jaisha has said that she collapsed at the end of 42.195 km race because the support staff failed to provide her even water during the run. 
According to Jaisha, the Indian refreshment points on the marathon track bore empty desks next to the country's name and tricolour. 
"Though there were officials from all other countries to provide refreshments to their runners at designated points -after every 2.5 km -there was no one from India and our desks were empty next to the country's name and flag," India's national record holder told the Times of India on her return. 
As per International Association of Athletics Federations (IAAF) rules, India was allowed to assign four officials at four points -apart from the official stations -to provide water and refreshments to the athletes. Athletes are not supposed to drink anything given by any other country. 
"I don't know how I managed to finish without getting enough water to drink. The organizers provided water and sponge only at 8-km intervals. The water from these stations lasted hardly 500m and it was almost impossible to run after the 30-km mark under the scorching sun," said Jaisha.
"While other athletes had the luxury of taking glucose, honey etc., there was nothing for us (Jaisha and Kavita) to drink at our stations. Not even water," said Jaisha.
Jaisha collapsed at the end of the race, and it took her 2-3 hours to regain consciousness after being administered seven bottles of glucose to help her recover. 
"I didn't see any doctor from our contingent while help came from fellow marathon runner Gopi T and coach Radhakrishnan Nair. Coach Nikolai was also there for few hours before he was taken away by the organizers," she said. 
Just after the incident, coach Nikolai Snesarev was "detained" for half a day and later released by the police after a lady doctor at the Games Village of the Rio Olympics made a complaint of misbehaviour at the polyclinic. 
He allegedly pushed the lady doctor after he was not allowed to accompany Jaisha inside the hospital.  
Jaisha also blamed coach Nikolai for forcing her to run the marathon when she wanted to compete in the 1500m race. 
Jaisha, bronze medalist in the 5,000m and 1,500m respectively at the 2006 and 2014 Asiads in Doha and Incheon, ended up 89th by finishing the energy-sapping 42.1-km race in two hours, 47 minutes, 19 seconds in Rio. 
The lack of refreshments even reflected in her performance. At the half way mark, she was lagging behind the leader by three and a half minutes but then slowed down further, unable to sustain her early pace. She was well off her personal best of 2:34:43 as well as behind season's best of 2:42:26. She was 67th after 30 kms and slipped to 87th with 2kms to go.
"I was OK for the next few days. But now I'm feeling very weak and it will take at least 2-3 months of ayurvedic treatment and massage for my body to recover," said Jaisha who reached Bengaluru on Saturday night.
AFI Secretary C K Valson, who was also in Rio during the competitions, said, "It is the responsibility of the organisers to provide water and energy drinks. For that there are water and energy stations throughout the course. We could have provided water and energy drinks to our athletes but neither they nor their coaches did not inform us that they would need water and energy drinks separately." 
When asked about the incident, Sports Minister Vijay Goel said it was the Athletics Federation of India's (AFI) responsibility.
"Every time any small incident happens, we take note. It was AFI's job, it is the federation which should have taken care of this," he told TOI.