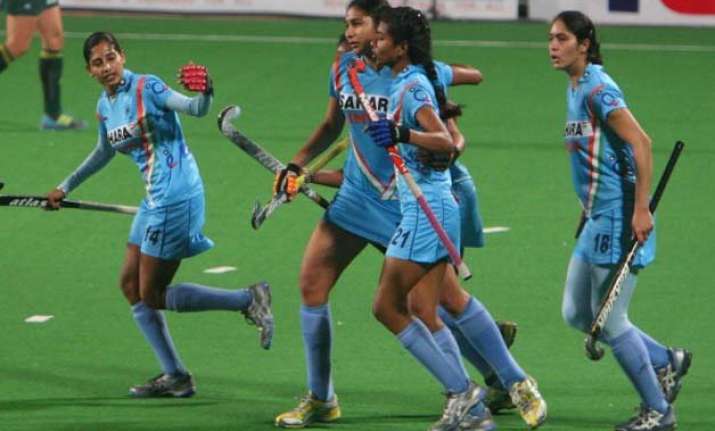 Hastings (New Zealand): Putting up a strong defensive performance, the Indian women's hockey team held Australia 0-0 in their final Pool A game of the Hawke's Bay Cup at the Hastings Sports Park here on Tuesday.
After two consecutive losses, world No.13 India needed a strong performance to boost their confidence. And Tuesday's show against world No.3 Australia would have certainly upped their morale going into the quarter=final where they will meet New Zealand on Thursday.
Even though the Ritu Rani-led side failed to score a goal, not conceding a goal against a side whose counterattack is strong, speaks volumes about India's solidity in their defensive structure.
The Indian women's team showed good defensive skills in the first quarter, keeping the attack of the opponents at bay. Getting a penalty corner, 2014 World Cup silver medallist Australia were looking to score their opening goal but the alert defence of India checked the danger. 
With just two seconds left in the first quarter, Australia had another go at the penalty corner but again it was saved brilliantly by the Indian goalie.
The second quarter was a similar story with India showcasing good defence and thwarting all chances for the opponents to score. In the second quarter, Anuradha Thockchom entered the Australian 'D' and had a chance to score but was brought down by the defence, resulting in a penalty stroke for India.
But the Australian goalie saved it. Both the teams continued looking for chances to score but missed capitalising as the defence proved to be stronger.
India got their first penalty corner in the third quarter but failed to make the most of the opportunity. The quarter again resulted in a dry run with both teams still looking at opening their goal score. 
Immediately into the last quarter, Australia attacked and were on the verge of scoring when the Indian goalie saved on the line, leaving the opponents frustrated.
In the final few minutes of play, both teams increased their tempo of attack but their efforts proved futile and the match ended in a goalless stalemate.
In the other quarter-finals of the eight-nation tournament, China face Japan, World Cup bronze medallist Argentina face Australia and the United States take on New Zealand.