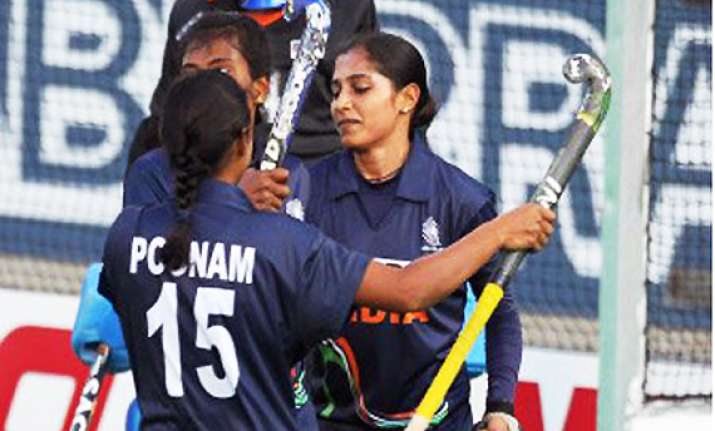 New Delhi, Jan 16: Indian eves eked out a 2-1 victory over Azerbaijan in the second Test match to take an unassailable 2-0 lead in the four-match series at Major Dhyan Chand National Stadium here today.

The hosts, ranked 13th in the world, played a fast paced game and repeatedly attacked the opponent citadel from the left flank in the first half. They scored through Ritu Rani (18th minute) and Saba Anjum (41th).

The 15th ranked Azerbaijan side tried to match up with their Indian counterpart, played better than yesterday and created lots of chances, but could manage only one goal through Gyeonga Kim (23rd).

After losing 0-3 in the first Test, Azerbaijan started off with an aggressive approach but it was India who drew the first blood at the 18th minute through a field goal by Ritu.

The visitors were quick to bring up the equaliser within a space of five minutes with Gyeonga Kim finding the goal post after being set up by Taejeong Han as both the teams went into the lemon break locked at 1-1.

The Indians were sharp and agile in the field and earned as many as eight penalty corners with two being in the first half but they lacked penetration.

In the 41st minute, India earned their sixth penalty corner and skipper Asunta Lakra took the strike with Saba Anjum deflecting it inside the post to give the home team a 2-1 lead.

In comparison to India, Azerbaijan could manage just one penalty corner in the 54th minute but squandered.

India could have had more goals to their name but their performance suffered after Jaspreet Kaur hurt his back during warm-up and didn't play in the second half of the match.

The third Test between the two sides will be played on Wednesday.