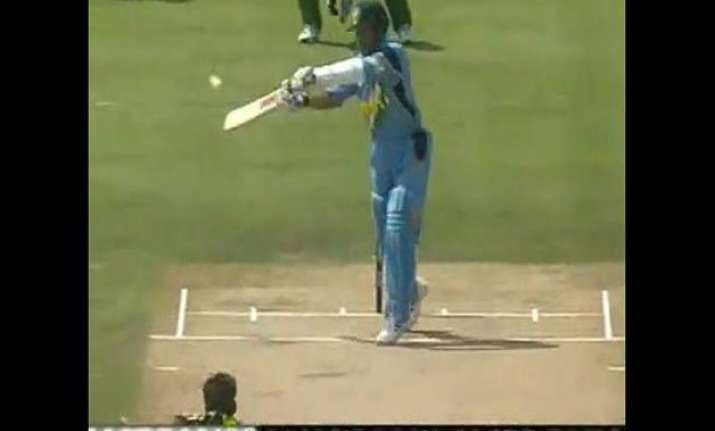 New Delhi: It was as tense as India-Pakistan contest could have been. People sitting on the edge of their seats as India was to start the chase after Pakistan set a target of 274 at centurion in South Africa in World Cup 2003.
With likes of Shoaib Aakhtar, Wasim Akram and Waqar Younis handling the red cherry, it seemed India had a very slim chance of reaching the target.
As master blaster Sachin Tendulkar and Virender Sehwag walked out everybody wondering how Sehwag would respond to Akhtar's express deliver when he takes the strike.
But what was seen next was Sachin and not Sehwag taking the strike. This was something unusual as Sachin never faced the first ball, be it Sourav Ganguly or Sehwag as his opener partner.
Sachin adjusted his stance as Shoaib was rushing in deliver first ball of the inning. It was a short pitched bouncer which little master guided over the slips for a six. The one ball all of a sudden changed the complexion of the day. Shoaib, one of the most feared bowlers, was milked for 20 odd runs in his very first over and captain Waqar Younis did not dare to continue with him.
India went on to score 98 and won man of the match award. India thrashed Pakistan by four wickets with 26 balls still remaining.
Later Sachin revealed he wanted to disrupt Pakistan's strategy and that's why while walking out he told Veeru that he would face the first ball.
Little genius was right on target. His tactic worked as Pakistan had no clue how to handle him.
Later when asked Shoaib Akhtar said we lost the match when skipper Waqar Younis dropped him from the attack.
Akhtar came later and took Sachin's wicket but by that time it was too late.
It was on March 27, 1994, when Sachin was tried as an opener against New Zealand in Auckland.
Azharuddin needed someone to partner Ajay Jadeja after Navjot Sidhu developed a "neck strain" just before that game at the Eden Park.
Sachin was singing while taking a shower. Azhar came and asked, "Rafi open karega?"
Sachin immediately said yes."
Tendulkar hammered 82 off 49 balls with 15 four and twi sixes.
Sidhu was back in the team for the next match in Wellington, but Azharuddin made him bat at No. 3 while persisting with Tendulkar as opener.