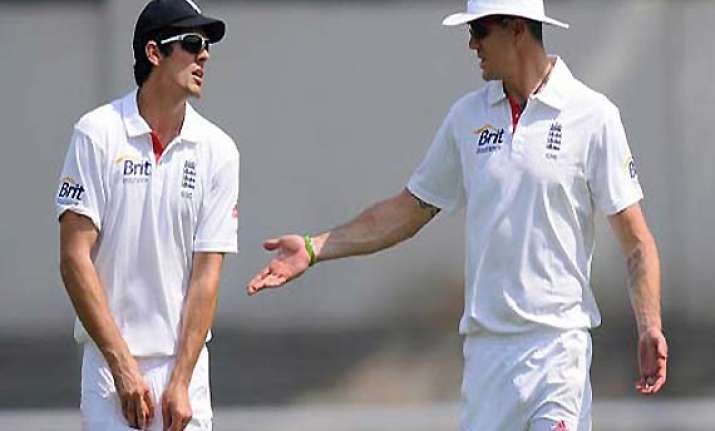 Mumbai, Nov 26: Heroes of England's thumping 10-wicket triumph against India in the second Test, skipper Alastair Cook and aggressive batsman Kevin Pietersen today said the team will have to guard against complacency in the remaining two matches.
"Any win in India is a huge win. I played 18 one day games and won one game. I have won more Test matches than one day games in India. Any Test victory or any victory in India is huge," said Pietersen whose record 206-run partnership with Cook (122) provided the platform for the massive win.
"But we are not going to get ahead of us, that is for sure. Last week we got hammered and this week we turned it around," he added.
Cook also said the team would not get carried away.  "We have set the series out really well. We have got two games to go now and it is level. It is a really good performance. Like Kev said, we are not getting too carried away. We are going to enjoy tonight," he said.
"Enjoy the victory and we need to, we have got a lot of back to back test matches in India, so we need to rest up well. And make sure when we get to Kolkata, we train with same purpose and intense to win game there," he added.
Cook, who notched up his second century in the series on the trot and is level on 22 career hundreds with Pietersen and three other former greats, lavished praise on his partner.
"There are not many people in the world who could do what Kev did yesterday. It was the difference between the two teams. Those runs he scored, and quickly as well, took the game away from India," said Cook.
He also hailed the bowling performance of left-arm spinner Monty Panesar, who got 11 wickets in the match, and Graeme Swann, who picked up eight, saying the duo ensured that his team did not have to chase too many runs for victory on the deteriorating Wankhede Stadium track.
"The way Monty and Swanny bowled, especially in that second innings, we didn't want to chase too many. They were under pressure to perform, and they did that. It was fantastic", said Cook.