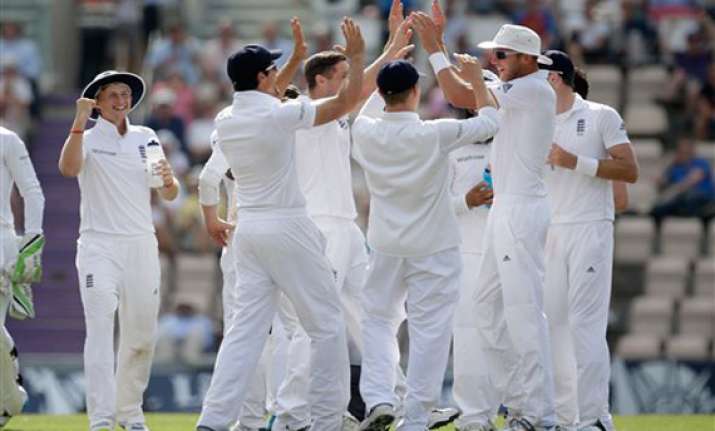 Southampton: England batsman Joe Root today expressed joy at the "good day" his side experienced and was also confident that they can take the six remaining Indian wickets on day five of the third cricket Test here.
Chasing 445 runs, the visitors were placed in a precarious position of 112/4 at stumps on day four.
"It was one of the better days for us. You want to have such days as a team," said Root.
"We took two early wickets and then Alastair Cook set up the game for us with his second innings' fifty. He drove the pace down to the tee and we were hoping for one last good session tonight. We wanted a couple wickets before stumps but we got four wickets. We are pleased to make inroads into that top order."
One of the major criticisms for England after the 95-run loss at Lord's was that their senior players hadn't stood up.  That complaint is gone now.
"It is good to see a lot of guys in form. James Anderson took a fiver here, Stuart Broad bowled well, Ian Bell scored a big hundred, Gary Ballance got one too. Cook has got fifties in both innings. Everyone has contributed throughout the game and it has been a good team effort," said Root.
When asked if this could be the turning point for England's summer, he said, "Yes I think so. We are obviously in a good position in the game. But we need to take those six wickets. If we can do that, we will be right back in the series."
Root scored 56 runs off 41 balls, with 9 fours, to help set up the high target after the hosts had not enforced the follow-on on India, bowling them out for 330 runs in the morning session.
"I think playing a lot of one-day cricket pays dividend in that sort of situation and I have been involved with the shorter format so that helps. But the main reason we were able to do that was because of Cook's innings.
We were really in good position because we had wickets in hand and that's ideal for a situation like that," he said.