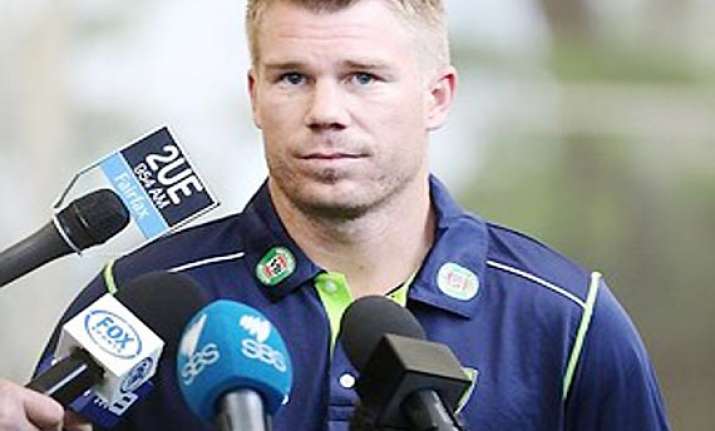 Sydney, May 23: David Warner pleaded guilty and was fined $5,750 for breaching Cricket Australia's code of conduct after his expletive-laden outbursts against two journalists on Twitter.
Cricket Australia issued a statement Wednesday saying its code of conduct commissioner, Gordon Lewis, imposed the maximum financial penalty for a first offense under Rule 6 of the code relating to "unbecoming behavior."
"In hindsight, clearly I let my frustrations get the better of me and posted some inappropriate tweets," Warner said in a statement after the ruling.
The 26-year-old opening batsman said that while he disagreed with having his photo printed alongside a story written by one of the journalists last week, "I could have chosen my words better and I apologize for any offense that my language may have caused."
On Thursday, Warner reiterated that he should not have used such strong language, and admitted he should have contacted the writer of the newspaper story directly. The two journalists who bore the brunt of the Twitter outbursts are among Australia's most senior cricket analysts.
"I think everyone's got their own opinion as reporters and journalists they report on cricket games," he added. "We are a family in a way, we've got to try and keep the fighting in-house and not make it out-house. We just want it all to blow over."
Warner, who will travel to England with the Australian squad this weekend to prepare for the Champions Trophy and the five-test Ashes series, said he'd "continue to have honest conversations with all my followers and I will be mindful of the language I use in future."
Warner had been touted as a potential leader in the Australian team, which has lost a wealth of experience since the recent retirements of Ricky Ponting and Mike Hussey. Critics said the angry outburst suggested Warner wasn't captaincy material, but test skipper Michael Clarke disagreed.
"He's a great man and I love playing cricket with him and I'm really confident that if he continues to grow as he has done over the past four or five years there's no reason, in my opinion, why he hasn't got the potential to captain Australia one day," Clarke said at a Cricket Australian function earlier Wednesday. "He's apologized and made it very clear it was unacceptable.
"I look forward to having Davey home and having him around the Australian cricket team."
Being one of the most exciting stroke players in the game has earned Warner a spot in the top of the batting order in the test, limited-overs and Twenty20 formats. He was in India playing in a Twenty20 league when he read the article from a seasoned Australian journalist last week that triggered his angry response.
Cricket Australia Chief executive James Sutherland earlier this week said there was no specific social media policy for contracted players, although the sport's national governing body may consider implementing one.
But he said players wouldn't be prevented from using social media.
"It's very important," he said. "We want our players to be engaging with fans. Part of our strategy is to put the fans first and for them to have a closer and better relationship with our players.
"I guess we hope our players would be able to know where the lines are drawn and be able to manage that."