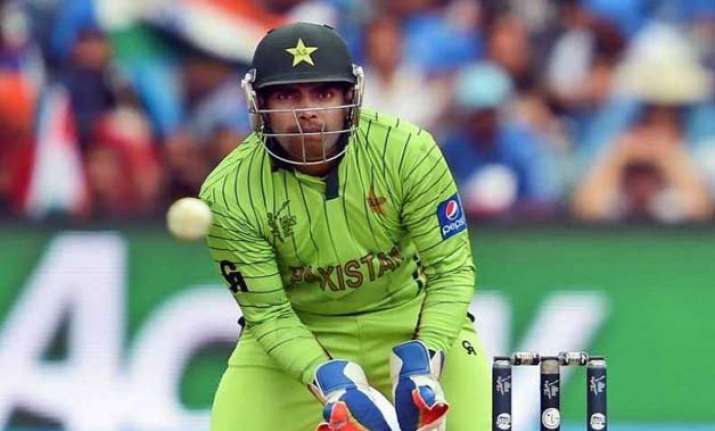 Karachi: Pakistan's disappointing cricket World Cup campaign was not just about missed opportunities on the field with head coach Waqar Younis submitting a strongly-worded report to the PCB complaining about the behaviour of Ahmed Shehzad, Umar Akmal and Mohammad Hafeez. 
According to a report on 'Dawn News TV', Waqar, in his report, has also suggested that specialist Test batsman Azhar Ali be appointed as the new captain of the one-day side after the retirement of Misbah-ul-Haq. 
 
No official in the PCB was available to confirm or deny the report. Waqar flew directly to Sydney to spend a few days with his family after Pakistan's run in the World Cup ended in the quarter-finals. 
The report claims that the former Test captain advised the PCB to talk to Shehzad, Umar and Hafeez about their behaviour and straighten things out. 
Hafeez, who was a member of the squad, returned home before the tournament started after getting injured in the two match one-day series in New Zealand in early February. 
On returning home, he claimed his injury was not a serious one and he could have recovered after missing the first two games of the World Cup. 
He also said he was surprised at the decision of the team management to send him back without taking him into confidence. There were speculations that Hafeez had had a argument with Waqar during a training session. 
The report says that Waqar has also recommended that Umar Akmal be sent back to play domestic cricket and not picked for the national side until he improves his approach to batting. 
He has also suggested that in order to improve the quality of players in the national side, the Board should restrict the top domestic tournaments to just 10 teams. 
In a surprise recommendation, Waqar has suggested Azhar's name for ODI captaincy. Waqar has never seemed inclined to pick Azhar for limited overs cricket and he was also ignored for the World Cup even when Hafeez was injured and returned home. 
Azhar, who last played a one-day international in India in early 2013, is a regular Test player having appeared in 39 matches with a healthy batting average of 41. 
Captain Misbah-ul-Haq is also said to have recommended his name to the PCB for the captaincy during his meeting with Chairman Shaharyar Khan.