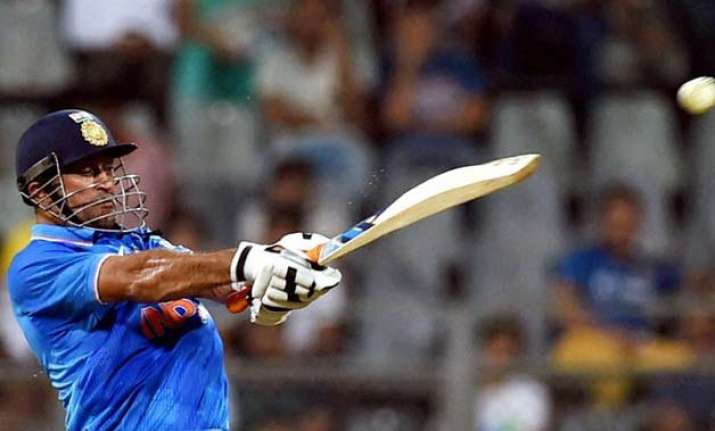 Mumbai: A hapless Indian bowling attack was smashed all over the park by South African batsmen in the fifth and final ODI, which the home side lost by 214 runs, but captain MS Dhoni defended them, saying that the Wankhede wicket was "too true" to offer any assistance to them.
South Africa rode on centuries from Quinton de Kock (109), Faf du Plessis 133 (retired hurt) and AB de Villiers 119) to post a mammoth 438 for four while batting first as India were bowled out for 224 in 36 overs.
"South Africa began their batting very well, they kept going and accelerated later also. The way they batted, 350-plus was on the cards. But, it was a very good a wicket to bat," he said after the match.
"Our fast bowlers could not get much from the pitch with their bouncers, neither the spinners were getting the turn. We know the Wankhede wicket. Nothing went right for our bowlers. The wicket was a bit of too true for the spinners as well as the fast bowlers," he added.
Regarding India's run chase, Dhoni said once the asking had shot up above 15 an over, it was a difficult for the batsmen to win the match.
"All the batsmen tried their best and we were onto the chase. But once the asking has shot over 15 an over after the 25th over, it was a tough job for us," said Dhoni.
Asked about the overall performance of the team in the series he said, "There were times I thought we could have done better. We were slightly up and down. But overall, we did a decent job in the series.
"This one match (today's) has completely taken us away from the series. But this happens in cricket and we can't do much," said the Indian captain.
Dhoni, who has retired from Test cricket, said the Indian team will do well against South Africa in the four-match series beginning November 5 in Mohali.
"It is a good team, a balanced one. We have some good fast bowlers and spinners who can do well. We have the batsmen who have been doing well. The team will do well."