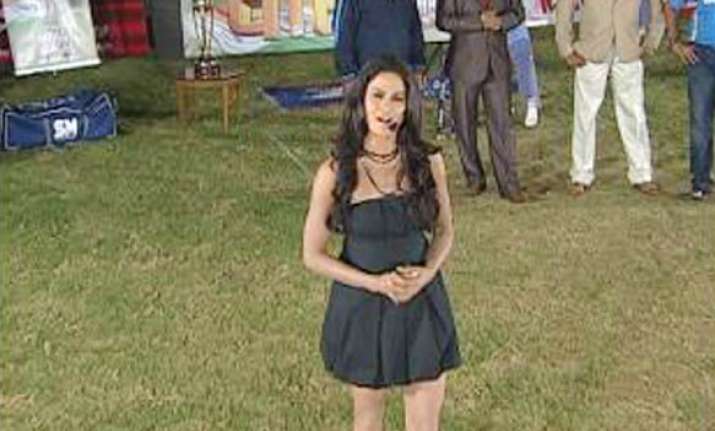 New Delhi, Feb 19: Pakistani actress Veena Malik sizzled as India TV's cricket anchor  for the pre-match, break and post-match World Cup opener between India and Bangladesh played in Mirpur near Dhaka on Saturday.
Veena was able supported by experts like ex-cricketers Anshuman Gaekwad, Chetan Sharma, Yuvraj Singh's father Yograj Singh, Virender Sehwag's coach A N Sharma, Gautam Gambhir's coach Sanjay Bhardwaj and
Virat Kohli
's coach Raj Kumar Sharma.  
The sultry Pakistani siren gave India TV viewers a ringside view of Saturday's opener match in three episodes - pre-match Power Play, break Khel Abhi Baaki Hai and post-match Final report.  
A full-scale cricket ground was prepared inside the India TV Broadcast Centre campus in Noida to give the viewers  a sumup of the play as it progressed in Bangladesh.  
Veena, wearing a black corset-like baloon dress, was well-briefed about the players, though, at one point, her tongue slipped about Harbhajan, when she said  Hazrat Harbhajan, and then corrected herself.  
"This idea of doing a cricket programme with a celebrity as anchor, and that too, on a vast field, is a first for any news channel in India", said India TV managing editor Vinod Kapri.  
"While other news channel were holding  studio discussions, we, in India TV, wanted to do something entirely different this time, and that's our USP, apart from, of course, our reality show Bigg Toss, which has already become popular", said Kapri.