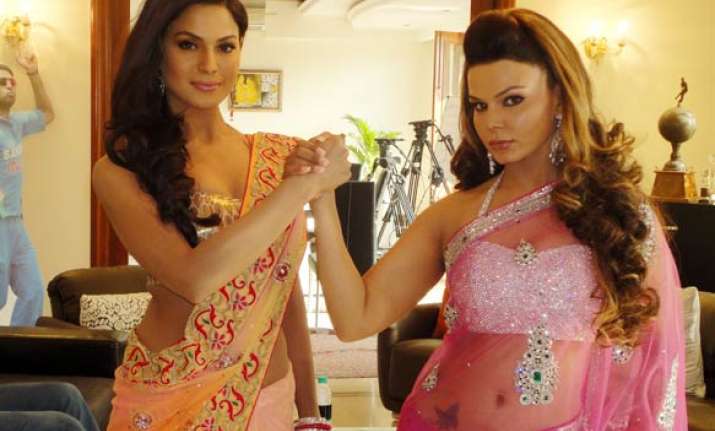 New Delhi, Feb 19: Pakistani actress Veena Malik  beat Bollywood dance queen Rakhi Sawant  in a friendly arm wrestling inside the Bigg Toss house during India TV's popular reality show  mounted for the World Cup.
The show was telecast on Friday night at 8 pm.  With Yuvraj Singh's father Yograj Singh acting as adviser to Veena during strategy sessions, the two sirens sat down for the arm wrestling as captains of Google and Hattrick teams.
The arm wrestling took place at 11, Race Course - the venue of Bigg Toss villa. As another participant, Arvind Swamy blew his conch shell (shankh), the two ladies took to the friendly arm wrestling, with odds favouring Rakhi Sawant, known for her biceps.  
"Mujhse thumke karwa lo, mujhe panja ladaana nahin aata" (ask me to do thumka, I don't know arm wrestling), said Rakhi. 
After her loss, Rakhi said, no regrets, and the other household tasks for Bigg Toss continued.