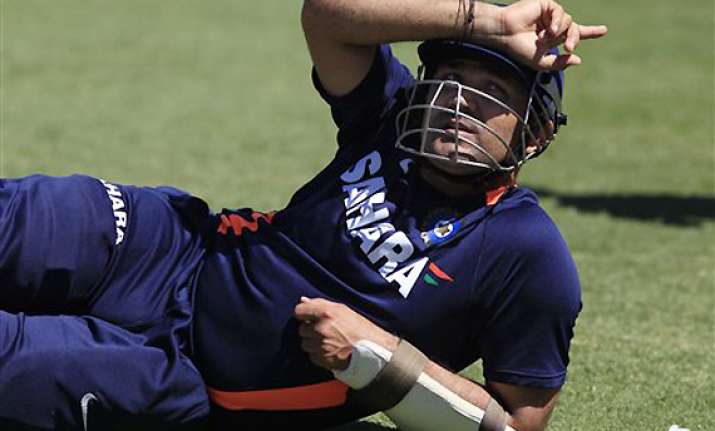 Perth, Jan 17: If Virender Sehwag was anxious about his role as India skipper for the fourth Test against Australia and his continued poor run with the bat, he didn't show it to the world during the nets at the WACA on Tuesday.

After batsmen - from Rahul Dravid to Rohit Sharma to Virat Kohli to Gautam Gambhir - had gone through some serious nets, Sehwag preferred to bat in shorts without any protection of pads, against throw downs and slow bowling, at the WACA.

Sehwag is now at the helm of India's fortunes for the Adelaide Test, starting from January 24, after regular leader Mahendra Singh Dhoni was banned for slow over-rate during the third Test last week which India lost by an innings and 37 runs.

Sehwag has a fearsome reputation as a devastating opener, scoring 8098 runs from 95 Tests at 50.93 average with 22 centuries including two triple hundreds, yet his form on the present tour has been downright dismal. Sehwag has scored 118 runs from six innings of three Tests at an average of 19.67.

Sehwag has pleasant memories of the last tour to these shores to lift him up where he scored 151 in the final Test at Adelaide Oval, the venue for the fourth Test of the present series.

Indians came to the WACA this morning in two batches - the first arrived at 10 in the morning and had most of the top order batsmen and bowlers Pragyan Ojha and Abhimanyu Mithun to accompany.

The second batch that came at 1100hrs included VVS Laxman, Sachin Tendulkar, Mahendra Singh Dhoni and Sehwag himself, besides bowlers such as Ishant Sharma, Vinay Kumar and Ravichandran Ashwin. For all intent and purpose, it was a serious session.

The seriousness of the Indians though bordered on paranoid as they barred the media from standing straight in the background to nets.

Apparently it affected their visibility with the movement of the media in front. That the net bowlers were moving in the background all the same, made no headway by way of logic with the management.

Dravid still fretted about his technique and chatted with coach Duncan Fletcher. The veteran spent close to two hours at the nets, trying to iron out the technical flaw in his forward defence which has so far resulted in five bowled out of six dismissals.

To the naked eye, it still appeared that Dravid wasn't making that initial back and across movement which was the hallmark of his batting in prime. Some team members simply believe that he has become just a tad slow in his footwork which is causing gap between his bat and pad.

Fletcher also spent a great deal of time with young Rohit Sharma. The middle-order batsman has been on the fringes for the entire series and Adelaide could still end up as a Test in wait.

Fletcher passed on his observation and a few tips to Rohit, especially to the characteristic flaps he essays against lifting deliveries past point. Fletcher appeared to stress the point it could land him in trouble in Australia.

Wicketkeeper Wriddhiman Saha also made an appearance and batted at the nets. It's now certain that Saha would fill in for the banned Dhoni as a wicketkeeper-batsman at number seven in Adelaide next week.

"He is a good wicketkeeper. We are hoping he makes some runs too," said Gambhir.

Media manager GS Walia was prompt enough to announce the team wouldn't be practicing on January 18, 19 and 20 in Adelaide. Wednesday would be spent in travel and after two further days of rest, the team would be seen in the nets in Adelaide on January 21.