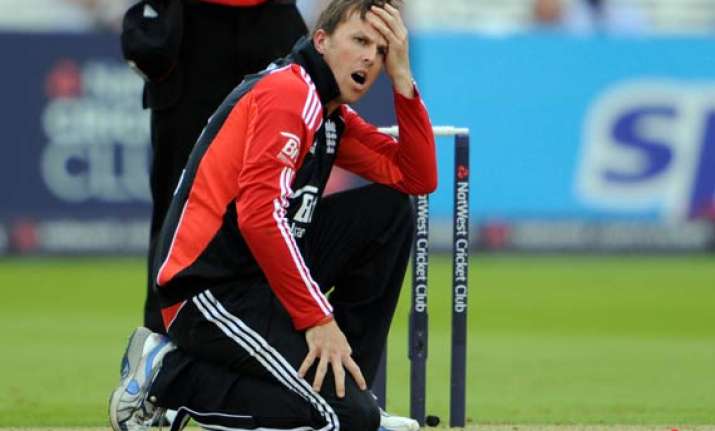 London, July 20: For many, this is not just a battle between the number one and two cricket sides at the moment; it is also a contest between the best batting line-up and the best bowling attack. On paper, it does ring true.

India have the formidable trio of Sachin Tendulkar, Rahul Dravid and VVS Laxman; they may miss Virender Sehwag dearly at one end, but Gautam Gambhir is sure to dig in at the other. Add MS Dhoni and an in-form Suresh Raina and it does look quite impressive.

England, on the other hand, have a potent pace attack marshalled by James Anderson, Chris Tremlett, Stuart Broad and Tim Bresnan. Add off-spinner Graeme Swann and you have balance and variety too.

Yet, three of the men who will be hoping to break India over the next month see things differently. Swann, to begin with, doesn't even believe that India have the best batting side.

"I wonder if they are really the world's best six at the moment. I think it is our top six," he said. "Their records certainly stack up against each other." It may be a slight case of delirium but Swann has faith in England's batters. " Alastair Cook and Jonathan Trott are the two best batsmen at the moment in world cricket. Then, we also have Kevin Pietersen who will very soon become the best player," he said.

That wasn't all. He claimed that by the end of the summer England will almost certainly be world number one. "It's very simple. We have to win as many Test matches as we can in the series. So far, we have gone the right way doing that. Hopefully, at the end of this summer, we would be there," he said.

Young Tremlett, though, feels India will present him and his bowling colleagues the biggest challenge yet. "They have great batsmen. They know how to get the runs on the board. They are easily the biggest challenge at the moment," he said.
He, however, was confident that England knew how to overcome them. "If we do the right things, we can bowl them out and get 20 wickets," he added. Bresnan, meanwhile, has other things to worry about. As the fifth bowler in the shortlisted 12, he is not yet sure if he will play this Test.
"I don't lose sleep over anything," he said, flashing a wide grin, when asked if it was a straight fight between him and Broad.

"Both of us offer good things to England. It will all depend on the situation and conditions. The selectors and Flower and Strauss will take that call," he said.

"The only thing I could do is to bowl well and push for a place. If it comes my way, brilliant," he said