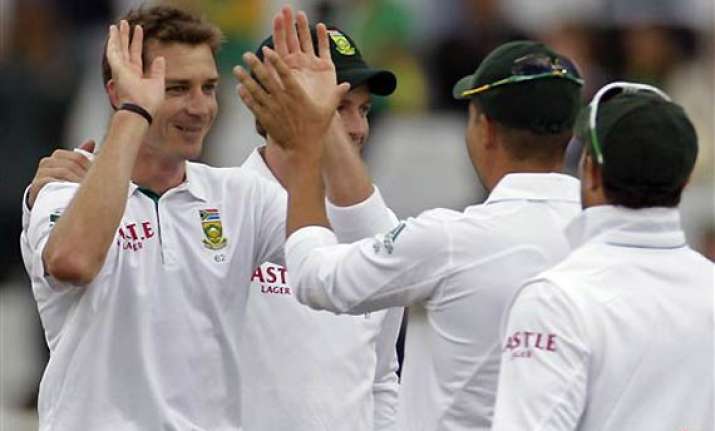 Dubai, Nov 12: South African pacer Dale Steyn has become only the 20th bowler to break the 900-point mark in the ICC rankings for Test bowlers after claiming six scalps in his side's eight-wicket win over Australia on Friday.

Steyn began the Cape Town Test on 899 ratings points and earned three ratings points for his efforts of 4/55 and 2/23 to become only the second South Africa bowler after Shaun Pollock to achieve the rare distinction.

In rankings terms, 900 or more ratings points means a player is truly outstanding, a benchmark for the very top bowlers.

"It is very special for me to join the 900-point club. There are a lot of world-class players in that region and it is an honour to be in their company," a delighted Steyn said.

"When I go out and bowl I hardly ever think of the rankings, for me it is about representing my country and giving my best for the team so sometimes it means a lot to receive the recognition."

At 902 ratings points, Steyn is 17th in the all-time ratings list with an excellent chance of moving further up that list provided he puts up another stellar performance in the second and final Test which starts in Johannesburg next Thursday.

Steyn has been holding the number one slot in the list for current players since the Durban Test against England in December 2009, although his first time at the top of that table came in April 2008. In 47 impressive Tests, the 28-year-old has taken 244 wickets.

Such is Steyn's dominance in the bowling rankings that second-placed James Anderson of England trails him by 91 ratings points, while his team-mate Morne Morkel, who is the second best South Africa bowler in third position, is 126 ratings points behind.

Steyn lies in seventh position in the ODI bowlers' list and 16th position in the Twenty20 International.

Among others, Australia's Shane Watson has earned a career-best ranking of 10th, improving 15 places, after returning with a figure of 5-2-17-5 in South Africa's first innings score of 96.

Debutant Vernon Philander, one of the architects of Australia's second innings collapse for 47 with figures of 7-3-15-5, has entered the bowlers' rankings in 49th position.

In the ICC Player Rankings for Test batsmen, all three batsmen -- Graeme Smith, Hashim Amla and Michael Clarke -- who scored centuries in a sensational Cape Town Test have made upward moves.

South Africa captain Smith, who scored 37 and 101 not out, has climbed eight places to seventh spot, Amla's score of three and 112 have lifted him four places to eighth position while Clarke lies in 17th position after gaining five places following his scores of 151 and two.

At the top, Jacques Kallis has been replaced by Sri Lanka's Kumar Sangakkara after the South African slipped seven ratings points behind him after scores of nought and two not out in the just-concluded Test.

Other batsmen losing ground include Mike Hussey in 11th (down six places), AB de Villiers in 13th (slipping three spots), Shane Watson in 30th (dropping four slots), Ricky Ponting in 34th (down two positions), Brad Haddin in 42nd (falling five places), Mark Boucher in 48th (down three spots) and Phil Hughes in 53rd (slipping four places).

In the ICC Player Rankings for Test all-rounders, Watson has moved into third position, ahead of Stuart Broad of England and Bangladesh's Shakib Al Hasan. The list is still headed by Kallis with Daniel Vettori of New Zealand in second spot.