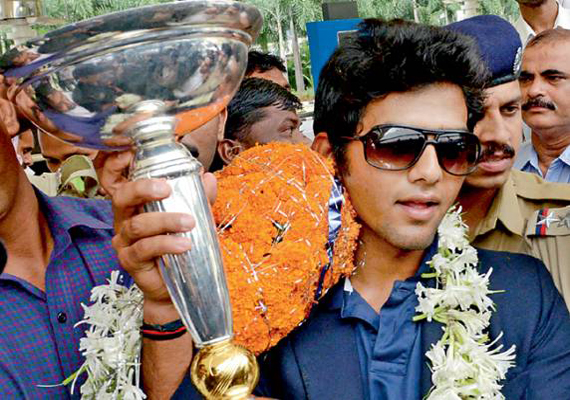 New Delhi, Aug 30: Delhi's prestigious St Stephen's College principal Valson Thampu today ruled out giving special consideration for Under-19 World Cup winning team captain Unmukt Chand for his poor attendance record. 
Speaking to a TV channel, Thampu said it was true Unmukt Chand had a very busy schedule and he could attend only 8 per cent of the classes.  
"He (Unmukt) could not play a single match for our College team, and St Stephen's lost in the very first round of the inter-college cricket competition", said the principal.  
Thampu said, "As long as the rules stand, I will not apply them unilaterally."
The Delhi University rule says, a student must attend 66.6 per cent of the classes, and students can be given 33 pc leeway for taking part in sporting events.
"Every student who is admitted to St Stephen's College does know what the requirement are, and I think Unmukt also knew the requirements. He was not joining an ordinary institution. The secret of success of St Stephen's is that it does not compromise", said the principal.  
"My advice to Unmukt and other Unmukts is: for God's sake, take care of yourselves. It's not feastivle to go through life by smashing frameworks", said Thampu. "Rules have to enforced if you are to be part of the system", he added.  
BCCI official Rajiv Shukla said, as far as St Stephen's is concerned, it's primarily their own discipline, and we cannot interfere in that. "We can only appeal to the college to consider Unmukt's case sympathetically, but ultimately it will be their own decision", he added.  
Cricketer Kirti Azad lashed out at St Stephen's decision saying, "you can't penalize a budding cricketer like this. You can give him special attendance."
Unmukt's father said, Unmukt is very much disturbed at the moment. "May be they will come up with a new policy and I am still hopeful. The matter has gone to court and the hearing is on the 16th (Sept). I want the matter should be resolved amicably."