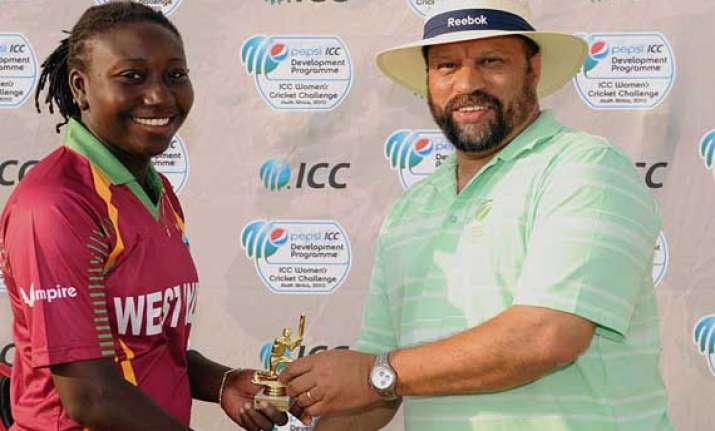 Port of Spain (Trinidad):  The world's leading woman cricketer, Stafanie Taylor, says she will continue working to improve her game despite achieving an unprecedented feat in international cricket.
Taylor, the ICC Women's Player of the Year, now leads all three rankings tables -- batting, bowling and all-rounder, reports CMC.
The Jamaican cricketer is the only player in the history of the game (man or woman) to ever be No.1 in both batting and bowling rankings in either Test or ODI cricket at the same time.
"It feels great to be No.1 in the world. It is something I have worked hard to achieve and that hard work has brought me success," Taylor told WICB media Tuesday.
"But now is not the time to stop. I still have lots of work to do to maintain my form and get even better. I know I can get better."
Taylor's recent form has been outstanding.
She made a superb century and took four wickets as she led the West Indies women's team to a series triumph over New Zealand women earlier this month at Sabina Park in Jamaica.
The 22-year-old was equally dominant in the recent T20 International Tri-Series at Kensington Oval in Barbados where she was the leading batter with 160 runs (average 40) and one of the leading bowlers with five wickets (average 14.40) at a strike rate of 4.8 runs per over.
"For me this is a high point of my career so far, but there is more to achieve. I have been playing really well in both the 50 overs and the 20 overs so I just want to keep improving," she said.
"Batting is my stronger skill and I always look to build an innings for the team. I love batting so much and I always wanted to be the top in batting."
Taylor already has the best batting numbers in the history of West Indies women's cricket.
She has played 67 ODIs and made 2,626 runs (average 45.27) with five centuries including a top score of 171.
In bowling she is the second highest wicket taker of all time with 91 wickets (average 16.3)at an impressive economy rate of just 2.9 runs per over.