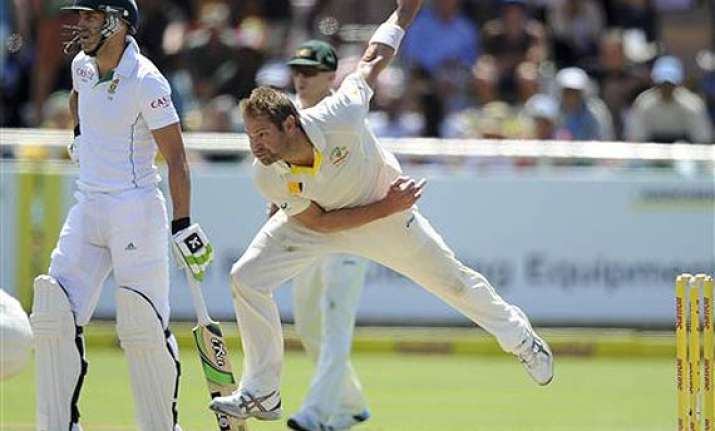 CAPE TOWN:
South Africa  Scoreboard Monday at stumps on the third day of the third test between South Africa and Australia at Newlands:
Australia 1st Innings: 494-7 declared.
South Africa 1st Innings
 Graeme Smith c Haddin b Harris 5
 Alviro Petersen c Haddin b Johnson 53
 Dean Elgar c Haddin b Pattinson 11
 Hashim Amla b Harris 38
 AB de Villiers c Clarke b Johnson 14
 Faf du Plessis c Warner b Johnson 67
 JP Duminy c Haddin b Harris 4
 Vernon Philander not out 37
 Kyle Abbott b Watson 3
 Dale Steyn c Watson b Johnson 28
 Morne Morkel c Watson b Pattinson 7
 Extras: (8b, 3lb, 6w, 3nb) 20
 TOTAL: (all out) 287
 Overs: 82.5.
Fall of wickets: 1-7, 2-42, 3-95, 4-121, 5-133, 6-146, 7-241, 8-249, 9-279, 10-287.
Bowling: Ryan Harris 22-9-63-3, Mitchell Johnson 19-5-42-4, James Pattinson 18.5-4-77-2, Shane Watson 9-1-34-1, Nathan Lyon 12-1-53-0, Steve Smith 2-0-7-0.
Australia 2nd Innings=
   Chris Rogers not out 1
   David Warner not out 25
   Extras: (1lb) 1
   TOTAL: (without loss) 27
   Overs: 6.
   Still to bat: Alex Doolan, Michael Clarke, Steve Smith, Shane Watson, Brad Haddin, Mitchell Johnson, Ryan Harris, James Pattinson, Nathan Lyon.
   Bowling: Morne Morkel 3-0-24-0, Kyle Abbott 3-1-2-0.
   Toss: Australia.
   Umpires: Aleem Dar, Pakistan, and Kumar Dharmasena, Sri Lanka.
   TV umpire: Ray Illingworth, England. Match referee: Roshan Mahanama