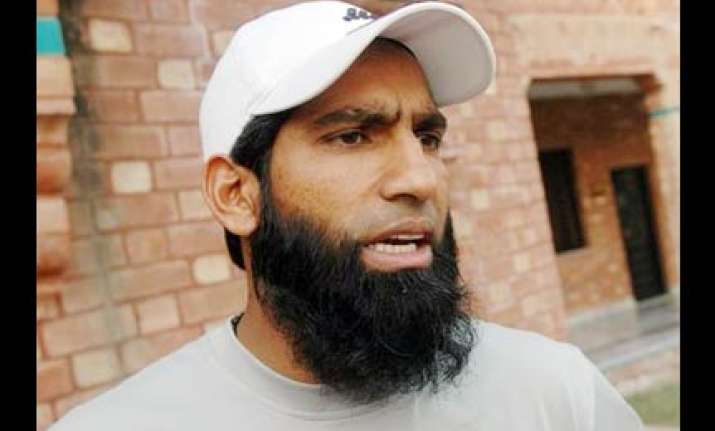 Birmingham: A battered Pakistan side takes on England in the second test at Edgbaston on Friday, with its selectors poised to take a huge gamble by recalling former captain Mohammad Yousuf.
Within 24 hours of the 354-run defeat by England in the first test at Trent Bridge, Yousuf, having coming out of international retirement, was summoned from Pakistan in a high-risk move by the selectors.
Yousuf's condition has to be open to question: he only received a visa on Wednesday and is due in Britain on Thursday after a 10-hour flight, less than 24 hours before the second test starts.
Although Yousuf, 35, averages 53 in tests, he has only played Twenty20 cricket in the past six months and bringing him back into the squad risks re-opening the bitter wounds exposed in May, when a video of an inquiry into player behavior was leaked to Geo Super TV.
Shoaib Malik, one of many former Pakistan captains still haunting the current set-up, was seen saying: "His (Yousuf's) captaincy in Australia was pathetic."
Malik in turn was accused of refusing to perform for Yousuf, while the new captain Salman Butt may struggle to forget the public admonition he received from Yousuf after running him out against Australia in Hobart in January.
In the immediate aftermath of the capitulation at Trent Bridge, Butt had pleaded for more time for his young teammates.
"Whoever is in the Pakistan side is there because of ability," he said. "They need to be given time to show what they are capable of."
Butt was openly skeptical about the idea of tinkering with the line-up.
"Having seen the past results can anybody over here tell me how many wins Pakistan had with the people who were previously playing?" he said.
Coach Waqar Younis also seemed to rule out a recall for either Yousuf or Younis Kahn, another former captain.
"One (Yousuf) is retired," he said. "We can't bring back someone is retired and the other (Younis) has serious issues with the Pakistan Cricket Board."
With or without Yousuf, Pakistan risks losing the series 4-0 and although Pakistan lost and lost badly at Trent Bridge, Butt did at least seem to be rebuilding team unity.
When catches were dropped, he and his teammates made a point of supporting the culprit, particularly wicketkeeper Kamran Akmal.
"It was the selectors and team management that decided to call up Yousuf, I had no direct say in the matter," Butt said on Tuesday, which hardly amounted to a ringing endorsement.
Who Yousuf replaces is also a matter of conjecture as the only Pakistan player to play a significant innings at Trent Bridge was the bowler Umar Gul, with 65 not out in the first innings.
And while the bowling attack had some success, spinner Danish Kaneria has been released from the squad after taking 1-171 in the match and replaced by Saeed Ajmal.
The contrast with England's serene preparations is stark. With every passing test, England sound increasingly like recent all-conquering Australian sides, as the players talk of "executing gameplans" and backing themselves.
There is concern over Kevin Pietersen's form - he hasn't made a century since the tour of the West Indies in March 2009 – while Alastair Cook could also do with some runs.
But unless there is an injury, the England starting line-up will almost certainly be unchanged.
Graeme Swann, who bowled just two overs in the match despite being the leading spin bowler in world cricket this year, is happy to take a back seat again.
"It was nice to have the best view in the house, just sit on the armchair at slip and watch it," Swann said, joking with reporters.
"If I get a couple of wickets (at Edgbaston), I'll be perfectly happy.
"Whenever you go into a game you always expect the worst and when I say the worst I mean expect to bowl 30 overs in an innings and really feel it afterwards.
"If this game went exactly the same as the other one it wouldn't bother me because it means we're 2-0 up. I'm not saying that all phoney, like 'as long as the team wins I'm happy.' I am inherently lazy so if I don't have to do anything for three and half days apart from watching my mates do the work, so be it!"