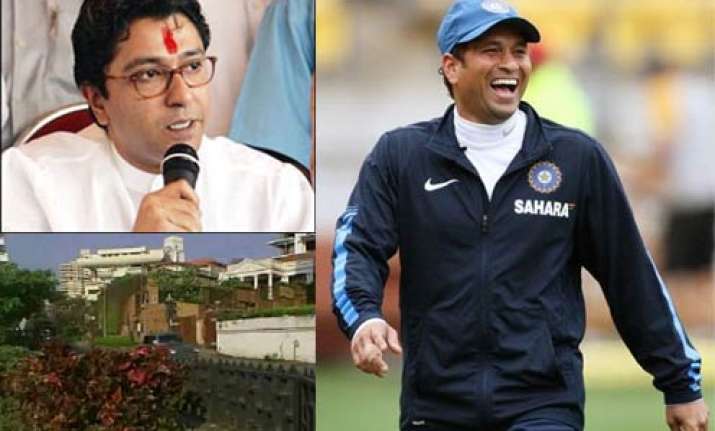 Mumbai, Feb 23 :  Maharashtra Navnirman Sena (MNS) chief Raj Thackeray has slammed the Maharashtra government for rejecting Sachin Tendulkar's request for additional FSI to set up a private gym at his under-construction Bandra home, reports Times of India.
"Had Sachin belonged to any other state, say, Gujarat, Uttar Pradesh or Tamil Nadu, just think how the CMs of these states would have treated him," Thackeray told mediapersons on Tuesday.
A request was recently made to Mantralaya on behalf of the Master Blaster that he should be allowed to use the gym facility free of FSI at his Perry Cross Road residence at Bandra. Tendulkar purchased the 8,998-square-foot plot in 2008.
The architect firm, assigned the task of designing Tendulkar's house, had made an application to the BMC, which then forwarded it to the urban development department, it is learnt. Chief minister Prithviraj Chavan is in charge of the UD portfolio. State administration officials say Tendulkar's request for free use of the personal gym at his residence cannot be granted under the existing norms.
Thackeray added, "Sachin belongs to Maharashtra; he has made the state proud. Every Indian loves him, every Indian, irrespective of age, holds him in respect.He is very close to being decorated with the Bharat Ratna. And the Maharashtra government isn't willing to accept his request for additional FSI. This is shameful.
He further said that the state government is not known to have taken prompt and stringent action against FSI violations in Mumbai,Meanwhile, Aditya Thackeray on Tuesday called on CM and urged him to take measures to prevent closure of Andheri's Chinai College.