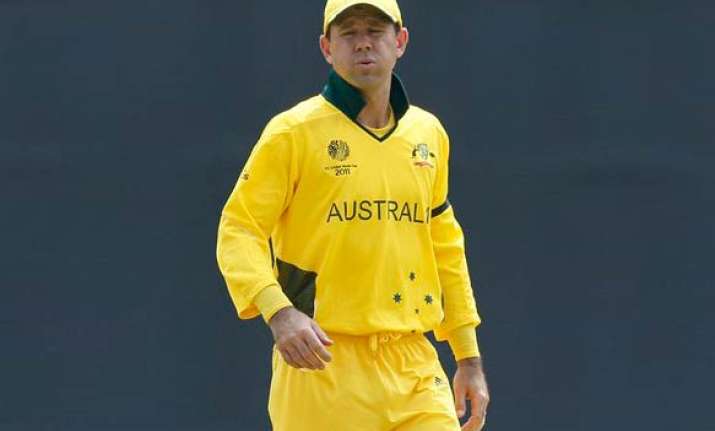 Nagpur, Feb 25: Soon after recording an emphatic seven-wicket win over New Zealand, Australian captain Ricky Ponting sounded a stern warning to other teams to be wary of his pace trio of Mitchell Johnson, Shaun Tait and Brett Lee.
"It was a good game for us today. New Zealand are a very good one day side but if our three guys can bowl as well as what they did today, it will be hard work for any team to beat us," Ponting lavished praise on the pace trio.
While Man of the Match Johnson has raced his way to eight wickets from two matches (two four-wicket hauls), Tait's fiery pace and Lee's controlled aggression knocked the stuffing out of the Black Caps here today.
"The fact that they took wickets early meant I didn't have to fall back on Watson through the day," Ponting said.
Johnson said he revels in the role of a first-change bowler.
"I have always enjoyed coming in as the first change. I am not so worried about my economy rate. Whenever I am out there, I just try to bowl my best ball as many times as I can. It's working for me now but this is a long tournament and we need to keep working on it," Johnson said.
Johnson also gave credit to Tait and Watson as they had already picked up a couple of wickets before he came into the attack.
"In the first game, we hadn't had a wicket when I came on. Today, we had a couple of breakthroughs and the situation was pretty exciting for me."
The left-arm speed merchant felt that his "hit the deck" ability works for him when he is bowling in sub-continent conditions.
"Probably, the conditions here suit my bowling. I have really enjoyed the challenges here over the years in these conditions. I watched the game England played against the Netherlands here and it looked like a pretty good wicket. I just wanted to bang the ball into the wicket.
"That's what I did against Zimbabwe but I am not probably thinking about too much. I always want to get down there and enjoy myself," Johnson said.
Asked about how he sorted out Ryder, Johnson said, "Two balls before he got out, I told Ricky that I am going to nick him (Ryder) out. I bowled a good length ball and it worked."
Ponting also praised his openers who showed a lot of positive intent going after the bowling during the powerplays.
"Our openers played their spinners well particularly Vettori. They gave a lot of boundary balls which also helped."
Australia will play their next match against Sri Lanka on March 5 and Ponting believes that after a couple of days rest, they can get on with training.
"The Sri Lankan team is heavily reliant on their batting. They depend mainly on Dilshan, Sangakkara and Jayawardene. All three have scored in the last match. We will have to work that out," he said.
Ponting did express his disappointment that Doug Bollinger will have to return home due to ankle injury.     
"We are really disappointed for Doug. He had a sore ankle about a week ago and he struggled throughout. He's at a stage now where he really can't bowl well enough, so he's going home.
"I will talk to the selectors about who the replacement could be and we need to do that pretty quickly so that person can join us in Colombo in case he needs to play the next game. When he bowls well, he is as good as anybody." PTI