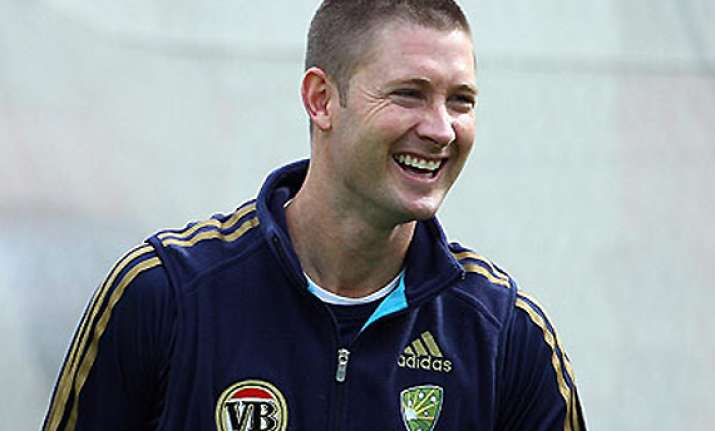 Melbourne, Jun 14: Australia's Test and ODI captain Michael Clarke does not find the players' demands in an ongoing pay dispute with the Cricket Board to be unreasonable but is hopeful that the deadlock would be resolved soon.
Australian Cricketers Association's Memorandum of Understanding with Cricket Australia expires on June 30 and the two parties are struggling to work out a new one despite several rounds of meetings.
If the deal is not worked out by June 30, there is a possibility of a players' strike.
"One thing I do know about the players is we're asking no more than what we've had. We believe the most important thing is giving back to this game, not just for the players that are playing today but for the future of the game. We want what's fair," Clarke was quoted as saying by a sports website.
"We want the game to continue to be the number one game in this country and hopefully in the world. As captain of the Australian team I'll do whatever it takes to make sure this game continues to grow," he added.
Clarke hoped that a consensus would be reached soon and the possibility of a strike would not become a reality.
"Hopefully it will be sorted sooner rather than later, for all parties. I think there's a meeting scheduled tomorrow with (Cricket Australia general manager of team performance) Pat Howard and (ACA chief executive) Paul Marsh ... The last thing we want to do is go on strike.
"I don't want to miss any cricket for Australia. I think it's best for everyone the sooner it gets done the better."
Clarke said the existing system was a good enough performance-based model.
"I believe our contracts are already performance-based. We have 25 contracted players; 90 per cent of those guys are on one-year contracts and if you don't perform in that 12 months you no longer have a contract, so you're looking for another job," he explained.
Australia will play an ODI against Ireland and one against England before the June 30 deadline. Four ODIs against England are scheduled in July.