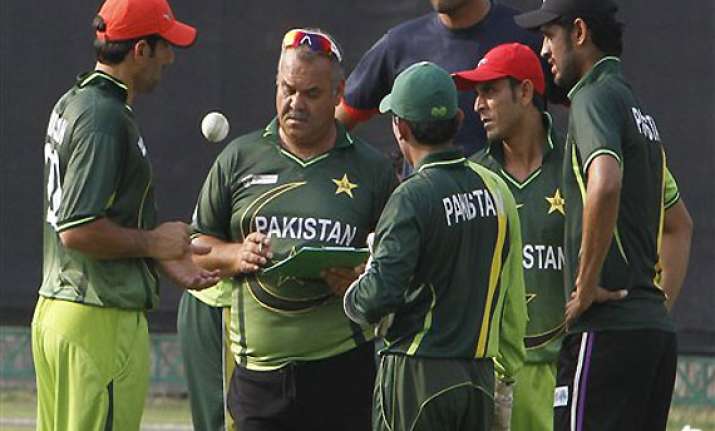 Islamabad, Apr 23: Pakistan cricket coach Dav Whatmore said Monday he was happy to endorse the Pakistan Premier League and hoped it will attract international players.

The Pakistan Cricket Board is planning to launch the PPL in October and wants to use the Twenty20 competition to show the world that the country is safe for cricket. Several companies -- including one from India -- have shown interest in the project.

"I'm sure there will be a lot of international cricketers looking to their schedules and see they are available in this short period of time to come and play here," Whatmore said. "I am very hopeful that there will be some very good international cricketers coming and enjoying playing in the Pakistan Premier League."

Pakistan has not hosted a major international team since terrorists attacked a Sri Lanka team bus in Lahore in March 2009, killing six police officials and wounding several members of the team.

Bangladesh was due to start a short tour of Pakistan next week but its visit was postponed after the High Court in Dhaka ordered it be delayed for a month because of security concerns.

The PCB has succeeded in convincing only the Afghan national team to compete in Pakistan when it played three one-day internationals against a second-string Pakistan team last year.

While test-playing countries remain unsure of the security situation in Pakistan, the PCB named Australian Whatmore and Englisman Julian Fountain to its coaching staff soon after the series against England ended in the United Arab Emirates in February.

The UAE has served as a second home for Pakistan, which plays its home matches in the Gulf country.

Whatmore said there are no security problems for him in Lahore where he has been staying at the National Cricket Academy -- close to the site where the Sri Lanka team came under attack.

"I am now staying in Lahore for the last two months and I move around quite freely," Whatmore said. "I really don't have any problems with security and if I knew more areas in Lahore I would be visiting more places."

Pakistan hosted a domestic Twenty20 competition in Rawalpindi this month and Whatmore was impressed with the presence of large crowds watching national team players.

A team comprising players from British universities also visited Lahore this month and played one-dayers against the national under-19 team with hundreds of people in attendance at the Gaddafi Stadium.

"People in this country are starved (for cricket)," Whatmore said. "A lot of people have said and I've read 'it must be difficult for Pakistan, it must be really hard for the people here,' but do they really know how hard it is?

"You need to come and witness it, to really know how difficult it is for a nation that has a rich history in international cricket to keep the game going without having the ability to host overseas teams."

Pakistan's next international matches will take place in Sri Lanka, where it will play a test and ODI series starting in June. The PCB is also planning to host Australia in Sri Lanka for Twenty20 and ODI matches to get more used to the conditions ahead of the Twenty20 World Cup -- also in Sri Lanka in September.