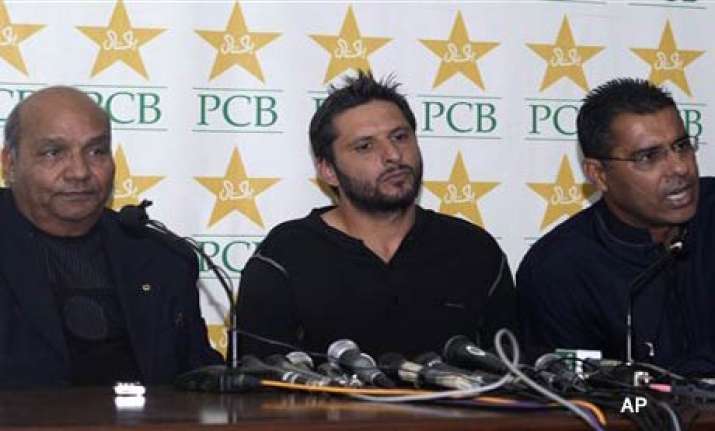 Iislamabad, Feb 11 :   When it comes to tumultuous preparations for the World Cup, Pakistan is in a league of its own.Only last week, key players Salman Butt, Mohammad Asif and Mohammad Amir were each banned for a minimum of five years after the International Cricket Council found them guilty of spot fixing in a scandal that has plagued Pakistan cricket since a British newspaper expose last August.
The loss of those players and the tension surrounding the investigation have seriously damaged Pakistan's team composition for the World Cup, which is being co-hosted by Sri Lanka, India and Bangladesh.
"It was important that the whole issue should have been finished before the World Cup starts and I am pleased that it all has just gone down the drain," Pakistan coach Waqar Younis said. "Hopefully we can start fresh .... and deliver good in the World Cup."
Former chief selector Iqbal Qasim supported the current selection panel, saying "it will be tough to fill in the shoes of three suspended players, but the selectors have picked up the best possible squad."
Pakistan was originally slated as a World Cup co-host, but was stripped of those rights after a deadly terror attack on the Sri Lankan team's bus en route to a test match at Lahore in March 2009. Six police officers and a bus driver were killed, while some of the Sri Lankan players and a coach sustained minor injuries.
And that came only two years after a disastrous 2007 World Cup in the Caribbean, when coach Bob Woolmer was found dead in his hotel room the morning after Pakistan's shocking loss to Ireland put them out of contention in the first round. Jamaican police started a murder investigation, but medical experts later ruled that Woolmer died of natural causes.
Pakistan will receive financial compensation for every match it was originally scheduled to host during the Feb. 19-April 2 World Cup, but nothing will compensate homeground advantage. The Pakistanis play the group stage in Sri Lanka, but they're used to playing away -- since the Lahore attacks, Pakistan has played all its international cricket abroad.
Pakistan won the World Cup for the only time in 1992, when the great allrounder Imran Khan led the team to victory in Australia. Wasim Akram's team came close to repeating that in 1999 before a lopsided loss to Australia in the final at Lord's.Since then, it has been plagued by inconsistency.Selectors didn't even settle on a captain for the World Cup until last week -- the only country to submit a team by tournament deadline without specifying a leader.
Shahid Afridi was later confirmed as captain, but only after securing an ODI series in New Zealand. Pakistan subsequently lost the final match of the series and finished ahead 3-2.
Former captain Zaheer Abbas, who played in the first three World Cups before retiring in 1985, urges people to keep their expectations in check: "It's not that strong team.""We should not expect much from them, but then in 1992 we were almost out of the event and went on to win it," Abbas said. "So I can only hope we do well this time."
Pakistan is Group A and unless there is another slump like there was in 2007, few could argue against it reaching the quarterfinals.
Three-time defending champion Australia is favorite to top the group, with Pakistan, Sri Lanka and New Zealand also expected to advance. Zimbabwe and 2003 semifinalist Kenya and Canada are also in the seven-team group.
Pakistan's strength is likely to be in the middle order, where hard hitting Afridi and Abdul Razzaq are the most capable utilizing the five-over batting powerplays, but it all depends whether the top order preserves wickets.
The axing of experienced three-time World Cup veteran Mohammad Yousuf has weakened the batting lineup further, leaving former captain Younis Khan and Misbah-ul-Haq to grind out most of the middle overs and shoulder the load of carrying the team to challenging totals.
Except for Younis and Misbah there's not much experience in the top order.
Opening batsman Mohammad Hafeez is one of the seven Pakistan players who have experience of playing in the World Cups. Hafeez has been in and out of national selection and has played just 64 ODIs in eight years. His opening partner Ahmed Shehzad has played just nine ODIs.
Wicketkeeper Kamran Akmal was tested at No. 3 during the series against New Zealand and he could give his younger brother Umar Akmal, Younis and Misbah some backup.
The selectors have gambled on Shoaib Akhtar, the injury-prone 35-year-old fast bowler who clocked a world record 161.3 kph delivery during the World Cup eight years ago but is in the final stages of his 13-year international career.
Akhtar's career has been hit by doping scandals and injuries and restricted him to only 160 ODIs. However, a fully fit Akhtar has the ability to torment opposing batting lineups.
Umar Gul and fast improving left-arm fast bowler Wahab Riaz will supplement Akhtar in the pace department with 21-year-old uncapped Junaid Khan coming in as a late replacement to Sohail Tanvir, who could not fully recover from knee surgery.
Specialist spinners Abdur Rehman and Saeed Ajmal may get limited playing time, depending on the form of Afridi and Hafeez.Coach Younis is unlikely to favor a specialist spinner over an allrounder or a batsman in crunch games.
Younis could not make it to the 1992 World Cup due to injury, and then failed to lead Pakistan to the Super Sixes in South Africa in 2003 when he was the captain.But this time around maybe, as a coach, he could guide Pakistan to the final. AP