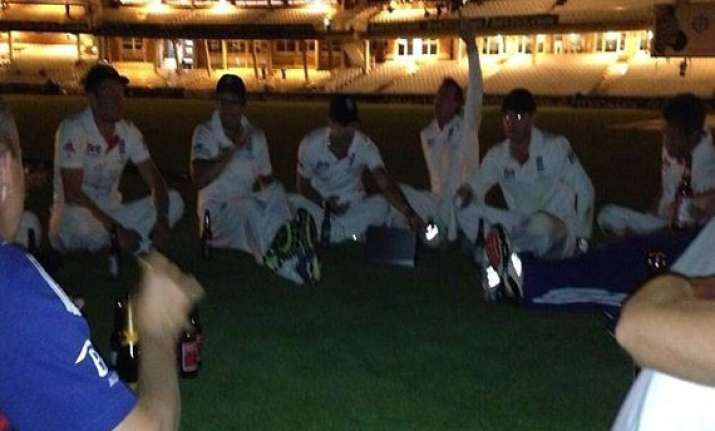 London: England's cricketers made more news about their peeing party over Oval pitch than their Ashes triumph. They are at the receiving end  after they urinated on the wicket at the Oval during drunken celebrations after their Ashes win.
Stuart Broad, Kevin Pietersen , James Anderson and several other players took turns to relieve themselves while their teammates cheered.
According to the reports officials of the London cricket club are furious about the incident and reportedly called on the sport's governing body to investigate. The incident which shamed the game,  was witnessed by ground staff shortly before midnight on Sunday.
Richard Gould, the chief executive of Surrey Cricket Club, said: ''We are very disappointed. Nobody wants to put the mockers on any England celebration but that will be viewed by many people and by us as an irresponsible thing to have done. Knockabout stuff is one thing. But it is a very silly thing to do on a pitch at the Oval where there is so much heritage and history.''
Gould said he had spoken to the England and Wales Cricket Board and awaited news of its investigation.
Ground staff at the Oval had worked hard to ensure that the pitch was dry and were said to be hugely disappointed by what they considered to be incredibly disrespectful behaviour.
Tweets sent by some of the England team after their 3-0 series win over Australia indicated the extent of the celebrations at the end of the five-match series.
A picture tweeted by Matt Prior, the wicketkeeper, showed the squad lounging on the pitch after dark, surrounded by beer and champagne, referring to it as the ''best moment of the Ashes''.
Broad tweeted a picture of Prior and Alastair Cook, the captain, trying to hail a bus in their whites while Pietersen hinted at a sore head, writing: ''Morning.. #ouch #mayday''.
Former England captain Michael Vaughan said such behaviour could lead to accusations that the team has become arrogant.