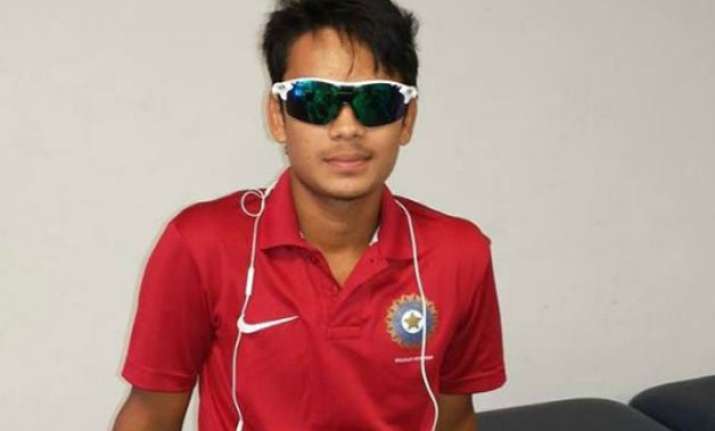 Patna: Patna Police on Wednesday denied reports that India's Under-19 cricket captain Ishan Kishan was arrested after his over-speeding car hit an autorickshaw in a Kankarbagh area in Patna last evening.
The reports also claimed that Kishan and his father Pranab Pandey were 'manhandled' after the incident.
"There has been no arrest or FIR in the case. Both the parties have settled it mutually at the police station yesterday," officer in charge of Kankarbagh police station Vijay Kumar Mishra said.
The OIC said it was Kishan's father Pandey who was driving the car when it hit the autorickshaw that turned turtle and a woman sustained minor injury.
Bihar Cricket Association joint secretary Neeraj Singh said there was nothing to worry about and the cricketer has already resumed training. Singh, who had gone to the police station after hearing the incident on Tuesday, said that Kishan and his father were on their way to a sports store from their residence in Rajendra Nagar and described the scene.
"Suddenly the autorickshaw tried to cross the road and was hit from behind. There were two women among the passengers as all of them got furious and manhandled the duo. Fortunately police reached the spot and took control of the situation.
"One of the women sustained minor injury and that was promptly taken care of. Both Kishan and his father cooperated and settled it," Singh said.
However reports claimed that the 17-year-old wicketkeeper batsman, who was appointed captain for the upcoming ICC Under-19 World Cup in Bangladesh, was arrested for alleged reckless driving, damaging someone's vehicle and misbehaving with people.
It was reported that Ishan was driving his father's car when he allegedly oversped and hit an autorickshaw from behind and the impact of collision was so strong that passengers sustained injuries.
Terming it totally false, Singh said, "I don't know why the incident is being blown out of proportion. It's nothing serious at all and Kishan has already joined training today."
The Under-19 World Cup is scheduled to be held in Bangladesh from January 27-February 14 and India begin their campaign against Ireland January 28.