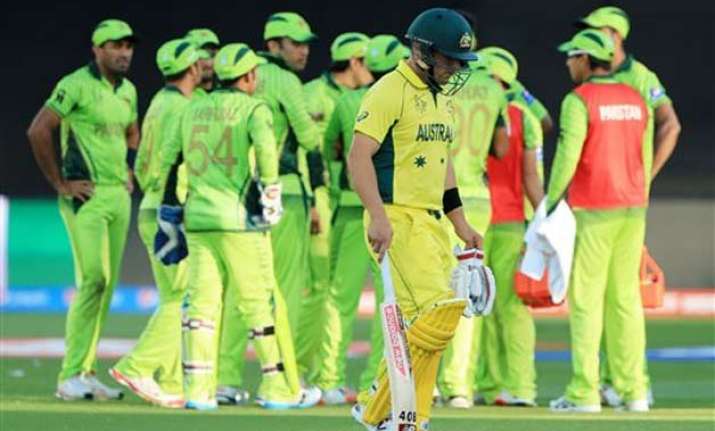 Adelaide: Australia take on Pakistan in the third quarterfinal of the ICC World Cup 2015 at Adelaide Oval eyeing a spot in the semifinals.
Clarke: 'Extremely happy. A really close game in the end. Credit to Wahab Riaz, it was an outstanding spell. The way Shane Watson hung in there was fantastic. Steve Smith was good as well. Wahab bowled really well and really tested us out. '
Misbah: 'Obviously disappointing after losing the quarter-final, but Australia deserve the win. They bowled and batted well. 270-280 was pretty much on, but bad shot selection cost us.
Australia will be going to semis with  full confidence when they take on India  at the Sydney Cricket Ground. It should be  a  to be a cracker of a  contest between two form sides of the tournament.
Josh Hazlewood is the Man of the Match for his 4/35
Australia 216/4 after 33.5 overs
Shane Watson    64 (66)     Glenn Maxwell    44 (29)
Watson takes Australia to the semi final with a boundary
Meanwhile their is a little bit banter  going on between Watson and Wahab Riaz.Maxwell seems to be in a hurry to finish the game quickly and has hit a wonderful six over covers.
One thing that Team India players and management  will watch out that these Australians are struggling to play Riaz's short ball . Australia have won 22  out of 25 games that they have played at the home with a stunning win percentage of more than 91. It is just a matter of time as Australia are cruising towards a comfortable victory over Pakistan.
Australia 169/4 after 30 overs
Watson    48 (56) Maxwell    14 (16)
Drinks Break
The bowling change has worked for Pakistan as Adil took the wicket of reliable Steve Smith. Pakistan will hope for a miracle going thier way.Glenn Maxwell comes in the middle.Pakistan fielders looking like they are having butter fingers and missing the crucial catch of dangerous Maxwell.Terrible shot from Maxwell and terrible effort from Sohail.
S Smith lbw b Ehsan Adil 65(69) Βs-7].
Australia 139/3 after 25 overs
S Smith    57 (60) Watson    41 (51)
The game is slipping slipping  faster than Pakistan would have liked. It's going to be one-way traffic from here. Smith looking solid and is continuing his good form this summer.
Australia 106/3 after 20 overs
Steven Smith 48 (50), Shane Watson 20 (31)
Smith and Watson are going very well and it should not be the matter of more than 20 overs from here. However it is an excellent performance from Riaz as he is bowling an inspired spell. Watson looks under so much pressure facing up to him. Watson is making the bowlers pay for his dropped catch.
Australia 74/3 after 15 overs
Steven Smith 36 (38), Shane Watson 3 (13)
Australia's progress have been pegged back with two quick strikes of Warner and Clarke. This may give some joy to Pakistan however the target is still very much in reach with Maxwell and Faulkner yet to arrive. Steven Smith is going good and will be the key in chase. Bowlers will look to pick up 2 or 3 more before the batting powerplay.
Shane Watson is in at no. 5
Australia 59/3
Michael Clarke c Maqsood b Riaz 8 (11)
OUT! The short ball works. This was banged in short and on the stumps, Clarke had nowhere to go, doesn't get on top of the bounce as he looked to defend. He ends up pushing the bat in front of his face, goes high in the air and lobs safely into the hands of Maqsood.
Australia 56/2 after 10 overs
Steven Smith 22 (23), Michael Clarke 7 (9)
Australia lose a wicket against the run of play. Although it was not a wicket taking delivery, but Pakistan manages to dismiss Warner. They are scoring at a healthy rate and would not be the matter of above 40 overs.
Michael Clarke walks in at no. 4
Australia 49/2
David Warner c Rahat Ali b Riaz 24 (23)
OUT! Short and plenty of width on offer, Warner leaps up and cuts it in the air, he wanted to hit it over backward point, but ended up offering a catch to squarish third man.
Australia 23/1 after 5 overs
David Warner 16 (18), Steven Smith 5 (7)
Pakistan struck early with a wicket of Aaron Finch but Warner shows no signs of stopping. He wants to finish as early as possible.
Steven Smith comes in at no. 3
Australia 15/1
Aaron Finch lbw b Sohail Khan 2 (5)
OUT! Struck in front, loud appeal and umpire raises his finger. Sohail Khan jumps in joy but Finch has reviewed it. The replay shows that the ball was heading to the middle stump and the original decision stays. It was the inswinger from Sohail Khan, Finch leans forward and fails to connect with the flick, the ball strikes him just below the kneeroll,
Warner has the strike and Ehsal Adil to start off for Pakistan.
The chase is about to begin in moments. The Pakistani fast bowlers are already on the ground warming up. Waqar Younis is overlooking things.
======================
It would be very difficult for Pakistan to defend the total and with the absence of Mohammed Irfan, it looks more easy for Australia. They can chase the total within 40 overs as the kind of batting line up they have. All that means, it is likely that India will play Australia in yet another World Cup knock out after 2011. That time it was quarterfinal and this time it would be a semi-final.
Pakistan's batsmen once again brought pressure upon themselves. Loose shots at the top, slow going in the middle, resulting in low-percentage cricket. Shahid Afridi slashed and bashed his way to play a cameo, but while looking for biggies he thrown away his wicket as well. Misbah was very well settled but he made the mistake first time, trying to go for a slog sweep but hangs it on to deep mid-wicket.
Some excellent aggressive bowling from them. Starc is back on top of the tree. Hazlewood has proven his line and length is a better pick than Cummins in a team of two other express quick bowlers. Johnson has shown signs of the return of some of the menace. Maxwell produced two crucial wickets in the middle.
Faulkner was exceptional in the batting Powerplay and in the end. When Watson bowls five overs for 17 and is the least talked about, you know the attack is doing a lot of things right. They have now taken 59 wickets out of the 60 available to them.
Pakistan 213 all out after 49.5 overs
Rahat Ali 6 (21)
Pakistan have been bowled out with one ball remaining. Faulkner also has a wicket to his name and the job is done by the Australian bowlers.
Ehsan Adil c Starc b Faulkner 15 (22)
OUT! It was short and just outside off, Adil fetches it from there, top-edges the pull towards long leg, Starc runs to his right, goes down quickly to ground and takes a good low catch.
Pakistan 195/9
Sohail Khan c Haddin b Hazlewood 4 (5)
OUT! Hazlewood gets his 4th.Length delivery on off, Sohail swings it wildly, the ball skies towards point, Haddin calls and moved his right to complete the catch.
Sohail Khan comes in at no. 9
Pakistan 188/8
Wahab Riaz c Haddin b Starc 16 (22)
OUT! Edged and gone! Starc strikes and eight down for Pakistan. Fullish and just outside off, Riaz backs away to the leg-side, tries to go big gets the outside edge which flies to the right of Haddin. Now even 200 looks very from here.
Ehsan Adil comes to crease now
Pakistan 188/7
Sohaib Maqsood c Johnson b Hazlewood 29 (44)
OUT! And another. Pakistan are tattering now with 7 down. Good shot by Maqsood but he had found the fielder. Full ball, on off, he knows there is no deep cover, he is looking to drive over the ring, just gets too close to the pitch of the ball, and finds Johnson at cover
Pakistan 182/6 after 40 overs
Sohaib Maqsood 28 (39), Wahab Riaz 11 (16)
Only 21 runs in the batting powerplay and that's a really poor show by the batsmen. This was the opportunity to score some big runs. However they didn't lose a wicket and that's the only thing which might please them. Pakistan are struggling against the Aussie bowling attack. This way they won't even reach a respectable total. Maqsood will have to play till the end of the innings to help them post something reasonable.
TIME FOR BATTING POWERPLAY
Pakistan 161/6 after 35 overs
Sohaib Maqsood 19 (24), Wahab Riaz 0 (1)
Regular strikes have dented Pakistan innings. They are now struggling to reach even the 200 run mark. Afridi played some good shots but trying to hit every ball made him pay by his wicket. From here Maqsood is the only player who can bat and take the total upto 200 or even 250 but batsmen at other end should support him.
Wahab Riaz is in at no. 8
Pakistan 158/6
Shahid Afridi c Finch b Hazlewood 23 (15)
OUT! Looking for another biggie but this time he doesn't succeed. Hazlewood pumps his fist as Afridi throws it away. Poor cricketing sense from Afridi, he wanted to hit every ball out of the park and Finch takes a good catch above his head at deep square leg.
Pakistan 134/5 after 30 overs
Sohaib Maqsood 5 (5), Shahid Afridi 10 (5)
Pakistan are losing wickets on a regular interval here. First Misbah and then Haris Sohail and Umar Akmal followed him back in the span of 27 runs. The last recognized batting duo of Afridi and Maqsood are out now and now they have to take up the responsibility to take the total past 250.
Shahid Afridi is in at no. 7
Pakistan 124/5
Umar Akmal c Finch b Maxwell 20 (25)
OUT! outside off and Akmal drills it straight to Aaron Finch at deep mid-wicket and takes a good catch. He didn't had to move an inch. Disappoited Akmal hits his bat onto the ground and walks away.
Sohaib Maqsood comes in at no. 6
Pakistan 112/4
Haris Sohail c Haddin b Johnson 41 (57)
OUT! It was well outside off and going further away, Sohail's feet went nowhere as he went for a flashy drive, the nick went to Haddin's left who grabs it easily.
Pakistan 102/3 after 25 overs
Haris Sohail 40 (54), Umar Akmal 4 (8)
Misbah and Haris Sohail were going good with a 70+ runs stand but a gamble of Michael Clarke of introducing Maxwell worked. The Pakistan skipper tries a big slog but top-edged it and Finch took the catch at deep mid-wicket.
Umar Akmal is in at no. 5
Pakistan 97/3
Misbah-ul-Haq c Finch b Maxwell 34 (59)
OUT! The bowling change has worked. The overspinner from Maxwell, it was outside off, Misbah looked for another biggie, but top-edged the slog sweep and Finch running around from deep mid-wicket has taken a good catch.
Pakistan 83/2 after 20 overs
Haris Sohail 28 (43), Misbah-ul-Haq 32 (48)
A good fightback after early setbacks. Misbah and Sohail are well settled and that's what they need to do now. They are changing strikes regularly, a left and right hand combination which is making it difficult for the bowlers to adjust their line and lengths.
Pakistan 64/2 after 15 overs
Haris Sohail 20 (26), Misbah-ul-Haq 21 (35)
Little recovery for Pakistan as this partnership is worth 40 now. The batsmen look well settled and are taking singles to change strikes. After a slow start, Misbah came into the show as he smashed Maxwell for the first six of the innings.
Pakistan 37/2 after 10 overs
Haris Sohail 7 (11), Misbah-ul-Haq 8 (20)
Misbah came in in the familiar situation he has been facing since a long time. Pakistan are two down and the skipper needs to stay for long and play another knock to push Pakistan to a defendable total. Misbah could have been dismissed if the ball round the legs had hit the stump. The ball just touched the stumps and the lights flashed. Hazlewood was celebrating but the bails stayed on its place.
Misbah-ul-Haq walks in at no. 4
Pakistan 24/2
Ahmed Shehzad c Clarke b Hazlewood 5 (13)
OUT! Another edge and another wicket. This time its the skipper Michael Clarke. On a good length and outside off, Ahmed Shehzad went for an expansive drive on-the-up, played away from his body and edged it, it went low to Clarke at 2nd slip. Australia on a charge here.
Pakistan 24/1 after 5 overs
Ahmed Shehzad 5 (12), Haris Sohail 4 (2)
Pakistan had a decent start. Opening duo of Sarfraz and Shehzad were looking good. Their body language suggested that they were not interested in taking singles much as they wanted to settle down first. However the man in form Sarfraz Ahmed was dismissed cheaply by Starc after getting an edge to Watson at first slip. Haris Sohail came in next and smashed a cracking boundary through the point.
Haris Sohail is in at no. 3
Pakistan 20/1
Sarfraz Ahmed c Watson b Starc 10 (16)
OUT! Edged and taken. And it's the big man. What a catch by Watson at first slip. Good delivery with extra bounce, going away from the batsman. He gets a thick edge to the slips.
Ahmed Shehzad and Sarfraz Ahmed are at the crease. Shehzad is on strike. Starc will open the attack.
Players of both the teams are out for their respective national anthems.
The winner of this game will meet India in the semi-finals which means there is a chance of another India-Pakistan encounter.
Australia (Playing XI): David Warner, Aaron Finch, Steven Smith, Michael Clarke(c), Shane Watson, Glenn Maxwell, Brad Haddin(w), James Faulkner, Mitchell Johnson, Mitchell Starc, Josh Hazlewood
Pakistan (Playing XI): Ahmed Shehzad, Sarfraz Ahmed(w), Haris Sohail, Misbah-ul-Haq(c), Sohaib Maqsood, Umar Akmal, Shahid Afridi, Wahab Riaz, Sohail Khan, Rahat Ali, Ehsan Adil
They are going with the same side which played against Ireland while for Australia, Josh Hazlewood comes in for Pat Cummins.
Toss time: Pakistan have won the toss and have elected to bat
The pitch looks an absolute belter. Nice and hard and flat. If the opening bowlers pitch the ball up, they should get some traditional swing. With a well-grassed pitch, it won't deteriorate much for reverse swing to come into play in the last 10 overs.
The teams have a 4-4 head-to-head record but recent form suggests the tournament co-hosts will have the upper hand on Friday.
Pakistan, due to injuries and unavailability, has had to rely mostly on pace backed up by leg-spinning allrounder Shahid Afridi. The balance of Pakistan's attack was unsettled again when fast bowler Mohammad Irfan was ruled out due to a fractured pelvis, but Clarke isn't getting carried away with Australia's seemingly overwhelming favoritism.
Australia has banked on a bowling attack stacked with pacemen, and is very likely to go the same way on Friday with Mitchell Starc, who has a tournament-leading 16 wickets, and Mitch Johnson joined by either Pat Cummins or Josh Hazlewood.
There are some parallels with 1992 — the only other time Australia and New Zealand have co-hosted the tournament — in the way Pakistan, which beat England in the final, has progressed. Two early losses — including a defeat in Adelaide to defending champion India — put them on the brink of elimination before some momentum-boosting wins, particularly over South Africa.
The Australians have won the World Cup on every continent on the cricket map except their own. The honor of winning in Australia belongs to Pakistan, which recovered from a shaky start, had a little bit of luck along the way and then won the title for the first and only time in 1992.