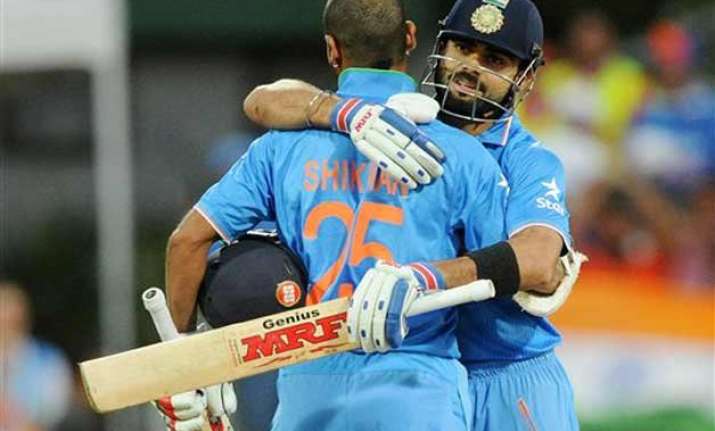 India won by 8 wickets
Hamilton:
On the cusp of creating World Cup history, a supremely confident India will aim to crush a gutsy Ireland in their penultimate group encounter of the ICC Cricket World Cup on Tuesday.
The 174-run stand for the first wicket turned out to be India's highest partnership for the opening wicket.
Shikhar Dhawan and Rohit Sharma played with flair and panache to compose brilliant knocks and take India to a thumping victory by eight wickets. India now have won nine consecutive games under Dhoni's leadership in World Cups. In terms of successive victories in World Cups, Dhoni is now joint second with Clive Lloyd. It was Dhawan and Rohit, who tore apart a modest Ireland attack and collected runs with utmost ease. Dhawan had his fair share of luck, but he made them pay by essaying a ton.
The players shake hands. Kohli and Rahane congratulate each other with a hug. MS Dhoni now has 9 consecutive World Cup wins, the most by an Indian captain. He went past Sourav Ganguly, who had 8 wins in the 2003 World Cup. Dhoni is second on the list of captains with the most wins in World Cups, he is equal with Clive Lloyd.
India 260/2 after 36.5 overs
Virat Kohli 44 (42), Ajinkya Rahane 33 (28)
India have recorded their fifth consecutive in this World Cup. Kohli dispatches this with utter disdain. Full and outside off, he walked down the crease and hammered it past the cover fielder, long-off had no chance of cutting that off
India 242/2 after 35 overs
Virat Kohli 33 (35), Ajinkya Rahane 27 (24)
India are cruising comfortably, they took the batting powerplay after the 33rd over aiming to finish it before the 40 overs. The way they are batting, ven 400 looks chasable on this wicket. Kohli and Rahane now share a strong partnership of 52 runs in just 44 balls.
India 203/2 after 30 overs
Virat Kohli 21 (23), Ajinkya Rahane 2 (6)
India lost both of their openers now and the scoring rate also came down to 6.75 which was once well above 7 while Dhawan and Rohit were batting. However Dhawan was dimissed while trying to play a big one on the leg side but mistimes it to short cover. He completed his second world cup ton and now is the second highest run scorer in the World Cup 2015.
Ajinkya Rahane comes in at no. 4
India 190/2
Shikhar Dhawan c Porterfield b Thompson 100 (85)
OUT! It's a length ball on off stump, and he looks to hit it over the leg side. It straightened off the pitch, and he skewed it high over cover off his outside edge. Porterfield took it very, very well, turning around and running away from the batsman
India 175/1 after 25 overs
Shikhar Dhawan 97 (76), Virat Kohli 0 (8)
India loses Rohit Sharma just as when the opening duo were off to a record partnership for India in the World Cups. Meanwhile Dhawan continues to play with the Ireland bowlers and is just short of his second world cup century.
Virat Kohli comes in at no. 3
India 174/1
Rohit Sharma b Thompson 64 (66)
OUT! Rohit was trying to run it down to third man, played with an angled bat and the inside edge clattered into leg stump. He missed an easy chance of his first world cup ton.
India 144/0 after 20 overs
Shikhar Dhawan 71 (64), Rohit Sharma 59 (56)
Rohit Sharma presented the full face of the bat to play some glorious drives. In particular, the on-drive he essayed off Dockrell's bowling was a sumptuous stroke. Rohit also lofted Paul Stirling over mid-off for a six to get to his half century.
India 103/0 after 15 overs
Shikhar Dhawan 47 (50), Rohit Sharma 43 (40)
There's no stopping for Dhawan and Rohit. Both are inching towards their half centuries as well. It is a good opportunity for both the Indian openers to perform and they are doing. A century opening stand here for India. Ireland pacers seems to have surrendered in front of India but spinners here too are doing good.
India 73/0 after 10 overs
Shikhar Dhawan 30 (31), Rohit Sharma 34 (29)
Dhawan and Rohit have pressed the accelerator button. India are cruising along with a run rate of over 7. Boundaries are coming every over. This is the first 50-run opening stand for India in this World Cup. Meanwhile Rohit Sharma becomes the 14th Indian cricketer to have crossed the 4000 ODI runs mark with a huge six over mid-wicket.
India 22/0 after 5 overs
Shikhar Dhawan 10 (11), Rohit Sharma 11 (19)
Decent start by the Indian openers. But they are living in a bit of danger. Dhawan was dropped by John Mooney on his follow through but it was a difficult chance. So far both Rohit and Dhawan scored couple of boundaries each.
Rohit is on strike. John Mooney will open the attack
Indian openers are walking upto the middle.
India are about to begin their chase shortly. If India wins, it'll be 9th victory on the trot in the World Cups started against West Indies in 2011.
-----------------------------------------------
The Indian unit would be confident of chasing down this target. On the other hand, Ireland have an uphill task on their hands.
For a brief period, Niall O'Brien and Andy Balbirnie raised genuine hopes of taking Ireland to a sizeable total, but losing the wickets of Balbirnie, Kevin O'Brien and Niall O' Brien at a crucial juncture of the innings didn't help their cause. For India, Ashwin continued his rich vein of form by bowling with control and took two wickets. Raina too did a commendable job in the middle overs.
This is the first time, India have cleaned up the opposition for five successive times in ODIs.
It was a mixed sort of innings from Ireland. A blazing start, a stutter against the spinners, a recovery through Niall O'Brien, and they seemed poised for 300 at one point, but India struck back with a bunch of wickets to keep them down to 259.
Indian bowlers did well in the latters to restrict Ireland under 300.
Ireland 259 all our after 49 overs
John Mooney 12 (16)
Alex Cusack c Yadav b Shami 11 (13)
OUT! and it's all over for Ireland. Short ball outside off stump, Cusack stays leg-side off the ball and guides it uppishly, third man takes an easy catch and he didn't have to move an inch. It's a record for India. For the first time ever they have dismissed their opponents all out five times in a row.
Alex Cusack is the last man in
Ireland 238/9
George Dockrell c Dhoni b Yadav 6 (12)
OUT! Umesh Yadav gets a wicket too. Short of a length ball outside off stump, Dockrell swings across the line and gets a thick edge. Dhoni takes an easy catch.
Ireland 234/8 after 45 overs
John Mooney 1 (6), George Dockrell 6 (11)
This is not what Ireland wanted after the start they got. They last 5 wickets for 21 runs. Definitely not a 300 plus total for Ireland but they seem stuggling to even cross the 250 run mark.
George Dockrell is in at no. 10
Ireland 227/8
Stuart Thompson run out 2 (2)
OUT! Confusion among the batsmen in the middle. Yes, No, Yes, No and out! Mooney played it softly towards short cover. Thompson took off for the single but Mooney sent him back. Kohli hits the stumps direct at the bowler's end, and the diving batsman is nowhere near the crease.
John Mooney is in at no. 9
Ireland 226/7
Niall O'Brien c Yadav b Shami 75 (75)
OUT! Full and on the off stump from round the wicket, O'Brien walks across the stumps and flicks, but Dhoni has a man at backward square leg and it goes straight to him. Ireland are losing their way.
Stuart Thompson comes in at no. 8
Ireland 222/6
Gary Wilson c Rahane b Jadeja 6 (7)
OUT! Jadeja strikes! Flighted delivery down the leg-side, Wilson goes for the sweep, but gets a top edge. Rahane takes a good diving catch at short-fine leg.
Ireland 212/5 after 40 overs
Niall O'Brien 65 (68), Gary Wilson 4 (3)
The Indian spinners tightened the screws on the Irish batsmen and were able to keep the opposition in check. The track is offering a bit of grip and Ireland have been tentative against the spinners. The batting powerplay yielded 41/2 for Ireland. Two quick wickets of Kevin and Balbirnie by Ashwin and Shami might have put something in favor of India but failed to stop Niall O'Brien. Yadav and Jadeja have been very expensive so far.
Gary Wilson comes in at no. 7
Ireland 208/5
Kevin O'Brien c Dhoni b Shami 1 (2)
OUT! Edged and taken. Good length delivery just outside off stump, O'Brien doesn't get fully forward, looks to drive and gets an outside edge, which goes to Dhoni at a good height.
Kevin O'Brien is in at no. 6
Ireland 206/4
Andy Balbirnie c Shami b Ashwin 24 (24)
OUT! Caught by Shami!! Flighted ball from Ashwin, Balbirnie goes for the sweep but gets a top edge, short fine leg runs to his left and just about manages to hold onto the ball.
Ireland 171/3 after 35 overs
Niall O'Brien 45 (57), Andy Balbirnie 9 (10)
A good fightback by the Irish batsmen after the wicket of Porterfield. Niall O'Brien who started his innings at a very slow rate has now gained his pace and also inching towards his half century.
Andy Balbirnie is the next man in
Ireland 145/3
William Porterfield c Yadav b Mohit 67 (93)
OUT! That's a big wicket. The bowling change has worked for India. Another slower ball from Mohit Sharma, Porterfield comes down the track and tries to flick, gets a big leading edge, the ball goes up in the air, Umesh runs a few steps back and takes an easy catch at mid-off.
Ireland 142/2 after 30 overs
William Porterfield 66 (88), Niall O'Brien 27 (42)
Dhoni have used every possible option of spin. He tried Ashwin, Jadeja and even the part timers Raina and Rohit. That's seven bowlers in 30 overs. After Joyce, Niall O'Brien joined his skipper and the duo have crossed the half century stand. Terrific show by the Irish batsmen here.
Ireland 113/2 after 25 overs
William Porterfield 52 (69), Niall O'Brien 12 (31)
Ireland captain Porterfield scored a well deserved half-century. While MS Dhoni is using his spinners regularly. Fast bowlers have not been impressive so far in the match while spinners are getting turn and everything.
Ireland 96/2 after 20 overs
William Porterfield 45 (57), Niall O'Brien 2 (13)
Good comeback by the bowlers here. Ireland started their innings on a very good note but their progress has been pegged by two quick wickets. Dhoni ploy of using spin from both ends seems to be working here and that's why he introduced Raina who picked up the wicket of Ed Joyce. However Porterfield is still on the crease and he will be dangerous.
Niall O'Brien comes to crease at no. 4
With this, the players have taken DRINKS
Ireland 92/2
Ed Joyce b Raina 2 (9)
OUT! Bowled him! Cleaned up by Raina.That was angled in again, a bit round-arm, and was neither short enough nor wide enough to cut. Made himself room, and it hurried through him and took out his middle stump.
Here comes the last match centurion for Ireland...Ed Joyce
Ireland 89/1 after 15 overs
William Porterfield 42 (49)
Ireland are off to their best start in World Cup so far and India it's worst. Indian batsmen must be ready to chase the target of 300 which is looking very easy at this point of time. Ireland are scoring at the run rate of almost 6 will 9 wickets in hand. However Ashwin provided India their first breakthrough after dismissing Paul Stirling. Bowlers from here must now allow any batsmen to flourish.
Ireland 89/1
Paul Stirling  c Rahane b Ashwin 42 (41)
OUT! A wicket....finally! Flighted delivery from Ashwin. Stirling looked to hit over the top. Ended up checking his shot, and scooping the simplest of catches to Rahane at long-off.
Ireland 60/0 after 10 overs
William Porterfield 30 (34), Paul Stirling 25 (26)
This is the first half-century opening stand against the Indian bowlers in this world cup. Dhoni has tried all his specialist pacers and a spin of Jadeja but nothing went in his favor. Ireland are absolutely playing a class of cricket and they have warned India of not taking them lightly. This is great batting from Ireland and this should be a good workout for the Indian bowlers before the quarters. Remember, this pitch is a heaven for the batsmen.
Ireland 33/0 after 5 overs
William Porterfield 18 (18), Paul Stirling 12 (12)
Untidy start by the Indian bowlers. This is the first opening batting pair in the tourament so far that has dismantled the Indian bowlers with boundaries and sixes right from the start. Captain Porterfield is scoring run a ball. He has already hit couple of fours and six. Shami who was pick of the bowlers seems to have lost his charm.
William Porterfield and Paul Stirling are at the crease. Porterfield is on strike. Umesh Yadav will open the attack
The national anthems of both teams are being played.
India (Playing XI): Shikhar Dhawan, Rohit Sharma, Virat Kohli, Ajinkya Rahane, Suresh Raina, MS Dhoni(w/c), Ravindra Jadeja, Ravichandran Ashwin, Mohammed Shami, Umesh Yadav, Mohit Sharma
Ireland (Playing XI): William Porterfield(c), Paul Stirling, Ed Joyce, Andrew Balbirnie, Niall O'Brien, Gary Wilson(w), Kevin O'Brien, John Mooney, George Dockrell, Alex Cusack, Stuart Thompson
India are playing with their same squad. No testing of bench strength.
Toss time: Ireland won the toss and have elected to bat
If India happen to win, it will create a new World Cup record of winning nine straight matches at the global event, starting from their win against the West Indies in Chennai during the 2011 edition.
The last time India met Ireland was in Bangalore during the last edition of the World Cup, where the hosts comfortably beat their opponents by five wickets as Yuvraj Singh emerged as the star performer with a 'five-for' and a half-century.
The tournament till now has been all about the resurgence of India's bowling unit which has taken 37 wickets amongst themselves in the four matches. If one takes out Bhuvneshwar Kumar's single wicket effort against UAE, the other five have shared the 36 among them.
While Ravichandran Ashwin and Mohammed Shami with nine wickets apiece have been the two prime performers, Umesh Yadav, Mohit Sharma and Ravindra Jadeja with six scalps apiece have done their job with equal efficiency and sincerity.
One small piece of statistic will be testimony to the kind of influence the bowlers have had in the ongoing tournament, one should sample the economy rate of the five-pronged bowling attack.
The 'worst' economy rate, if one dare to say so, is that of left-arm spinner Ravindra Jadeja, whose economy rate has been a very decent 4.51 runs per over.
It makes almost certain that India will play the semi-finals.
India are already in the quarterfinals. After Bangladesh stunned England in yesterday's encounter, they are likely to face India in quarters.