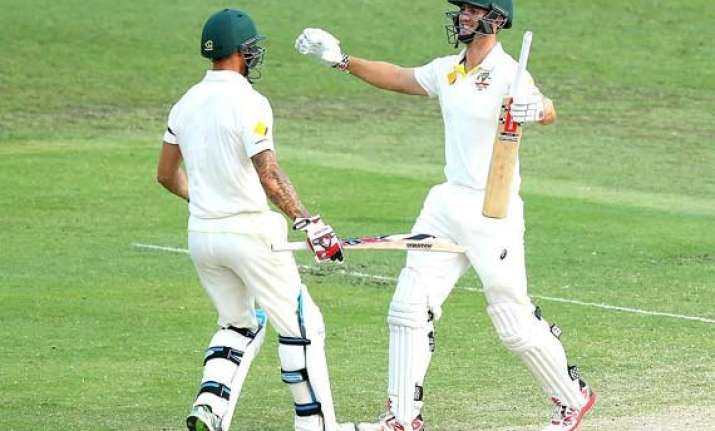 Brisbane: India had to battle it out for the whole day. They need to bat till the end of Day 4 to save the test match. Australia would look to bowl out India early and try to win the match today itself.
India might have won the game if there were 50-60 runs more.
Despite Ashwin following suit, India managed to claw their way to a 127-run lead thanks to Dhawan and Umesh. The opener came out to bat and braved injury to bring up a battling fifty, while Umesh slogged his way to 30.
India were on the back foot even before the first ball was bowled today with Dhawan picking up a wrist injury in the nets. Kohli, who was apparently hit in the nets too, walked out to replace his Delhi mate, but perished soon after. The procession continued as India slid to 117/6 from their overnight score.
Ashwin and Pujara briefly resisted the Australian attack before the latter was bounced out by Hazlewood.
And what a start to Steve Smith's captaincy career. Smith led the way for his side in the first innings with a sterling 133 and sharing 148 with Mitch Johnson to take the game by the scruff of its neck. India began reasonably well, closing out day 3 at 71/1. What transpired next was an all too familiar Indian collapse.
The turning point of the game would probably be the blows from the lower order and tailenders of Australia.
The game was nicely poised until Mitch Johnson forced the Indian batting implosion in the fourth morning session. Following up his counter-attacking fifty, Mitch scalped 4/61 to break the back of the Indian batting. Despite losing quick wickets, Australia continues to score at the run rate of more than 5.5 runs per over.
What a great start for Steven Smith as a test captain. From here Australia cannot lose the series.
Australia won the second test by 4 wickets
Australia 130/6 after 23.1 overs
Mitchell Marsh 6 (7), Mitchell Johnson 2 (3)
Mitchell Marsh finished the job after hitting a classic cover drive for four off Varun Aaron to take Australia home in the second test. He hugs Johnson with joy and Australians are delighted as they go 2-0 up in the series.
India picked up few quick wickets in the end but that was just not enough.
Mitchell Johnson is in at no. 8
Australia 122/6
Brad Haddin c Kohli b Yadav 1 (2)
OUT! Another one! Haddin goes for one. Short ball, he tries to pull but the ball hits the top edge and went straight to Kohli at backward square leg.
Australia 122/5
Steven Smith run out (Yadav/Dhoni) 28 (39)
OUT! Smith is run out. He ran for an unecessary second run but was just short of the crease. Dhoni collects the ball off Yadav's throw very well to hit the stumps.
Australia 114/4
Shaun Marsh c Dhoni b Yadav 17 (17)
OUT! Appeal for caught behind and Marsh is gone! Length ball down the leg. Marsh looked to glance but the ball touches the bat surface and went to Dhoni.
Australia 111/3 after 20 overs (17 runs to win)
Smith 21 (34), Shaun Marsh 15 (14)
Ishant gets third wicket for India of Chris Rogers after he bring up his second half century of the match. Steven Smith on the other hand has freed his arms to take his side to the victory. He was joined by Shaun Marsh after Roger's dismissal who gets in the show as well getting easy boundaries for Australia.
Shaun Marsh is in at no. 5
Australia 85/3
Chris Rogers c Dhawan b Ishant 55 (57)
OUT! Ishant gets his third. Edged and taken! Rogers departs after scoring second half century of the match. It was pitched short, Rogers flashes at it and the ball flies to Dhawan at second slip. No celebrations by the Indians.
Australia 76/2 after 15 overs (52 runs to win)
Rogers 47 (49), Smith 12 (26)
Steven Smith and Chris Rogers are again off to a flying start. Boundaries are coming, singles are coming in every over, what more they want. The line and length of Ishant and Aaron has been totally destroyed by the batsmen. Smith was dropped by Kohli at slips after getting an outside edge off Aaron's back of a length delivery.
Australia 42/2 after 10 overs (86 runs to win)
Rogers 26 (33), Smith 3 (10)
Couple of boundaries by the Aussie batsmen have really put them in charge. Bowlers are pitching the ball in right areas but the batsmen are capable enough to exploit.
Rogers takes the strike and Umesh Yadav to continue
The last session of the Day 4 and second test match is about to begin.
--------------------------------------
Watson's poor form continues as he perished for a duck while trying to pull a short delivery. The final session of the day promises to be a cracker. Can India pull off an historic win? Or will Steven Smith and co. go 2-0 up in the series? All answers will be given by the last session of the day and the match.
The little burst of 7 overs before tea must have made Indians think about an improbable win here. Chasing 128, Australia have started poorly, losing the dangerous Warner and Watson to Ishant Sharma. Warner looked a little rattled after a shortish delivery jammed into his thumb and he looked out of sorts thereafter.
Australia 25/2 after 7 overs (103 runs to win)
Rogers 15 (20), Smith 2 (4)
Ishant Sharma's two early strikes might have out Australia on backfoot a bit, but the game is certainly under their control. After losing Warner, Shane Watson followed him back scoring a duck. Tea break on Day 4.
Steven Smith is in at no. 4
Australia 22/2
Shane Watson c Dhoni b Ishant 0 (8)
OUT! Ishant gets his second! Very well directed bouncer. Watson tried to hook gets a leading edge, the ball flies into the sky and Dhoni takes an easy catch. He is out for duck.
Australia 18/1 after 5 overs (110 runs to win)
Rogers 11 (14), Watson 0 (5)
Ishant started with a maiden by was carted for two back to back boundaries by Chris Rogers in his second over. Warner looked in discomfort after a length delivery outside off by Umesh Yadav hits hard to his gloves but he decided to continue with it. He was dismissed cheaply by Ishant Sharma in 5th over after getting an outside edge to Dhoni.
Shane Watson is in at no. 3
Australia 18/1
David Warner c Dhoni b Ishant 6 (12)
OUT! Warner gone! What a delivery that was. It was back of a length delivery just outside off with extra bounce. The ball kisses the bat and went to Dhoni's gloves. Afterwards Ishant had a few words with Warner and goes past the batsman.
Ishant Sharma to start the proceedings for India and Chris Rogers takes guard.
Team India is in a huddle and Aussie openers David Warner and Chris Rogers are already in the middle. They are in a hurry to finish the game.
------------------------------
What India need to do is to repeat the feat of Border-Gavaskar trophy 4th test in Mumbai way back in 2014 when India set Australia a target of 107 and they were bowled out for a mere 93. That was a famous win for India. But in today's context that is not possible because India don't have veterans like Harbhajan and Kumble.
The target for Australia is 128. Dhawan denied the inevitable for sometime, along with Yadav he added 60 runs for the 8th wicket. He batted very sensibly, picked the balls to attack and managed to farm the strike far too often. However, he tried to be too cheeky against Lyon and paid the price. Yadav entertained with some meaty blows off Lyon, but with just Aaron and Ishant for company it was a matter of time for the Aussies to wrap things up. Lyon picked up two out of the three wickets in the session and Johnson, who started the downfall, fittingly finished things with Yadav's wicket.
India 224 all out in 64.3 overs (lead by 127 runs)
Ishant Sharma 1 (9)
Umesh Yadav hit couple of sixes in an over off Nathan Lyon to take his score quickly into the 30s before getting dimissed off an outside edge catch to Haddin. India finished with an overall lead of 127 runs which means Australia need just 128 runs to win.
Umesh Yadav c Haddin b Johnson 30 (42)
OUT! Outside edge and gone! Johnson was round the wicket. It was full and Yadav gets some bat on it and straight to Haddin. Johnson finished with four wickets.
Ishant Sharma is the last man in
India 211/9
Varun Aaron c Hazlewood b Lyon 3 (9)
OUT! Aaron goes high in the air and simple catch for Hazlewood at gully.
India 205/8 after 60 overs (lead by 108 runs)
Yadav 13 (28), Aaron 2 (5)
Shikhar Dhawan fought alone for India taking India's lead past 100 and also put up a half century partnership with no. 9 batsman Umesh Yadav. There was a huge appeal by Hazlewood and rest of the players for caught behind against Dhawan but was ignored by the umpire Erasmus before he was given lbw out off Nathan Lyon. The replay shows that the ball hits the strap of pads. Yadav is taking his chances as well, he scored two boundaries so far.
Varun Aaron is the no. 10 batsman in
India 203/8
Shikhar Dhawan lbw b Lyon 81 (145)
OUT! Dhawan departs and so are Indian hopes shattered. A fighting innings came to an end. Dhawan tried to play a scoop but he mistimed it and the ball struck the pads. Umpire had no doubt and raised his finger.
India 189/7 after 55 overs (lead by 92 runs)
Dhawan 71 (127), Yadav 9 (21)
Dhawan is really trying out his best after failing so far in the series. He is trying to keep the maximum strike and supported well by Umesh Yadav. Dhawan scored two boundaries of Hazlewood and Watson and stood as wall before the bowlers. These two have already built a partnership of 46 runs off 62 balls.
He and Watson had a bit of chit chat in between the overs and umpire has to intervene to stop them.
India 172/7 after 50 overs (lead by 75 runs)
Dhawan 56 (105), Yadav 7 (13)
Dhawan is the last man which can get India some hopes of putting on a decent total on the board. He gets to his battling half century which was much needed for him and the team. Dhawan backs away and muscles the pull in front of square for four to reach the milestone but no celebrations at all. Yadav on the other end is just trying to give maximum strike to Dhawan.
Dhawan takes the guard and Watson gets ready to bowl.
Dhawan and Umesh Yadav are in the middle.
Second session will be underway in moments
Last 10 test matches at Brisbane Gabba, only 4 matches have gone upto 5th day. This means 6 matches were finished on Day 4 only, and this is going to be 7th in 11 matches.
------------------------------------
The second session will surely be the last session of the match. It would be interesting to know how far Dhawan takes India.
Dhawan came in after Ashwin's wicket and along with Pujara kept the Aussies at bay until Hazlewood came back to dismiss Pujara. Granted Mitch bowled a fiery spell, but the batsmen contributed to their own dismissals by playing poorly. Another familiar collapse. We have seen that happen so often overseas in recent times. It has become a worrying trend. The Test is all but over. Who would've thought that yesterday when Australia were still 160 behind with just 4 wickets left.
Mitchell Johnson has been upto his best. He was on fire as Kohli, Rahane and Rohit were all easy prey from him.
It was the session totally dominated by Australian bowlers. India are hanging in here at Brisbane. 86 have been scored in 24 runs. Though the run rate this morning was quite good but India lose half of their players this morning. They lost 6 wickets in the morning session with a lead of just 60 runs.
India 157/7 after 47 overs (lead by 60 runs)
Dhawan 41 (92), Yadav 7 (8)
Both Dhawan and Yadav struck a boundary each before Yadav survived a run out chance when a direct hit by Warner hit the stumps at non strikers end. Umesh made it though. Warner was convinced, but it was proved to be wrong by the third umpire. Lunch taken after 47th over.
India 146/7 after 45 overs (lead by 49 runs)
Dhawan 36 (90), Yadav 1 (4)
Pujara was going good at a decent pace till Hazlewood ended his resistance by a short pitch delivery edged to gully. Dhawan who arrived at the crease after being injured in practice early in the day survived a missed chance by Haddin when the ball fell just short of him after he gets an oustide edge.
Umesh Yadav comes in at no. 9
India 143/7
Cheteshwar Pujara c Lyon b Hazlewood 43 (93)
OUT! There's the 7th. Short bal once again. Pujara tried to defend but finds an outside edge straight to Lyon at gully.
The crowd roars as Johnson comes back into the attack
India 124/6 after 40 overs (lead by 27 runs)
Pujara 36 (81), Dhawan 27 (71)
Ashwin was looking good than other batsmen while batting but a slightly short pitch delivery outside off was enough to send him back. Although is was another unfortunate dismissal for Indian batsmen but it was very close to be judged by the umpire. Pujara survived a run out chance after he was slipped at non striker's end while trying to take single.
Update: Hot spot doesn't show any inside edge of Ashwin's bat. Snicko shows a wave but that was ball hitting the thigh pad. Another mistake by the umpire but that was a close one.
Shikhar Dhawan is back in the middle to bat
India 117/6
Ravichandran Ashwin c Haddin b Starc 19 (29)
OUT! Starc gets his second. Ashwin goes back. Angled in delivery....Ashwin tried to play to mid-on but finds a little inside edge to Haddin who takes yet another catch. Umpire raises his finger straightaway. India in all sort of trouble now.
DRINKS BREAK
India 110/5 after 35 overs (lead by 13 runs)
Pujara 28 (62), Ashwin 14 (23)
Good to see India have not lose another wicket in 5 overs. The middle order batsmen esp Rohit and Dhoni should learn from Ravi Ashwin how to play the strokes under pressure. Ashwin is really trying to battle it out, hitting two boundaries off Hazlewood which were nothing less than classy and masterful strokes and took gets the lead for India. He had more strike than Pujara in last 5 overs. He opens his bat in Starc's over to score two boundaries in 35th over. It seems like the attitude of Ashwin is now having is effect on Pujara.
Dhawan has the pads on in the dressing room. It seems like he will come out to bat next.
India 89/5 after 30 overs (trail by 8 runs)
Pujara 20 (50), Ashwin 2 (4)
Australia got the start they wanted picking up 4 crucial wickets of Dhoni, Virat Kohli, Ajinkya Rahane and Rohit Sharma. Johnson after shining with the bat, shines with the ball too. First he sent back Kohli who was struggling outside off and later dismissed Rahane and Rohit in the same over in a slightly short pitch delivery. What a great spell by Johnson this morning and Hazlewood getting in the show as well after getting the Indian skipper! Runs should have been flowing for India but here wickets are flowing. India are already a batsman less as it is still doubtful that Dhawan will come out and bat. The test match will surely finish today itself.
Ravichandran Ashwin is in at no. 7
India 87/5
MS Dhoni lbw b Hazlewood  0 (2)
OUT! Another one..this time its the Indian skipper. He came across the stumps, struck on pads and umpire raises his finger after a huge appeal by Josh Hazlewood. India are in tatters here.
MS Dhoni arrives in next to the crease
India 86/4
Rohit Sharma c Haddin b Johnson 0 (2)
OUT! Another wicket. Outside off leaving the batsmen. Rohit finds an outside edge to the keeper. Johnson is back with a bang!
Rohit Sharma is in at no. 5
India 86/3
Ajinkya Rahane c Lyon b Johnson 10
OUT! Johnson strikes again! Short-ball he tries to cut but gets an edge to Nathan Lyon at gully. Another set back for India. Umpires had a look on no-ball but it's fine.
Ajinkya Rahane is the next man in
India 76/2
Virat Kohli b Johnson 1 (11)
OUT! Kohli is gone. Johnson gets his first wicket of the match. Kohli is not happy at all, he doesn't want to go. It was pitched outside off, gets an inside edge onto the pads and shattered the stumps.
India 75/1 after 26 overs (trail by 22 runs)
Pujara 19 (41), Kohli 0 (6)
Watson and Johnson started the day with couple of short deliveries troubling the batsmen. Watson has been pitching the ball outside off beating him constantly. Pujara on the other end completed his 2000 test runs in 46 innings of 26 matches. It was a bouncer and Pujara looked to leave, but the ball kisses his gloves and went for fine leg boundary.
Kohli has the strike and Shane Watson to bowl the first over of the day.
So the two unbeaten Indian batsmen Cheteshwar Pujara and Virat Kohli are in the middle. Shikhar Dhawan has been injured in the nets so that's why Kohli came in to bat. He was struck on his arm while practising in nets making him unable to come and bat. That's not a good sign for India.
Australians are warming up a bit. Fourth and crucial day of the test is about to get underway.
A good partnership from Dhawan-Pujara could set the platform for the likes of Kohli and Rahane and tilt the balance back in India's favour. Early breakthroughs today would see the hosts take firm control of the game.
Dhawan poked and prodded at a few, left the others, but he is still out there, unbeaten on 26. India will look up to Dhawan and Pujara to carry on and build a solid lead.
It was Lyon and Hazlewood show who joined in the fun, propelling Australia past the 500-mark. Early on Steven Smith raised his bat to become the first player since Greg Chappell to make a century in his debut Test innings as Australian captain. Mitch Johnson and Mitch Starc also contributed, scoring fifties to punish the Indian bowlers, who lacked penetration.
The game is still nicely poised. Vijay, who has been good at leaving balls outside off, ironically misjudged one and played on. Since then, Dhawan and Pujara have stayed put to guide India to 71/1, narrowing down the deficit to 26.