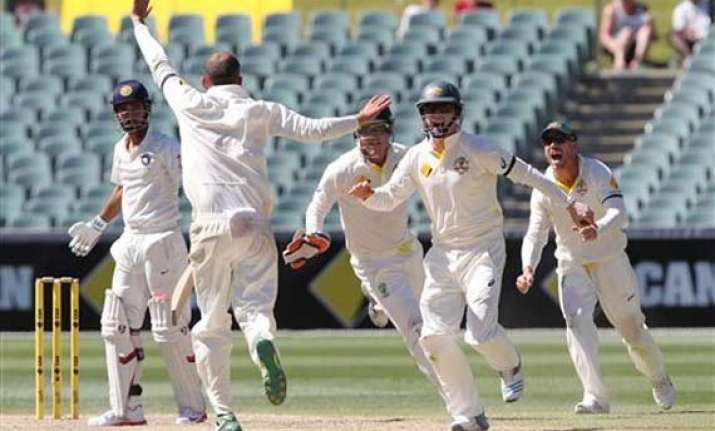 Adelaide: Australia held their nerve to clinch a 48-run victory.  Nathan Lyon has been a superhero for them who took a 12 wicket haul.
What a test match it has been. It was nothing like a tense ODI finish.  Australia would like to dedicate this victory to the late Phillip Hughes. Perfect tribute! Winning a test match after his tragic demise.
India's hopes though raised with Kohli reaching twin hundreds - becoming only the second player to notch up 100s in each innings of the same Test on captaincy debut.
India was winning the match till Kohli was there in the crease but he again got out pulling a short delivery to deep midwicket. But what a player he has been for India and what a captain innings he played for India.
India lost 8 wickets in the third session. Nathan Lyon picked up crucial wickets of Kohli, Rahane, Rohit and Saha before Johnson strikes with the new ball taken 6 overs late in 86th over. Kohli and Vijay were going strong before Vijay was dimissed. Kohli continues India fightback despite falling short of partners. Rohit and Saha played too irresponsible shots which took the game away from India.
India 315 all out in 87.1 overs
OUT! Lyon gets his 7th wicket. Ishant Sharma was down the pitch and Haddin whipped off the bails. ALL OVER FOR INDIA!
It has become obvious for India of losing the match. Lower order has to be blamed.
Ishant Sharma is the last man in
India 314/9
Varun Aaron lbw b Johnson 1
OUT! Wicket straight away from the new ball for Johnson. Aaron was beaten by pace. That was a plumb!
India 310/8 after 85 overs (54 runs to win)
Karn 1 (12), Aaron 0(0)
It has really become difficult for India to survive the test. Indian tailenders have to do it for the team. Not to except much from tailenders. It will be a great achievement if they managed to pull out a draw here. Lyon was making it tough for the Shami and Karn and later Harris dismissed Shami.
Mohammad Shami c Johnson b Harris  5
OUT! Shami plays it high in the air and straight to Johnson. The match is surely not in the hands of India any more.
Mohammad Shami is in for India
Virat Kohli c Marsh b Lyon 141
OUT! Virat Kohli is gone! What a breakthrough for Australia. Trying to go for a pull shot, he finds Mitch Marsh at deep midwicket. Kohli is not happy. 6th wicket for Lyon
It's the time for second new ball but Australia has not taken that.
That's another five wicket haul for Nathan Lyon in the match.
India 299/6 after 80 overs (65 runs to win)
Kohli 137 (167), Karn 0 (0)
Virat Kohli is taking the attack to the Aussies with easy runs but he is running out of partners on the other end. First Vijay, then Rahane and now Rohit were sent back by Lyon in quick succession. India is back in the defensive mode with an hour left for the day. Nathan Lyon has started worrying Indian side again. The last batting pair of Saha and Kohli are in the middle now. Saha gets in the show as well smashing Lyon for a straight SIX down the ground and follows it with a midwicket boundary. But he was in great hurry to score and misses the ball and shattered the stumps. Very poor shot!
Saha b Lyon 13
India 277/5
Rohit Sharma c Warner b Lyon 6
OUT! Lyon strikes again. Rohit gets the ball hit at gloves that went straight to Warner at leg slip.
India 259/4 after 75 overs (105 runs to win)
Kohli 112 (150), Rohit 5 (15)
Rohit Sharma comes in to bat after Rahane and Lyon is targeting him with his spin. Rohit has been struggling since he arrived and also survived more than couple of chances. Two different games going on here. Rohit is too defensive while Kohli is looking to attack. The scoring rate has come down after two quick strikes by Lyon. Kohli is the mainstay for India at the crease. He keeps the hopes alive for India.
Kohli is the first overseas batsman to hit twin hundreds in a Test match in Australia.
Is it the turning point of the match?
India 242/4 after 70 overs (122 runs to win)
Kohli 100 (135), Rohit 0 (0)
Double strike for Lyon in 70th over. First Vijay and then Rahane. Players appeal for catch after an inside edge went to Smith at short leg. But there was not any bat involved. Rahane out for duck. Another unfortunate Murali Vijay fell short of just 1 run off his hundred after being plumbed of Lyon in-swing delivery and umpire have no issues in raising his finger for lbw. Nervous 90s for Vijay! Kohli on the other end scored his second century of the match thus becoming the second captain to score two hundreds in captaincy debut.
India 221/2 after 65 overs (143 runs to win)
Vijay 94 (222) , Kohli 89 (122)
Nothing changed for the Indians after the tea break. Vijay hit Lyon for a big six in 64th over to enter into his 90s. Kohli on the other end survived a couple of lbw appeals but he is not in any kind of trouble by the bowlers.
Kohli takes the strike. Lyon to bowl to him with a slip and a forward short leg in place.
Third session is about to begin. Batsmen are in the middle an they need to push in the accelerator now. Plenty of time left for the day and it still can be in India's way.
-----------------------------------------------
Both Kohli and Vijay look set to get their hundreds and if they do so, it will be special for both of them. The Australian bowlers looked threatening in patches, especially Nathan Lyon, but both the batters have tackled him well with their feet movement. Kohli, especially has been instrumental in throwing Lyon off his line and length. With Clarke also out of the field with a hamstring problem, things don't look too bright for Australia.
India have made a great comeback in the game. Both Kohli and Vijay played superbly to keep the Australian bowlers at bay. Now, the pressure is on the Australians as India now have the chance to push for a win. They need 159 runs from the last session to take a 1-0 lead in the series.
100 runs have been scored by India without losing a wicket in 27 overs bowled.
TEA BREAK
India 205/2 after 61 overs (159 runs to win)
Vijay 85 (208) , Kohli 82 (112)
Bowling changes continue for Australia. Steven Smith comes back in 58th over but was smashed by Vijay and Kohli for boundaries to bring up 200 runs for India. Though Vijay was dropped on 85 by Mitchel Marsh at short covers after trying to hit Johnson hard over the covers. Marsh gets his hand onto it but missed a game changing moment. Kohli is also in good touch with some aggressive shots. Johnson ended the last over before tea with a maiden to Murali Vijay
India 183/2 after 55 overs (181 runs to win)
Vijay 73 (187) , Kohli 72 (97)
It have been a positive show by the batsmen in the post lunch session. Lyon has been expensive a bit from past few overs. His economy rate has gone above 4 and thus he is put off from the attack. A much defensive performance which shows that India won't let the game go away in Australia's side.
Update: Michael Clarke has left the ground after struggling with his hamstring again.
India 165/2 after 50 overs (199 runs to win)
Vijay 66 (165) , Kohli 66 (89)
Runs have started coming after the lunch and Kohli-Vijay completed their first century partnership together. Both the batsmen have been very patient and have not been afraid to take on Lyon from time to time especially Kohli who hit two back to back boundaries just before the drinks break. Vijay has survived a few close calls, but the opener is battling it out in the middle.
India 149/2 after 45 overs (215 runs to win)
Vijay 64 (153) , Kohli 52 (71)
Lyon is really making it difficult for Kohli and Vijay to survive. He is getting big turns but batsmen survived lbw appeals on many occasions. Mitchell Marsh joined Lyon from other end after lunch but he was hit for two boundaries by Kohli to complete his 10th half century in tests. A captain innings again from him. The ball is moving away from the batsmen but they look comfortable in the middle off the fast bowling.
India 133/2 after 40 overs (231 runs to win)
Vijay 58 (141) , Kohli 42 (53)
Decent start for India after the lunch break. Johnson and Lyon started it for Australia but both were hit for boundaries in their first over. Kohli smashed Lyon for a big SIX over midwicket Vijay completed his 8th half century in test and second in the match. He is looking dangerous after smashing Johnson for a couple of boundaries while Kohli once again gaining pace in his innings. There was huge appeal for lbw by Lyon against Kohli but umpire was not interersted but hit a boundary to midwicket straight after that.
Vijay takes the guard and Johnson to bowl
Second session is about to begin which is going to be crucial for both the teams.
--------------------------------------------
Lyon has looked the most threatening of all the Aussie bowlers. He is probing away around the outside off line and with the help of the rough, he is exploiting that to the hilt. If Australia are to go on to win this, he will have a big role to play. The Aussie seamers have been consistent but don't look like producing wicket-taking deliveries.
Equally balanced session that was! India have done well to be just two down at lunch. They didn't start off well losing Dhawan to a wrong decision when it flicked the shoulder. Vijay and Pujara hung around for a while, surviving a testing spell from Lyon. After Pujara got out, Vijay and Kohli have weathered the storm and taken their side safely through to lunch.
LUNCH BREAK
India 105/2 after 34 overs (259 runs to win)
Vijay 47 (121) , Kohli 25 (37)
Siddle and Watson bowled really tight to the batsmen but they are succesful in getting useful singles. Though not much runs are conceded by them but they can still be dangerous as the ball is getting the reverse swing. Steven Smith was introduced to bowl the penultimate over before lunch. Vijay nails the sweep off Lyon straight to the fielder at deep backward square leg for a single to end the first session of the day.
India 97/2 after 30 overs (267 runs to win)
Vijay 41 (102) , Kohli 23 (32)
Johnson came up with another bouncer which hit the batsman. This time it's not Virat Kohli. It was Murali Vijay who ducked under it too early and got pinged on the armguard. A couple of Aussies go up to enquire about his wellbeing. Batsman are looking to score runs but they are restricted to just singles and doubles. Watson was introduced by Clarke in 30th over and was hit for four to fine leg. Not much of pace for him.
India 80/2 after 25 overs (284 runs to win)
Vijay 31 (81) , Kohli 16 (23)
It seems like Virat Kohli have taken the charge of Indian batting once again after Lyon and Johnson for boundaries. He is having no problem with the bouncers bowled by Johnson, instead he is pulling them for runs with eyes open. That's a sign of a good batsman with good technique. Vijay is also settled on the other end constantly taking singles and rotating strikes. These two must take Indian innings higher from here. They can't afford to lose another.
India 61/2 after 20 overs (303 runs to win)
Vijay 28 (72) , Kohli 1 (2)
Vijay targeted Lyon for a big SIX using the wrist over midwicket before he luckily survived a loud loud lbw appeal by Australians. Pujara too survived a lbw appeal off Lyon in 18th over but this time it was a fair one. Too much turn for Lyon! Vijay had shouldered arms and padded up. It spun back in and Vijay made an error in judgement, he must have had his heart in his mouth as Erasmus thought about it for a while, shakes his head finally. The ball was crashing onto the stumps. Poor decision by the umpire and it's now 1-1.
Ryan Harris bowled a couple of maidens to Vijay to let him off the attack but Pujara was fallen to Lyon after getting a thin outside edge to Haddin.
Virat Kohli comes in to bat
India 57/2
Cheteshwar Pujara c Haddin b Lyon  21
OUT! Pujara tried to defend gets an outside edge and Haddin takes a good catch. Lyon is making good use of the turn. India really on the backfoot.
India 49/1 after 15 overs (315 runs to win)
Vijay 18 (54) , Pujara 20 (28)
Pujara is looking to score some good early runs after hitting Lyon and Siddle for boundaries. Vijay on the other end has started defensively again and he needs to burst later. After a maiden, Siddle was replaced by Harris in 15th over but started off conceding two boundaries to Murali Vijay.
India 23/1 after 10 overs (341 runs to win)
Vijay 8 (37) , Pujara 4 (15)
Two bowling changes by Australia right after Dhawan's dimissal. Siddle and Lyon are brought into the attack bowling couple of maiden overs. Harris and Johnson bowled really tight bringing the ball back in to the batsmen. Lyon is also getting turn from the wicket. Two loud appeals for lbw and a catch off Pujara but umpire turned them down. Wonder why Karn and other Indian spinners couldn't make use of it.
India 18/1 after 5 overs (346 runs to win)
Vijay 5 (17) , Pujara 2 (5)
Johnson is keeping it tight for the both the batsmen while Ryan Harris from other end is struggling with line and length to the left-right combination of Indian openers. The pitch is still bouncy after that fiery bouncer by Johnson to Vijay called as wide but the same helped him to get the wicket of Shikhar Dhawan early. That was an unfortunate strike for India and they really need to think it of a draw first.
Cheteshwar Pujara is in at no. 3
India 16/1
OUT! Johnson's bouncer did the trick! He tried to pull that one and Haddin takes the catch. Players appeal and umpire raises his finger. But the replay shows it was struck off his shoulders. Unfortunate dismissal. Early wicket and India is on backfoot.
Mitchell Johnson is to start off from over the wicket to Vijay.
Here we go! Shikhar Dhawan and Murali Vijay comes out to the middle. The target is big. They need not to panic and try to settle. A draw is better than losing a test match.
For the fast bowlers and in the middle of the wicket, it still is a really good wicket. The area where the off-spinners pitches the ball is the critical area.
So Indians will come out to bat this morning and every result win/lose/draw is possible for them. They have to battle it out for the whole day today.
Australia declared their innings at the overnight score of 363. As expected! The lead is already 363 and now India have to chase 364 runs in 98 overs of the day. Its larger than any total that has been successfully chased at Adelaide.
Looking on how Nathan Lyon has performed here, it feels Ravi Ashwin should have been played here.
Indian batsmen need to dominate Day 5 as they did on third day and atleast pull it for a draw.
Even as Warner fell to Karn, Mitch Marsh and Steve Smith lashed out at the hapless Indian bowlers to put them in a strong position, from where they could force a victory. The Indian bowling was ordinary yet again, barring patches of fire and brimstone from Aaron and Shami. Karn managed to prise out two wickets, but has not done himself any favours of being an automatic pick for the next Test.
Yesterday was a cracking day of Test cricket comes. In 31 overs bowled in the last session Australia scored 151 runs and lost four crucial wickets of Watson, Warner, Clarke and Marsh. But the session was dominated by them. It was an eventful third session of the day. Wickets for India, Warner-Rohit ruffle, Smith's half century and in the end the dramatic chance of Haddin's run out by Shami.