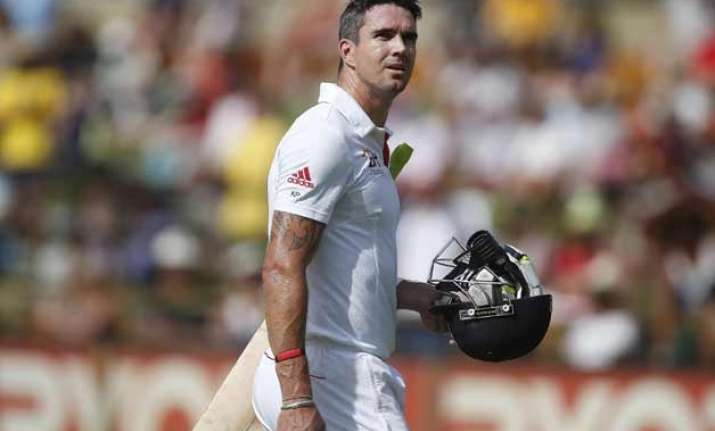 London: Banished by England's cricket leaders over their deep distrust of him, Kevin Pietersen opened up a new front in the rift late Tuesday as he faced up to life in the wilderness.
The maverick batsman turned the tables on the England and Wales Cricket Board on Tuesday by claiming it misleadingly gave him hope there was a way back into the team.
"I just find it incredibly deceitful what has happened to me and am frankly finding it difficult to understand," Pietersen wrote in a column for the Daily Telegraph newspaper, which was published online late Tuesday.
Pietersen, dropped following the 2013-14 Ashes whitewash in Australia, scored his first century of the English county season on Monday when he had agreed to meet the ECB leadership of chief executive Tom Harrison and new cricket director Andrew Strauss in the evening.
Strauss informed him he would not feature in the imminent test campaigns against New Zealand and Australia. Pietersen now says had he known the meeting was only to confirm his prolonged England exile he would have avoided a distraction from his duties with English county Surrey.
"I messaged Tom after the meeting and asked him why he got me into a hotel knowing precisely what I was going to be told and having already explicitly asked him if that was going to be the case," Pietersen wrote.
"'You talk about trust,' I said. He simply replied: 'I am sorry you feel that way, Kevin.' They have used the word trust to justify not selecting me, well, trust is a two-way thing."
The 34-year-old Pietersen was even more incensed when the outcome of the meeting quickly leaked to British media on Monday night.
"Now I certainly didn't tell anybody, so who did?" Pietersen wrote. "They say they don't trust me but how can anybody trust them?"
As Pietersen was finishing his innings on Tuesday with Surrey — on an unbeaten 355 — Strauss was speaking to media across London about the batsman.
Strauss said he offered Pietersen a non-playing role with the limited-overs team but was turned down. Strauss refused to permanently rule Pietersen out from returning to the fold after the British summer, when England go to South Africa, but admitted their relationship needs to improve.
"Over months and years, the trust between himself and the ECB has eroded, and we are in the situation now where there is a massive trust issue between Kevin and I," Strauss said on Sky television. "Because of that, we have decided that it is not in the best short-term interests of the side for him to be in that team.
"I can't give him any guarantees on the future but he is not banned from the side. No one knows what is going to happen in the future. Everyone knows there is no trust out there. If there is a way to build trust, then let's look at it, but at the moment, we are quite estranged."
Strauss said he, Harrison, and new ECB chairman Colin Graves were in agreement. In March, Graves heightened expectations that Pietersen could return by saying that England's highest run-scorer across all formats would be considered for a recall if he returned to play county cricket and hit top form.
Pietersen duly secured a release from his Indian Premier League contract to join Surrey, and his triple century in recent days left Strauss, appointed as director on Saturday, under immediate pressure to make a decision on a potential comeback.
The turbulent relationship between Pietersen and Strauss emerged before a 2012 test series against South Africa. Pietersen was dropped from England before the opening encounter for sending messages to the Proteas regarding Strauss, his then-captain and, like Pietersen, born in South Africa.
Pietersen returned to the squad in 2013 but a year later, he was discarded again after England's humiliating Ashes tour, where the side was routed 5-0, and won only one limited-overs game.
He was told he had no future with England, and his divisions with the ECB were aggravated by his autobiography, released last October.
Pietersen wrote about a "bullying culture" in the England side, and alleged Strauss was approached by team members who were "intimidated to field the ball." Pietersen also hoped that if the board changed "then I really believe I could play for England again."
Strauss showed within hours of accepting his new role that he wasn't afraid of big decisions when he forced out coach Peter Moores. He said on Tuesday that former Australia bowler Jason Gillespie was a possible replacement.
Strauss added that Joe Root has replaced Ian Bell as test vice-captain, and backed Alastair Cook, who made his first century in almost two years against the West Indies this month, to lead the side against Australia.
"This is the right time for Joe Root to take more of a leadership position," Strauss said. "He's got outstanding leadership capabilities and we need him to start thinking more as a captain.
"Alastair Cook has my full backing to lead the England side into the Ashes this summer."