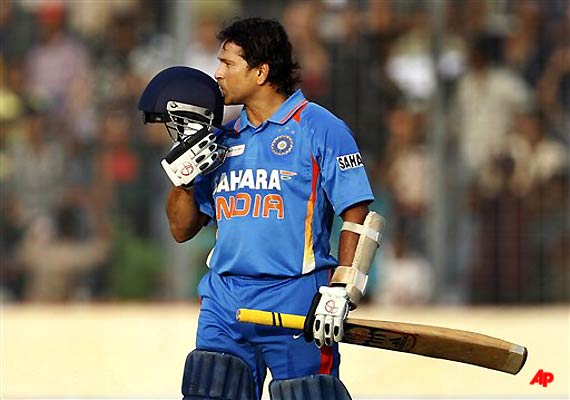 Ranchi, Mar 17: Jharkhand assembly today showered accolades on 'Little Master' Sachin Tendulkar on his glorious feat of century of centuries in international cricket.  

Amidst thumping of desks, the house passed the resolution congratulating the cricketer.

"The house congratulates Sachin Tendulkar for his stupendous feat," Speaker C P Singh said and wished the 39-year-old batting legend to accomplish more laurels on cricketing field.

Tendulkar reached the coveted milestone in an Asia Cup tie against Bangladesh yesterday.

Meanwhile, Orissa Cricket Association has decided to name its newly-consturcted indoor hall after Sachin Tendulkar to dedicate it to the maestro's 100th international century.

"We take the opportunity of celebrating the epoch making occasion by dedicating the OCA Indoor Cricket Hall to his name, OCA secretary Asirbad Behera said.

"The Sachin Tenulkar Indoor Hall will be inaugurated on the occasion of the Utkal Divas (April 1). This is our modest homage to the great cricketer," he said of Tendulkar who is also the leading run-getter at the Barabati Stadium.

"This prodigious achievement of Sachin Tendulkar will become a cricketing lore which will perhaps never be equalled in the history of world cricket. Sachin has made India proud," he said.