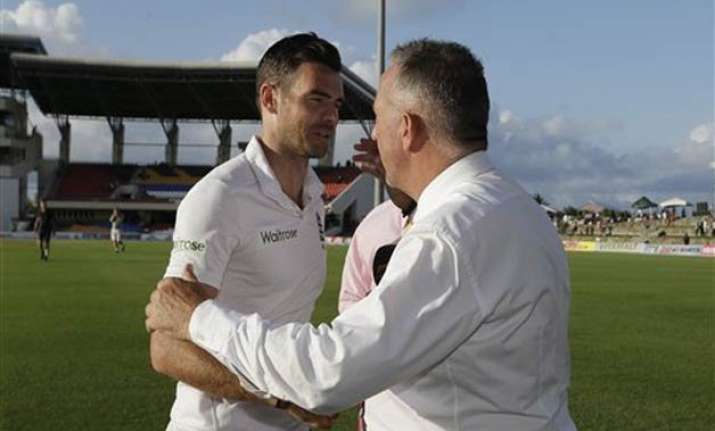 James Anderson's journey to becoming England's leading wicket-taker in tests began with a swing-bowling clinic at the home of cricket.
With his baggy shirt and blonde highlights in his hair, a 20-year-old Anderson steamed in at Lord's to take a five-wicket haul against Zimbabwe in his first test innings in May 2003. It was clear from that day that England had an exceptional bowler on its hands.
"England have always produced swing bowlers but not one with Anderson's skills," recalled Nasser Hussain, the former England captain who played alongside Anderson on his test debut and gave the paceman his first one-day international start in 2002.
"He did not need coaching and he did not need telling what to do."
Anderson surpassed Ian Botham's national-record haul of 383 wickets that has stood since 1992 when he removed West Indies batsman Denesh Ramdin on the final day of the first test in Antigua on Friday. Fittingly, he reached the mark in his 100th test.
Ultimately, the man known in England as the "Burnley Express" — after the northern town where he was born — is unlikely to be as fondly remembered as Botham, the maverick all-rounder who is widely regarded as one of England's greatest sportsmen, not just cricketers.
Yet Anderson arguably will go down as England's most skillful paceman, a master in the art of swing and seam bowling who had a central role in three successive Ashes series victories and helped the team become No. 1-ranked in the test format.
The crazy hair styles that marked his early international years, and earned him the moniker "the Beckham of cricket," soon disappeared, but injuries and tinkering with his action disrupted his progress from 2004-07, when he was in and out of the team.
Since 2008, however, when he was named among Wisden's five cricketers of the year, he has been a prolific leader of England's attack. In that year, he took 7-43 against New Zealand at Trent Bridge, which remain his best test figures.
In the 2010-11 Ashes tour Down Under, when England retained the urn, Anderson took 26 wickets at 26.04 and he was marked out as one of the world's top bowlers. His ability to get reverse swing cut him adrift form his peers and he managed his body well to escape to keep him injury-free, although he still wakes up with sore knees and a stiff back after long bowling sessions.
Charming, funny, even shy away from the crease, Anderson has picked up a reputation for being aggressive on it and for being one of England's top sledgers. He was accused of pushing India allrounder Ravindra Jadeja on their way to the dressing rooms during a series last year, but an investigation cleared him.
With England playing 17 tests in 2015, don't put it past Anderson to reach the 400-wicket mark sometime this year.