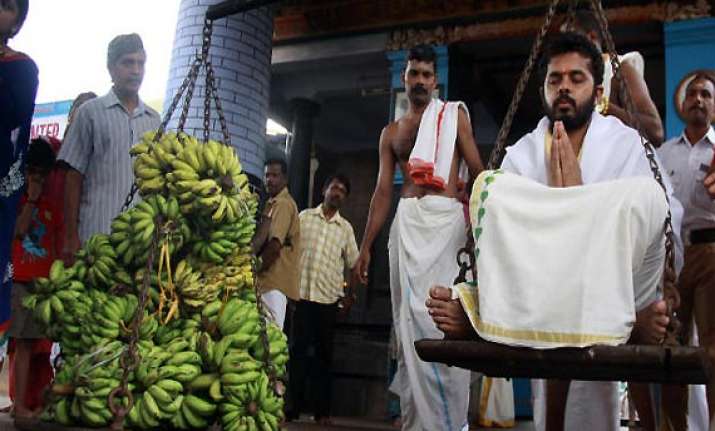 Sabarimala (Kerala), Jun 15: Tainted Rajasthan Royals bowler S. Sreesanth today offered prayers at the famous Sabarimala shrine here.
The cricketer, accused of spot fixing, had darshan and performed prayers on Saturday morning at the famous hill shrine Sabarimala on the first of day of Malayalam month of Mithunam.
He was accompanied by his father and brother and friends, who left in his two vehicles from his brother-in-law's Kochi house on Friday evening.
They all walked the 5 km long path starting from Pamba keeping all the pooja items on his head and performing the required rituals.
While in Delhi's Tihar jail, Sreesanth had vowed to visit Sabarimala, after which he would shave his hair and beard.
Sabarimala Sree Dharma Sastha Temple, dedicated to Lord Ayyappa, is the most famous and prominent among all the Sanstha temples in Kerala.
The temple is situated on a hilltop (about 3000 feet above sea level) named Sabarimala in Pathanamthitta district of Kerala.
According to the actual pilgrimage rituals, one has to undergo fasting and stay away from non-vegetarian food for 41 days to cleanse their minds before going to Sabarimala.