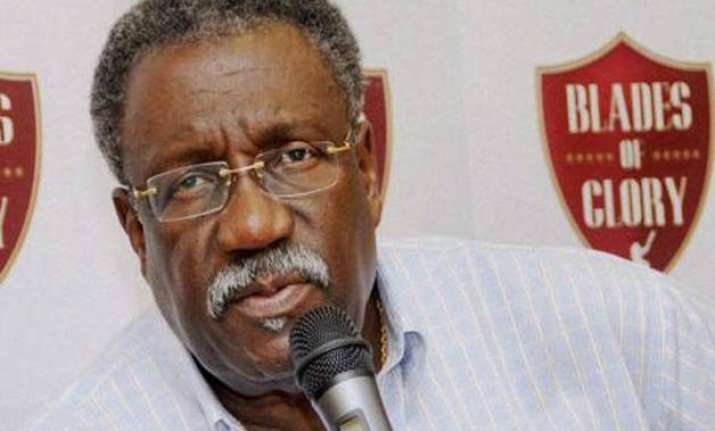 Perth: Praising the Indian team, Former West Indies captain and chairman of selectors Clive Lloyd has said that the Mahendra Singh Dhoni-led side has "all-round strength" with players like in-form Shikhar Dhawan and the ever-consistent Virat Kohli.
Lloyd, who led a strong Caribbean outfit with one of the best-ever fast bowling attacks in the history of the game, is impressed with the "variety" of Indian bowling as they take on West Indies in the fourth group league encounter between the teams at the WACA on Friday.
"It's nearly the same sort of side. India's pace bowling seems to be pretty good and you have a good spin bowler in (Ravichandran) Ashwin. Overall you have got a good variety and I think India have good all-round strength," Lloyd expressed his views from the sidelines of the West Indies training session at the Murdoch University ground, here today.
"India's middle order is pretty good. Kohli has been excellent for you guys. Dhoni can do anything any time. A good all-round side is the reason why you've been champions. I'm sure they want to be there at the end," said while addressing a gathering that only had Indian journalists save one from the Caribbean islands.
Lloyd is the latest among the galaxy of former stars, who have showered accolades on Kohli.
"Kohli has been a tremendous player over the last two years and now you have the likes of Dhawan coming through. I think India should do well. They've won three out of three. So we can't fault their bowling or their batting. India's always a formidable side and they'll continue to be so. But when you set a standard, people expect you to keep that standard all the time. India are doing well but I hope they don't do too well on Friday," 70-year-old Lloyd said with a smile.
Lloyd though didn't answer whether Indians will find it difficult to handle the Caribbean pace attack on a bouncy WACA strip.
"I don't know. It all depends on the day's cricket. You have good cricketers and I'm sure they have played against very pacy bowlers. They will be able to combat anything that is thrown at them. One-day cricket is who plays well on the day and gets their disciplines right.
"If we do that, we give them a good run for their money.
They're defending champions and they want to be in this World Cup as long as possible," said the man, who led West Indies to back-to-back World Cup victories in 1975 and 79.
Lloyd admitted that there has been a decline in quality of pace attack over the years as it's difficult to get those once-in-a-generation fast bowlers of 70s and 80s.
"It's quite obvious. We'd love to have (Andy) Roberts,(Michale) Holding, (Curtly) Ambrose and ( Courtney) Walsh but it doesn't happen in any other country. We've had a little bit of a decline but we have one or two young players coming through and you'll hear about them in another year or so," said Lloyd.
But the veteran of 110 Tests and 87 ODIs denied that West Indies are overtly dependent on Chris Gayle's big-hitting abilities.
"I wouldn't say that. The point is that before Zimbabwe, Gayle hadn't really contributed. It's great whenever we get a good start with him. He scores rather quickly. He's a very strong player. Whenever he takes off, it gives the team a good impetus."
Lloyd feels that irrespective of the group standings, the match will have equal stakes for both West Indies and India.
"It's obvious that this game is important to us and to you (India) for that matter. We want to do well and if we play to our ability we'll be able to do so," Lloyd told the scribes.
While there was an embargo on asking questions on Dwayne Bravo and Kieron Pollard's omission but he was asked in a roundabout manner about whether the team will be affected by the absence of certain "senior players".
"I think we have a formidable side. We bat to 8 or 9.
Everybody from 1 to 9 has done extremely well, posted big scores (barring SA game). So, I don't think we have any problem there. Once we bat to our potential we will do extremely well," Lloyd presented a dead bat.
Lloyd's mantra for the Caribbean team is to put up a big score and then let the bowlers defend it.
"The point is that we have a good bowling attack, good batsmen and a good all-round side. If we bat, we have to make enough runs to win and defend. We do have the bowlers to do so. This pitch is quite good. It's got consistent bounce."
Perth has been a happy hunting ground for the West Indies over past four decades and Lloyd hopes a repeat act.
"It's been pretty good (WACA as a ground). We've been pretty successful here over the years. It will be a good game.
India will be good opponents as they've been playing well. We have been sporadic in our play but we're hoping that this pitch will suit us quite well. It should be quite an exciting game."