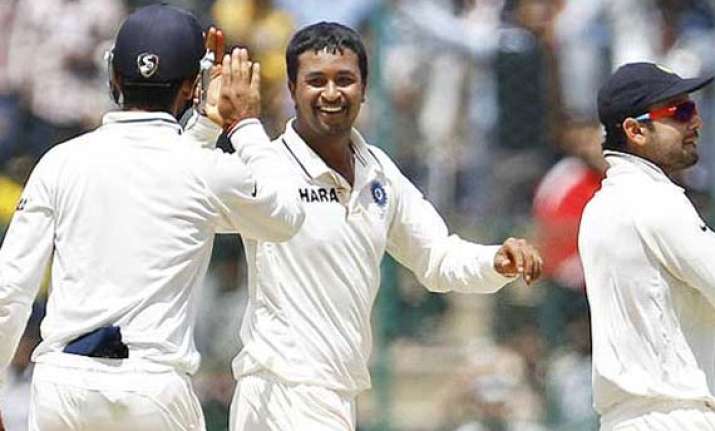 New Delhi, Nov 19: Virat kohli's boundary gave India one-up in Test series against England, as India crushed the visitors by 9 wickets in Ahmedabad Test today at Motera ground.
Chasing the target of 77 runs, Sehwag and Pujara opened up and build a good partnership of 57 runs as Swann got rid of Sehwag for 25 runs. But Team faced no problem whatsoever in leading the series 1-0.
Earlier, England in the first session were all out for 406 runs in their second innings, after a valiant knock by captain Alastair Cook ended at 176 runs, clean bowled by Pragyan Ojha.
The last two English batsmen caught out were Broad (3) and Swann (17) who were dismissed by Yadav and Ashwin respectively.
Earlier, England lost their eighth wicket when Umesh Yadav took a return catch to dismiss Stuart Broad on the fifth day of the first Test at Sardar Patel Stadium at Motera in Ahmedabad on Monday.
Yadav darted in a length delivery, around middle and off, Broad attempted to turn it off his pads but it stopped a bit onto him and took the leading edge and Yadav completed a simple return catch.
Pragyan Ojha scalped Matt Prior and captain Alastair Cook in his alternate overs.
Ojha bowled at a flatter trajectory, shade short in length around off and turning in a bit, Cook came back and looked to punch it through the line, but failed to do so and the ball went on to disturb the timber.
Cook played remarkably well to score 176 runs with the help of 21 hits to the fence.
Ojha gave India the much-needed breakthrough when he dismissed Prior.
Ojha tossed the ball up around middle and off, it gripped the surface and stopped a bit onto Prior, who remained on the back foot and just pushed at it. It came off the toe end of the bat and Ojha took a simple return catch.
Prior hit 11 fours in his 91-run knock and added 157 runs with captain Alastair Cook for the sixth wicket.
The day's play started with Cook and Prior resuming England second innings, following on.
On Day 4, Cook and Prior's innings restored England's belief in their ability to handle India's spinners on turning tracks after the debacle in the first innings.
Cook and Prior taught their teammates a lesson in application as England finished the day at 340/5 - a lead of 10 runs.
Cook and Prior have helped England sail towards respectability but India are still in a dominant position, though.
At start of play on Day 4, Nick Compton tried his best to discipline himself but was lucky to survive a leg-before appeal and a sure-shot stumping in R Ashwin's second and third over of the day.
Aleem Dar turned down what looked like an easy chance when Compton was wrapped on the pad after playing slightly forward to one that was pitched outside off and turning just a bit. Then
MS Dhoni
failed to collect one that kept a little low than expected when Compton stepped out.
Compton was uncomfortable against spin and he also looked uncomfortable against Zaheer Khan's seam-up stuff. Zaheer was troubling him coming round the wicket and got one to come in with the angle to trap Compton in front and get the first breakthrough.
Ojha then got into the act, bowling a beauty to Jonathan Trott, who could only push his bat out and manage a faint edge. Then it was the turn of Pietersen, who is fast turning into Ojha's dummy.
For the second time in two days, KP was bowled by Ojha, this time attempting a costly sweep to an overpitched delivery.
But then despite Umesh Yadav's two wickets in two balls, India couldn't press home the advantage, with Cook standing between the hosts and victory.