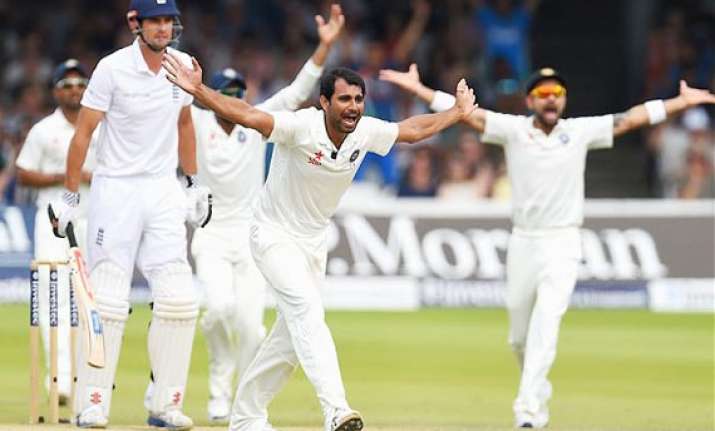 SOUTHAMPTON, England: Alastair Cook hit an unbeaten 70 as England declared for a second time in the third test and left India four sessions to bat out for a draw at the Rose Bowl on Wednesday.
Looking to end its worst run without a test win in 28 years, England was in its strongest position yet after declaring its second innings on 205-4 at an early tea on the fourth day for a lead of 444 runs.   
India, 1-0 up in the series, is unlikely to chase for a win.   
The world record score by a chasing side is 418-7 by the West Indies at home in 2003. India's best is 406-4 in the West Indies in 1976.   
The fourth day has gone to plan for England.   
India, on 323-8 overnight, was dismissed within 22 minutes, adding only seven runs.   
With a 239-run lead, England did not enforce the follow-on to give strike bowlers James Anderson, 5-53 off 26 overs, and Stuart Broad, 3-66, a chance to rest before the second declaration was expected around tea, and delivered. 
Cook, whose captaincy and position in the side was under intense scrutiny ahead of the test due to his own wretched batting form and leadership shortcomings, continued to look confident and assured at the crease after hitting 95 in the first innings.   
His resurgence with the bat was marked when he swept Ravindra Jadeja past short leg for four and his 37th test 50.   
Joe Root smashed 56 off 41 deliveries, taking 38 to make 50, as England piled on the runs. Cook's 70 was from 114 balls.   
Root was bowled by Jadeja, prompting England's declaration.   
Jadeja also dismissed Gary Balance for 38 off 48 deliveries, and Ian Bell, 23 from 21 balls. Opener Sam Robson made 13 before edging Bhuvneshwar Kumar to Shikhar Dhawan at first slip.   
Earlier, Anderson quickly wrapped up India's first innings within both last wickets.   
He dismissed India captain Mahendra Singh Dhoni (50) and Mohammed Shami (5) to finish with his 16th 5-for in tests. Both were caught behind by Jos Buttler.