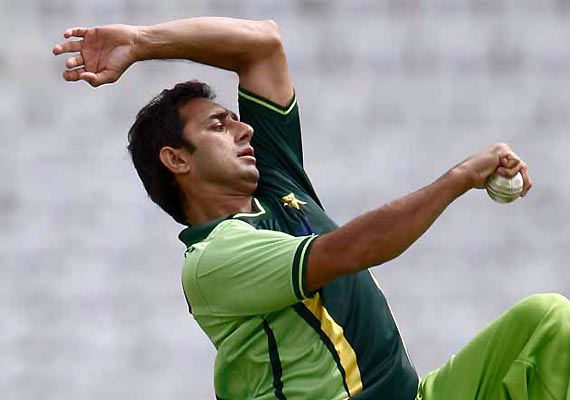 Mirpur, Mar 19: The ICC on Monday sought to put a lid to the raging controversy surrounding Pakistan off spinner Saeed Ajmal's bowling action, saying the tweaker was well within "the allowed degree of tolerance".
According to a television report, Indian cricketers have raised their concern over the bowler's action after their stupendous six-wicket victory over arch rivals Pakistan in the Asia Cup match on Sunday.
BCCI officials, however, did not confirm whether the team had raised objections over Ajmal's action.
Chasing a victory target of 330, India rode on a superb batting display by young
Virat Kohli
to overwhelm their opponents with more than two overs to spare.
"We do whatever protocol allows us to do and let us not forget that the match officials, the umpires are entitled to call any bowler, who has got a suspect action," said the ICC CEO, Haroon Lorgat.
"In Saeed Ajmal's case we have tested him, we have monitored him even in the live situations, he bowls within the allowed degree of tolerance. So there isn't any issue with him," Lorgat told 'Times Now'.
The CEO said there is always a difference between what we see and what we perceive.
"We need to be careful about what the eye sees and what the reality is. You are allowed to bowl with an arm that you don't straighten in the course of action and he is well within the degrees of tolerance", he said.
The 34-year-old Ajmal has been in the midst of a controversy over his action, and just before the Asia Cup the English cricketers had also raised their concern about the bowler. He later claimed that he had a special dispensation from the game's governing body to straighten his arm beyond the allowed 15 degrees.
Ajmal, during an interview to an English media house, after Pakistan's 3-0 Test win over England in the UAE, had claimed, "ICC has allowed me 23.5 because my arm is not good because of an accident, that is why a problem."
The comments raised some sparks in India as well with one of the former cricketer calling Ajmal an "outright chucker".