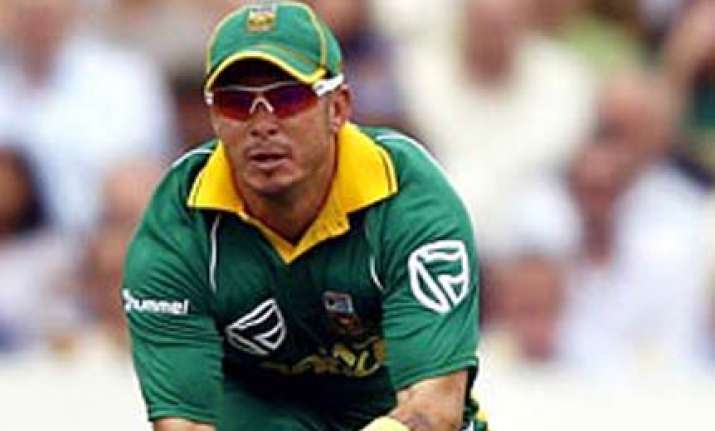 Johannesburg, 1 Nov (PTI) Herschelle Gibbs had to apologise to Delhi Police's Crime Branch Commissioner, Ranjit Narayan, for having publicly called him 'hard-arsed', the out-of-favour South African opener disclosed in his autobiography, 'To the Point'.
In the book that was released yesterday, Gibbs also disclosed that he had indulged in 'tonsil hockey' (deep kissing) with a German girl at the Taj Hotel the night before be questioned by police here. He was drunk and he could not even remember anything the next morning, Gibbs revealed.
Gibbs wrote about his return to India to face questioning following his role in the 'Hansiegate' saga (telephonic conversations of then captain Hansie Cronje with an Indian bookmaker were intercepted by police) in 2000.
After initially refusing to be part of South Africa's squad for an India tour for the fear of being arrested, Gibbs, accompanied by his lawyer, Peter Whelan, travelled to the country to face grilling by a four-man panel.
"Our flight to India was via Dubai and Peter spent about eight of those hours coaching me on the upcoming grilling I was sure to get," Gibbs wrote in the book. 
"Remember that the King Commission (in South Africa) had been five years earlier and we knew the Indians would be looking for any discrepancies between my testimony back then and what I would have to say to them now.
"I think the Indians were pretty taken aback when I turned up with both my lawyer and the High Commissioner. I was hustled inside to see K K Paul, who had been my Indian nemesis for the past six years. 'Hello, Mr Gibbs,' he said. 'I'm a big fan of yours'. Not exactly the reception I had been expecting from him!"
"…a four-man panel, headed by the joint commissioner of the Delhi Police Crime Branch, Ranjit Narayan, bombarded me with questions for about three hours. It was a hostile situation, make no mistake, and it wasn't helped either by the fact that I'd publicly said Commissioner Narayan was 'hard-arsed' 
Gibbs said he was convinced that the Indian authorities were determined to nail him because they had already banned quite a few of their cricketers. One of the commissioners, described as 'a tough-looking old Sikh gentleman who headed Delhi's Murder and Robbery team', tried to intimidate Gibbs with the death penalty, Gibbs stated.
"'Sir, you had better come clean. We still have the death penalty here," he told Gibbs.
'Needless to say, Peter jumped right in with both feet and threatened to end the meeting right there if they tried this kind of intimidating tactic," Gibbs wrote.
In the book, Gibbs also revealed how his lawyer had made a contingency arrangement if the player was indeed arrested in India, despite a verbal assurance by Paul who, however, didn't give that in writing.
"He had a full legal team on stand-by fearing arrest. He'd got the top legal firm in Delhi on full alert just in case."
Just when Gibbs thought his ordeal was over, he got a call from Leslie Sackstein, Cronje's lawyer, while enjoying his favourite butter chicken over lunch with the High Commissioner.
"(He) wanted to know what the hell I had said. It was pure political opportunism on Narayan's part. Gibbs was referring to a press conference by Narayan "where he hinted that I had implicated more Proteas players in the whole drama."