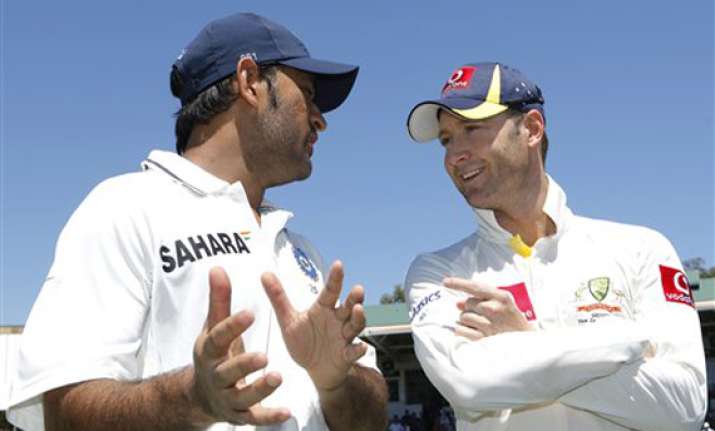 Melbourne, Feb 4 : Australia cricket captain Michael Clarke today declared his team as the favourite to win the ODI tri-series but conceded that it will have to produce its best to nail down world champions India in the opening game here tomorrow.

The series features Sri Lanka as the third team."We have to play at our best to beat both these teams.They were both in the final of most recent world cup.
We're the number one one-day team in the world so I'd like to think we are favourites," Clarke said today ahead of the opening match.

India, blanked 0-4 in the Test series, finally got something to cheer about when they won the second Twenty20 match against Australia here last night. Clarke praised the effort put in by the beleaguered team.

"India is a very good team...the way they fielded last night is how you need to field in cricket. Fielding is a big part of our game and I certainly wasn't surprised by how they fielded. They are a very good outfit, there are some really good athletes in that team.

"That's the game. Unfortunately, you can't win every single game."Clarke said if people were excited about the one-day series, there were enough reasons for it.

"When you're playing two very good opposition teams, Sri Lanka and India, if I was a fan, I would love to get out there and watch it so I'm expecting people to continue to turn out.
"It's probably going to be a little bit harder for the Melbourne people tomorrow considering they have just played a Twenty20 last night. People have got only so much money so a lot of families can't afford in one weekend to go and watch two big games.

"We'll wait and see. If any city is going to turn out, it's Melbourne though. They're very supportive of Australian cricket and of sport," he said.