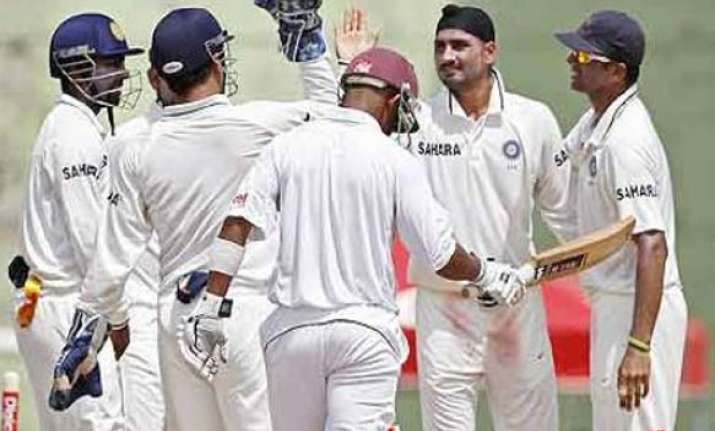 Windsor Park, Dominica, Jul 8 : Team India's star bowler Harbhajan Singh claimed his 400th Test wicket here on Thursday, 13 years after he made his debut. 

Harbhajan became the eleventh bowler in the history of Test cricket to claim 400 wickets.

The Turbanator got his 400th scalp in the form of Carlton Baugh.

Harbhajan pumped his fist in the air, let out a cry and stood still as his teammates ran up to congratulate him.

The giant screen flashed his figures and the sparse crowd at Windsor Park, those sitting in the Indian and West Indies dressing rooms gave the bowler a standing ovation.

Ever since Harbhajan landed in Jamaica for the first Test match of this series, he had been eyeing his 400th as he was seven wickets short.

Bhajji's 400th wicket triggered the West Indies downfall in the first innings as the hosts were bowled out for 204.

Harbhajan got his 400th in his 96th Test.

While he becomes the third highest Indian wicket-taker in Tests after Anil Kumble (619) and Kapil Dev (434), Harbhajan has had to battle his share of criticism reaching here.

Harbhajan thus became the fourth spinner ever to take 400 wickets after Muttiah Muralitharan, Shane Warne and Anil Kumble.